The unfortunate injuries during the second part of the previous season (2024) brought the tactical changes to my FM21 save with GAIS in Sweden. We moved our wing-backs up to the MR/ML positions. It allowed us to try something new despite the main core of the formation was very similar, mainly in an offensive way of our play. I decided to stick with this plan for the 2025 season as I wanted to prove the tactics' quality. Mainly to myself.
How it went? Very well, in my eyes at least. I enjoyed the Allsvenskan 2025 campaign for several reasons.
It was dramatic until the last round. It offered us the option to scout and analyse some domestic players who can be perfect for us in the future. We were able to give debuts to some prospects during the heavy schedule.
---
Prove the tactics' quality – domestically
Let's start with the domestic cup. The Svenska Cupen became the competition we dominate in. Five simple wins took us to the final where we beat Hammarby 4-3 after the extra time. Oscar Aga scored 12 goals in these six matches as the Advanced Forward. It was our third consecutive Svenska Cupen win.
We began the new Allsvenskan campaign as the reigning champions and we started it in a very good fashion in my eyes. Oscar Aga scored in all opening six matches except the one. The biggest highlight was the big 6-1 win over promoted rival IFK Göteborg after Nikolaj Möller scored four goals. His first goals after a transfer from Arsenal.
Our team spent almost the complete first part of the league campaign in third place on the table. We moved top after the 14th round.
The second part of the season, mostly because of our participation in Europe, contributed to the fact that this season was one of the tightest and the most dramatic until the last round.
I really like the past positions screen within the league overview drop-down menu. Especially this year as you can see how the highlighted top 6 teams were changing their positions. And also how they were able to steal positions in the final round.

We needed a win over AIK in the last round to seal the title. But the 0-1 defeat also saw AIK moved down to 6th place and lost their place in Europe for next year.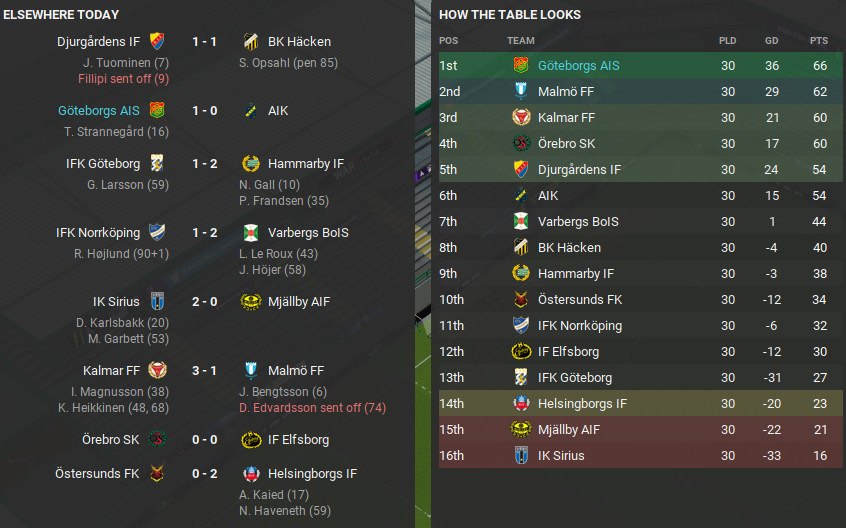 Kalmar moved over Örebro because they beat Malmö in the last round (and helped us to win the title too, thanks).
Most goals scored, the second best defense, league title. It all resulted also in 9 stadium sellouts and 98% of the average attendance by capacity in home 15 matches.
---
Prove the tactics' quality – in Europe
I would like to mention one of my thought about realism. I'm usually the one who absolutely ignore everything related to the realism opinion in terms of you should not do contracts, coaches don't do it in a real life. Or some equivalent of this within transfers, training etc. I like to do 99% of the in-game things on my own because it's a game and I want to play it. I always like to mention why I should let my assistant ruins the training schedules when I can do it on my own.
But there is one thing that would not be realistic and I would be more than unhappy to be non-realistic in this case.
My aim is not to win the European trophy in this save. I don't think it would be realistic to win the Europa League or Champions League with GAIS. Especially as it's only five years since the club was just an average Swedish 2nd tier club known only thanks to one successful marketing campaign.
The fact we were in the Europa League semi-final a year ago was just a coincidence. It won't repeat.
We just had a lot of luck
We lost to FC Nordsjaelland this year in the Champions League 2nd qualifying round due to the away goals rule. That meant we moved to the Europa League qualifying rounds and we made it to the group stage.
The aim was passed. My aim is to be able to participate in the group stage of one of three European competitions. It secures money (a lot of it would be Champions League). We had Wolfsburg, Olympiakos and CSKA Moscow this year in the group.
There were some interesting names as Julian Draxler or Álvaro Morata played for CSKA, Emile Smith Rowe for Wolfsburg or Kenedy for Olympiakos.
We won the group after 4 wins and 2 draws. We beat CSKA and Wolfsburg thanks to two late goals. It was luck, again. If it would be draws, we would not win the group.
---
The winning goal against CSKA away in 95:43.
---
It shows me that the tactic I put together can work even against most reputable teams. I know our journey can end in the first knockout stage. And it will be absolutely normal and realistic thing. We are a small club from Sweden.
Our aim is to get to the main stage of the competition(s), represent well the country, show our players in Europe and sell them. And repeat it.
---
Most common tweaks
Same as with any other tactics, even this one consists of some big or small tweaks. It all depends on our opponent. We can divide these tweaks into simple groups.
The base tactic against most of the teams with two Advanced Forward or AF + PF(A) up and the supportive flat midfield.
The little bit more conservative version with DLP(D), CD(C), shorter passing and distribute to flanks instructions. I'm using mainly against teams with two or more strikers and also against teams using intensive pressing higher up the pitch. For example, during our goal kicks when opponents players are around the penalty area.
The more aggressive version with more pressing intensity and higher tempo. It's usually against the weaker side and I like to use the Mezzala role in the MCR position in this case too.
It really depends on the specific opponent but sometimes I make no changes and just let players play. But it's clear that it works even with youngsters or backup players.
Our U19s team is using the same set-up and they made it to the play-off final for the first within this save. I would say it's another proof that it works well.
I used PF(A) or PF(S) again in the late part of the season in combination with the Advanced Forward. Same as at the beginning of the save when I wrote about the Gre-No-Li. And it looks like I will use the Pressing Forward again in the 2026 season more regularly rather than two advanced forwards.
---
Gabriel Rehnberg story
We each have our own story about an inconspicuous player in our Football Manager saves, right? My most recent pick of player in this category would be Gabriel Rehnberg.
This Swedish player was a part of Hammarby's 2022 Youth Intake. The history/career milestones screen shows his simple progress. We bought him from Hammarby for €600k in 2024.
My main aim was to retrain him for the WBR role as his attributes were very solid for it, especially as he was only 17 years old at the time of the transfer to GAIS. He developed very well and he was a very good cover for Victor Blixt.
But as we tweaked the 3-5-2 formation, I decided to move him to the CM(S) role. His development was not unnoticed and Bayern München bought him in summer 2025 for €2M. They allowed him to stay with us until the end of the season on loan. He got €48K per month in München. Compare it with his previous €3K p/m with us. It was great to have him without some wage participation.
He was not the main goalscoring threat from the flat midfield. Rehnberg was not the one who would have the most assists or key passes. He was that hard-working midfielder who is not allowed to be tired, injured or fatigued and he has to tackle until his legs will not fall off.
And he was exactly like that. Consistent holding CM(S) player who scored sporadically. But same as he was inconspicuous in terms of his stats, he was indispensable. Until now.
As he rejected the possible loan extension at the end of the 2025 calendar year. I'm looking forward to following his career in the future of this save.
---
The squad at the end of 2025
There are 26 players in the picture from the end of the 2025 calendar year. All of them made at least one appearance during the season. I didn't include players who left the team for a loan in the summer.
Oscar Aga made 46 appearances and he scored 44 goals this season (23 in the league).
Anton Skipper (central defender) scored 10 goals and made 5 assists in 39 appearances. Most of them within corners or indirect free kicks. Exactly why I bought him.
Victor Blixt (MR), Peter Magusson (DLP) and Nuha Jatta (CM) made 10+ assists.
A total of 16 players scored at least once. Twenty players made at least one assist.
Johan Dahlgren, 18 years old defender born in Arjäng (Sweden) decided to play for Algeria.
I have three new players prepared for the next season. They all will be around the starting XI. And I'm sure they will improve our team.
I would like to see our reserve squad back in the 3rd tier (playable league) but I think it won't happen. I'm still absolutely not sure how this works and it's probably only a coincidence. Our reserve squad was there in the 1st season but they were relegated to a non-playable division despite finishing above the relegation zone. I have no idea why.
It would be a perfect step for the youngsters rather than go for a loan to the non-playable league. I don't trust it will happen soon in the save so I rather asked about the new affiliate club and the board accepted it.
We have Motala AIF right now and they won the promotion from the 3rd to the 2nd tier in 2025. It's perfect to see them back in the second tier and I will send some young players here to help them.
---
The last expansion
The board also decided to expand the stadium again. We will have 12K stadium next season. It started with 8K and it was expanded to 11,047 last year.
If I remember it rightly, 12K is the maximum expansion capacity I set in the pre-game editor when I created this GAIS stadium before the start of the save.
---
Thanks for reading as always. It's fun save to play and I'm really happy I decided on it. Hopefully, I will have time to play at least two more seasons.
Follow @FMRensie