The unexpected parts of the Football Manager save needs unexpected solutions. The 2024 season brought some kind of this within the save with GAIS in Sweden. I lost four of my five wing-backs during one week due to injures and I had to react. What have I done? Firstly, I didn't panic. And I said goodbye to wing-backs.
I made just several simple things and I hoped it will work. And I would say it worked perfectly. Mostly because I enjoyed watching and following the matches during the second part of the season after the formation tweaks.
Spring & Summer 2024
As I mentioned in the previous post about our Europa League journey during spring 2024, I was forced to divide my team into two groups. I was able to use only three newly-signed players in the Europa League due to the registration rules.
That meant a lot of new young players got enough playing time in the Svenska Cupen and Allsvenskan.
But despite that, we still were reluctant on Oscar Aga's goals or Anton Snibb's assists. I consider it impressive we were able to compete on all fronts and we won the domestic cup for the second time in a row.
It's interesting we were in the final for the third time. We played against Djurgardens for the third time and the final ended with a 1:0 result for the third time. Djurgardens were in all four finals within this save so far.
I was active within the transfer market before the 2024 season. I wanted to offload some foreign players and sign some Swedish players.
Some examples:
I like the signing of Andreas Lindh from Norrköping for €425k. He already signed a contract extension until 2028.
Danish central defender Anton Skipper is also worthy of mention as he became very important in the penalty area at both ends of the pitch thanks to his great attributes for defensive and attacking set-pieces.
I decided to pay €1M for Tom Strannegard and bought him from AIK. I signed him mainly for DLF(S) role but he is able to play in the midfield if it would be needed.
The last player I would like to mention is Peter Magnusson. The Swedish midfielder was part of the 2020 youth intake in Danish side Brondby. He rejected extending his contract with Brondby and I signed him for free in summer 2024.
Model Citizen, great first touch, passing or flair, no release clauses, and a contract until 2027. If nothing more, there is a huge potential to earn a lot of money from his next transfer.
I also bought a young keeper Alexander Krusnell from IF Brommapojkarna for €350K in winter. But 16 appearances were enough to earn him a better address. Brighton bought him for €1.1M and some % from his next transfer.
The young Ghanian striker Kingsford Hudson-Odoi (I shared him in the post about season four) moved to FC Porto for €750K (up to €975K). Some nice profit as we signed him for €8.5K a year ago.
---
Season's summer restart
The summer and competitive matches started with a 2-2 home draw against Djurgardens as they score the equalising goal in the 94th minute of the match after a very nice throw-in routine. The season restart was also very unfortunate for both our key players – Anton Snibb and Victor Blixt. Both or main wing-backs were injured for 5-6 weeks (Snibb) and 3-5 weeks (Blixt).
That meant we lost our captain and best player in terms of the assists in Snibb. And Blixt developed into a lovely wide player who was wanted by Chinese teams (he refused to go there). And I was able to extend his contract without the release clause as it was only around €1.8M.

---
It was also just a few days before the start of the Europa League Conference qualifying phase. We started in the second round against Budapest Honvéd.
My backup or cover players are usually youngsters. It was not different in this case. Snibb and Blixt had to be replaced with Johannes Ramberg (17y/GAIS newgen) and Gabriel Rehnberg (17y/Hammarby newgen).
I bought Rehnberg for €600k from Hammarby with a view to retraining him to the wing-back so he is trained in this position and he is playing here too. That's why I selected this role in the pictures to show the key/preferable attributes.
Rehnberg is developing nicely but none of these two is that good as I would like but they are young, maybe it will change in the future if I will have time to play.
---
Bad luck?
It started quite well as Rehnberg picked up the assist in the next league match but he went off with the sprained knee ligaments in the next match (a 3-2 defeat against Honvéd) too. So I lost another one.

---
Bad luck II?
I wanted to write something about how these two youngsters were good and how they developed and how many assists they made during the absence of Snibb and Blixt.
But I can't. As Rehnberg was injured a week after Snibb and Blixt, Ramberg (the WBL cover), injured himself for 4 weeks ten days later.
All four WB players out in the same time.

---
The reaction?
I was without wing-backs. Only one left in the squad for the right side of the pitch (17 years old Dutch newgen).
It was just before the Europa League Conference 2nd Qualifying Round 2nd leg against Honvéd. We were 2:3 down after the first leg and we needed to beat them at home. I decided to make a slight tactical shift.
I left three central defenders here but changed the central one from the stopper duty to cover duty.
And I moved both wing-back roles to the midfield area and set this role to the winger with the support duty. Our new tactic changed from 3-5-2 with wing-backs to 3-5-2 without wing-backs
---
The reasons were simple:
I wanted to keep the three at the back
I also hoped it won't affect our wing-play-style too much
And I also thought about the simple thing that both Snibb and Blixt, same as their covers, are also able to play as MR/L so we can potentially use this formation in the future.
I really liked mainly our domination through the game. Oscar Aga scored his most typical goal after he beat the offside trap and collected the ball after a pass from one of the three central midfielders. And Anton Skipper scored from corner
.
---
Testing month
I decided to keep this formation also for the next matches to give it more time and also, I still didn't have my wing-backs back after a one-match. Logically.
I gave this set-up a go for a whole August 2024 + the Svenska Cupen Second Round match against lower league side Spanga IS.
We were able to make it through to the Europa Conference League after beating Asteras Tripolis and Bordeaux. We were 0:2 down in the first away leg against Bordeaux but Oscar Aga scored three goals after three assists by Isak Bjerkebo (MR – Winger/support).
The only loss was against Kalmar FF in the league when I played the complete cover/backup team to rest key players for the reply against Bordeaux.
The last match of this testing month was against Spanga IS, the team from the lower league. I played backup/young players + Snibb and Blixt in ML/R slots. They were after injuries. Snibb made three assists, Blix scored once. But it was a very easy match. Five of these 7 goals were after set-pieces. But all worked nicely.

---
Negatives?
As you can see in the fixture screen, we conceded quite a lot of goals within this month. The main and most visible CON of this type of formation was surely the absence of wing-backs and their natural ability to cover the flanks.
In some matches (AIK, Bordeaux away or Kalmar), it was really obvious the three central defenders are not able to cover everything.
The most typical and the most effective solution to this issue, while we faced the opponent with players in AMR/L or two and more strikers, was that I set my MR/L players to mark specific player within the individual instruction.
It was mainly the AMR/L opponent or WBR/L players. It's something that helped with defending a lot and I will use it in the future.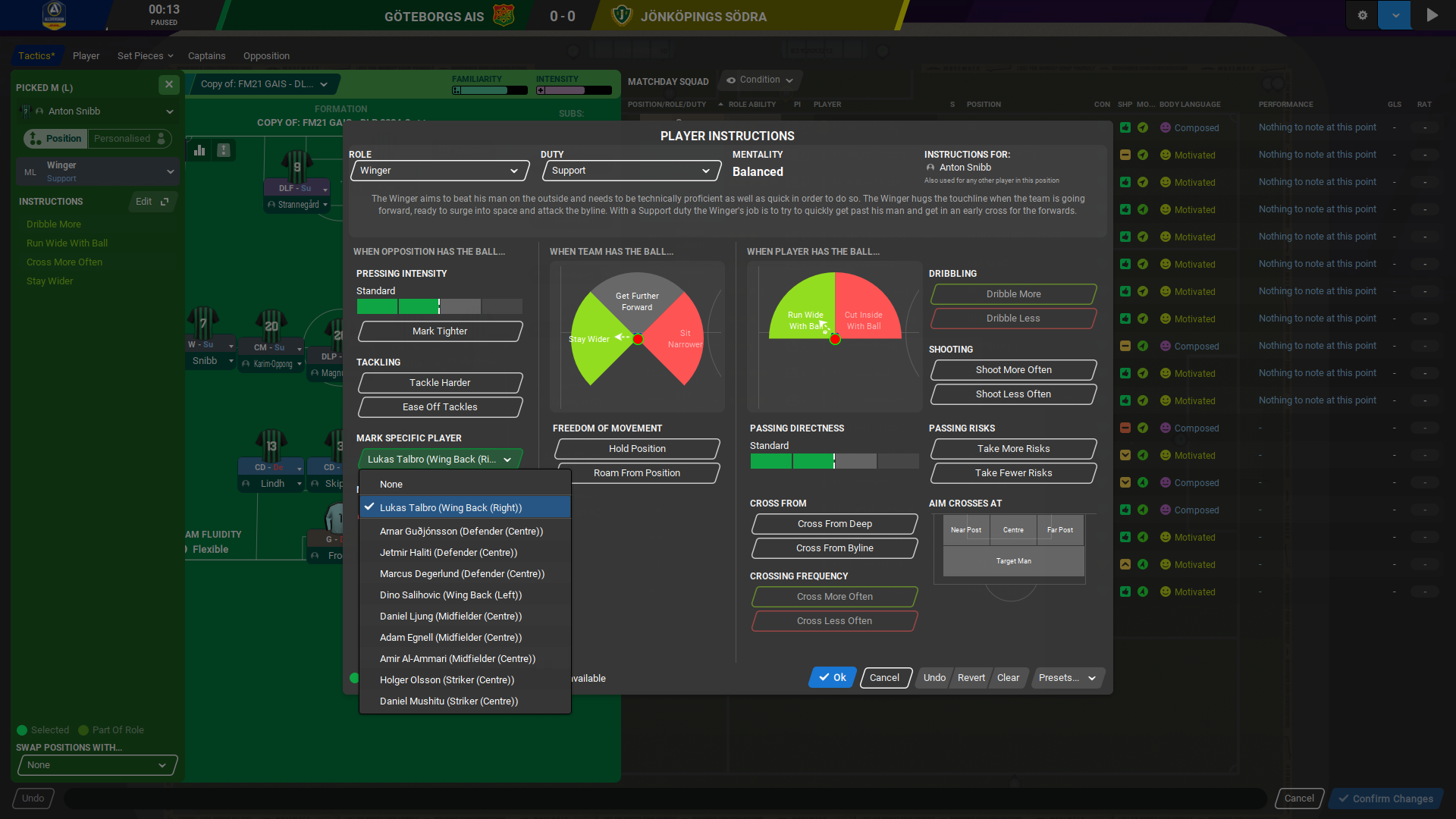 The Recent Matches Analysis screen in the game tells me that We've conceded 1 of 12 shots attempted from outside the penalty area and it's highlighted within negatives as the opposition goals from long-range shots.
Not sure exactly what is negative to concede one goal from a long range. But we all know what to think about statistics in FM21, right?
Especially when one of the positive things from the last five matches was that 0 of the 0 assists created by the team come from the right and from outside of the penalty area. Well done for 0 assists, lads!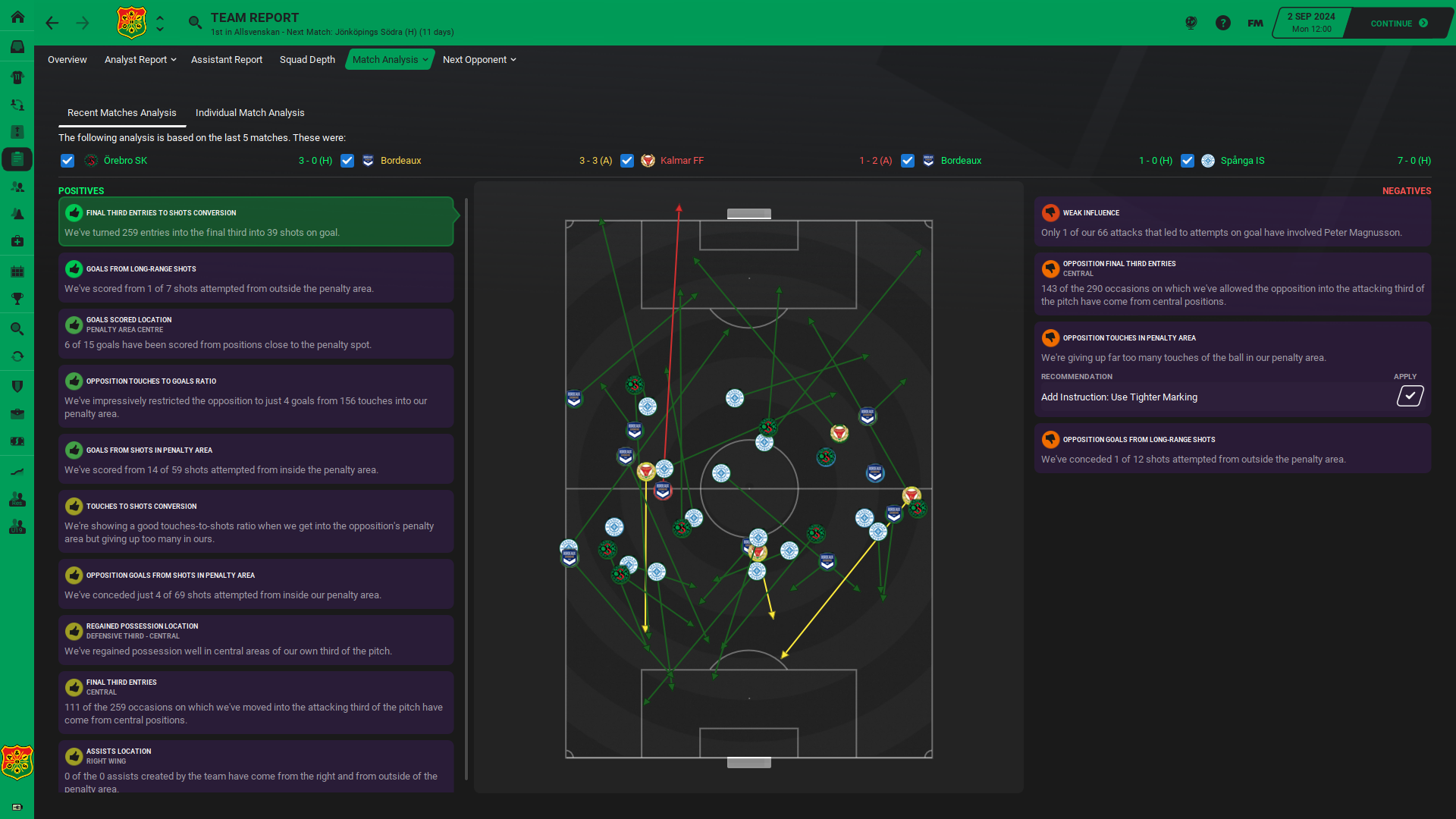 ---
Nine goals were not enough
I decided to keep this set-up until the end of the season at least. We played three uncomplete months with it.
We played quite a lot of matches due to the Europa Conference League group stage participation and because we had some domestic league matches in hand. It led to a big rotation in the squad to keep most of my players fit.
It's nice to see things like a hattrick by William Johansson (click to his name to see his profile and make your opinion) who really is not good enough. But he ended as our second best goalscorer of the season with 12 goals during 1,210 minutes on the pitch.
The great league results secured us the second league title of this save as we won the Allsvenskan again after two years.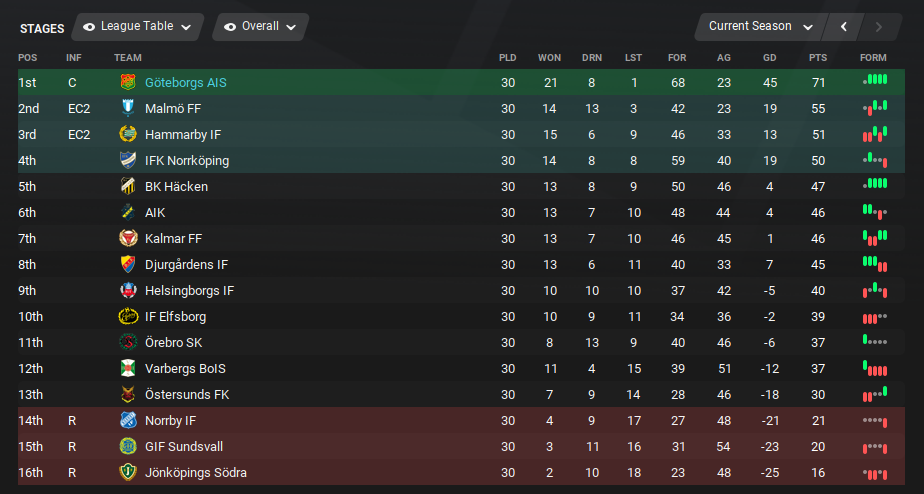 ---
The picture below shows you the results in autumn 2024. You can see it went down very well even in the Europa Conference League group where we faced Feyenoord, Rotor and Sheriff. But as it stands, not even a 9:1 win is enough to progress from the group.
As we lost to Feyenoord at the beginning of November, we need to beat Rotor at home. But we were able to manage only one point for a 2:2 draw.
The Rotor Volgograd (Russia) squad, full of experienced newgens/regens/grey players with the Champions League level of attributes, beat Feyenoord at home in the last match.
So, even if we would beat Sheriff by a double or triple-digit score, we would finish third in the group because of the simple rule of a number of goals scored in the matches against Rotor.
But it's incredible that both my strikers ended the match with a 10 rating as Strannengard scored 4 goals and made 1 assist. And Oscar Aga scored 5 goals and made 2 assists.
---
Can I rotate the rotated squad?
I already mentioned the fact I rotated a lot during the season. The facts screen in the game tells me that we used 31 players in the league during the season.
It was 37 players across all competitions when I counted also players who left the club during this calendar year.
Sometimes, I felt exactly as the headline above stands – some players considered backup players were also fatigued and I had to promote some youngsters from the youth team. Mainly during the period when I had to change the formation too.
---
Facts from the 2024
Oscar Aga scored 48 goals in 47(4) appearances (25 goals in Allsvenskan – the best goalscorer). [Karl-Alfred Jacobsson is the current holder of the club record with 145 league goals. I don't think I will have enough time to overcome this number with Oscar Aga as he has 74 now].
Central defender Anton Skipper, mentioned above, scored 10 goals – all from set-pieces.
The club has 67% of the squad filled by the domestic players | 80% in Allsvenskan.
The average age of the club is 21 | 24 in Allsvenskan.
Training facilities were improved to Great | The youth facilities are now Good.
I was able to improve the youth recruitment to the Average level. The latest request for another upgrade was rejected, same as for the Junior Coaching budget – Good now.
Andreas Isaksson joined the club as the new Goalkeeping Coach while Ronny Johnsen took the Manchester United offer to become their U23s manager after he spent one year as our reserve coach.
The competitive rivalry with Djurgardens IF was established in the game – probably mainly because of our three cup finals.
Julius Lindberg (mentioned for example here), one of the most important players of the first two seasons, was released in November 2023 as his contract was not extended. He didn't find the new club and he retired at the age of 25. I really didn't expect this and I would probably keep him in the club if I would even think about it for a second. The same happened to Meinhard Olsen, Fredrik Martinsson, Nikola Ladan, Fredrik Lundgren or Marcus Sangré, all under the age of 30 and all released in previous years. It's weird…
---
The changes I made during this season were forced tweaks but they will remain permanent now.
Thanks for reading.