I'm enjoying using the 3-5-2 formation within FM21. A lot. And I also love tweaking it for specific matches and specific opponents. The main core of the formation usually remains the same but even the small tweaks and changes are enough to beat a much stronger opponent. Or make it harder for them at least. Some of these small tactical tweaks took me to the Europa League Semi Final during spring 2024.
It reminds me of the post about the Next match only option I wrote in February this year. One of the main changes is that I was following these matches in the Europa League knock-outs even more closely and I did some more tweaks during the match. Mainly because of the quality of our opponents. Or individuals.
I would like to mention also one quite important thing to make it relevant to the tactics and the squad we used. Our domestic season, in Sweden, is based on the calendar year. We played the Champions League group stage during the autumn of 2023. I tried to bring some young Swedish players to the club during the winter before the new season.
But as the UEFA rules tell us we were able to change/replace or add only three new players.
That meant we played the Europa League knock-outs mainly with the players whose squad status was changed from important players to backup. Because I wanted to get rid of them or to have them only as a cover option.
That was another reason why I followed matches closely because I wanted to adjust all small details against strong opponents.
---
Champions League third place
I mentioned our Champions League appearances in the previous post (HERE). We were able to beat Rennais and drew with them and Juventus so we earned the third place in the group.
I would be lying if I would say it wasn't surprising. Probably same as when we were 2:0 up against Chelsea in the last group match before they turned it around.
For me personally, the main win of our Champions League group stage participation are the prize money. The club earned around €19M and we don't need to care about finances for some time.
If you read the post about season four, you know we didn't retain the league title so we can't compete about the Champions League again in the summer. We will try to earn some in the Europea Conference League but that's the future.
---
Europa League 1st Knockout Round – Lokomotiv Moscow
I was absolutely not sure what to expect before the first match against Lokomotiv. Same from them and from my own team. But when I saw Justin Kluivert in their team, I was sure it will not be easy.
They used 4-4-2 narrow diamond in the first leg in Sweden and Kluivert scored their only goal just after the start of the second half. It ended 1:1 and I knew I have to score in Moscow to have some chance. This was the moment when I started making changes also during the game as the first home leg was almost with the main formation and without changes.
I was also without Viktor Blixt, my main WBR, and his cover was not registered. The young central midfielder Mogens Hartman played here. He was set to WB(D) because I didn't want to see him around the opponent's area. I wanted to defend and wait for counters despite I had to score.
I also made an already typical switch from CD(St) to CD(C) against two strikers in combination with the AM player. And Kluivert was tackled hard.
No intensive pressing, very low risk, and also defensive mentality for the second half after we were 1:0 up thanks to Oscar Aga's goal after a throw-in routine. The shorter passing and lower tempo from the 65th minute.
The passive and boring style paid off as we scored our second after a counter in the added time and we won 2:0 and 3:1 on aggregate to make it through. Yes, they were better. But we went through.
---
Europa League 2nd Knockout Round – Schalke 04
Schalke is doing much better in my save in comparison with a real-life and they were great but both matches reminded me the previous stage against Lokomotiv.
Their main formation under Manuel Baum was 4-2-3-1 with Jordan Lukaku as the left wing-back treating everyone from the first until the last minute. He was incredible and he also won the penalty kick before Windtzheimer sent Schalke ahead.
I had to play Theis Pedersen despite he doesn't want to continue in the club but I had no other option for the DLF(S) role as most of the players were injured or not registered.
But he leveled the score and gave us some hope for the second leg. It was for the first time in a long time when I used a defensive mentality from the beginning of the match. Yes, I was scared of being destroyed by them. When they didn't borrow the ball in the first 10 minutes, I was sure it will be a very long match to follow.
Some of my players were still able to press around the pitch and we were exposed a little bit in several areas. It resulted in some tweaks. I moved our defensive line deeper, same as the line of engagement. I also told my players to press less urgently.
It was waiting for a miracle and we did it again. Bjerkebo scored after a free kick routine and Aga finished a perfect counter in the 90th minute.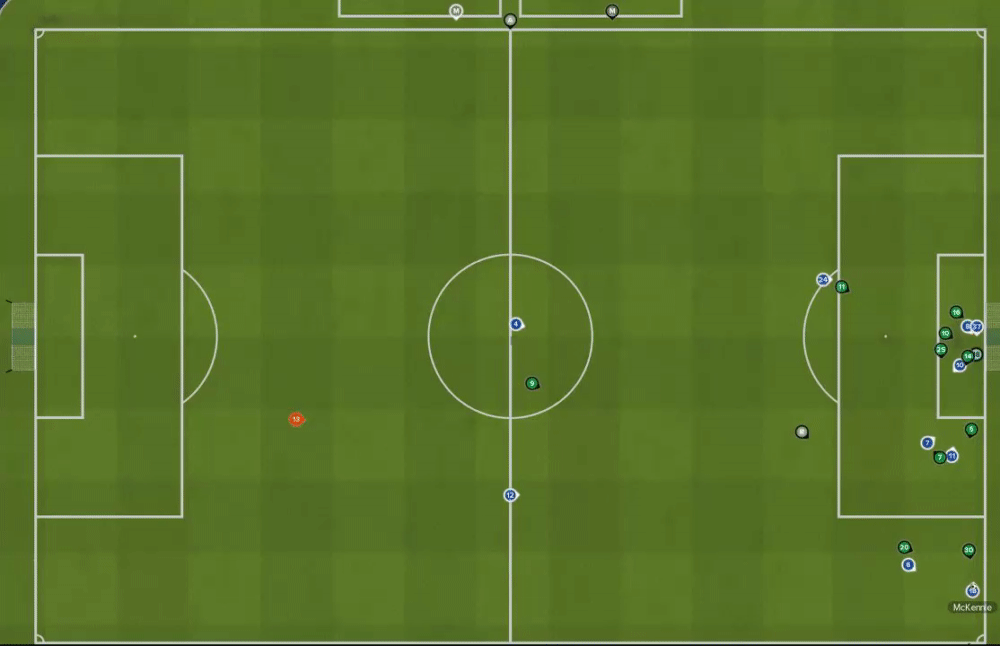 ---
Europa League Quarter Final – RB Leipzig
Nkunku, Alhaier, Kramer, Adams… we faced a very strong side in the Quarter Final. And they also use a variation of 3-5-2 with one player in the AM position instead of the flat midfield trio. Both their wing-backs were absolutely perfect in the first match, the only shame for them was that strikers were unable to score after their passes.
Luckily, we were able to defend very well as we played with almost all instructions set to default and a cautious mentality this time for the whole match in combination with shorter passing. I also switched both WB players to defend duty during the match. Their wing-backs were like Rocky in his prime, my wing-backs (the best in the Swedish league) were like Rocky on the beach.
This change really helped to stop a lot of their attacks and to block a lot of crosses.
I decided to keep it again for the 2nd leg, especially as I didn't have Blixt availabe in the WBR slot and CM Hartman had to play here. I also lowered the defensive line and we played with the defensive mentality.
Hartman made this perfect one-touch assist before Oscar Aga sent us ahead seven minutes before the end of the 1st half.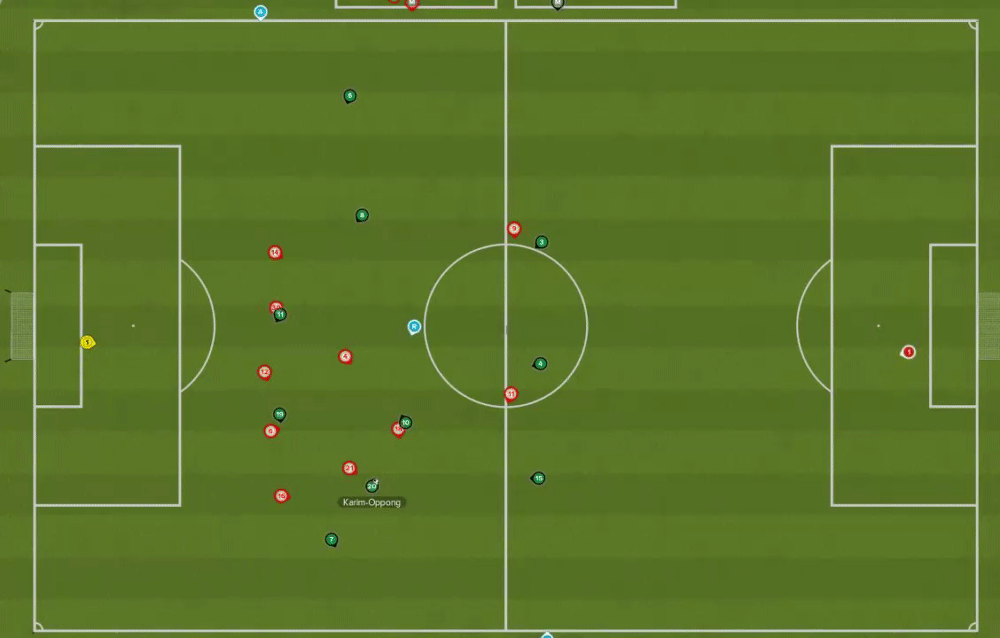 It was really only about defending. And some luck. Christopher Nkunku scored the penalty in the 73rd minute. He ended this match with a 9.1 average rating and 20 key passes. But we scored with a 1 shot on target. Their 35 shots (16 on target) were not enough. We were through thanks to an away goal.
---
Europa League Semi Final – Everton FC
When I'm thinking about the semi-final matches backward, it's obvious we were lucky to be in this phase. First of all.
Secondly, we have no chance gainst Everton. It was like to be back in the Champions League group again. We only didn't concede too many as against Chelsea. But their qualities were not comparable with us. I love my players so it's not something against them.
Everton is using 4-4-2 formation and the first leg was only about how long we will be able to hold the goalless scoreline. It lasted until 77th minute before Gylfi Sigurdsson, one of my favourite players, scored from a direct free kick. And Richarliason added another one two minutes later.
They could score three or four more in the last 10 minutes but I went ultra defensive
I will be clear – my favourite thing of these two matches against Everton was we scored one goal in the home match. Nuha Jatta gave us the lead, Oscar Aga didn't convert the penalty kick and they turned the score around and won 4-1 on agregate.
No tweaks or changes helped. It was only about to not concede a lot of goals. I'm sure it would be 5:0 or 6:0 (or more) in both matches if I would didn't play with the defensive mentality.
---
Positives & negatives
All the things have some positives and negatives. And this is not an exception. I mentioned the fact about our domestic season that is based on the calendar year. I'm not sure if it's a clear negative thing because we played 8 friendlies before the first match against Lokomotiv.
But the team would probably be better prepared from the competitive matches than only from friendlies. We played the first league match just after we came back from Germany. We played 4 Europa League matches before the Swedish league started. But that's a reality and I don't consider it too negative.
The clear positive was the option to test all players in the squad. As the new players who were not able to register for EL got a lot of chances in the Svenska Cupen and Allsvenskan. I was able to realise who will be able to play at the highest level. Both domestic and continental.
Gained experience, money earned and reputation boost are the main postives for sure for the whole club. Same as the fact that Swedish champion will start the Champions League qualification journey in the 2nd round instead of in the 1st one.
---
It's not intended to be some kind of tactical analysis. It's just my thoughts and notes from playing the game. I'm usually doing just some logical and simple things rather than to overhaul or change the system completely.
Thanks for reading.