The fourth season of my FM21 save with GAIS in Sweden started with releasing players and saving money. We were able to offload players/wages around €30k per month and it helped our budget a lot. But probably none expected we will look at this number with a big smile at the end of the season because of the prize money we earned and received during the second half of the season.
Personally, it was probably the best season from these four I played within the save. Not because of the results, number of goals scored/conceded or something different realted to succes.
I just enjoyed playing it, tweaking the tactic or set pieces and it was really rewarding when some my player scored a goal after corner/free kick/throw-in exactly as I imagined in my head while creating that routine.
---
The key moments of the season
The Sebastian Larsson story
This is something I didn't expect. I didn't expect it at 0%. But as always, this game surprised me. I enjoyed one season with Wayne Rooney and I decided it's a good idea to sign another experienced player in Sebastian Larsson.
Former Swedish international player (131 caps, 10 goals) spent the previous four years with AIK after leaving England after almost twenty years. He was available for free, he was willing to lower his wage demand from €20k p/m to €12k p/m and I gave him a one-year-long contract.
My plan was to use him as DLP(S), the same as Wayne Rooney. And I wanted to use him as our main set-piece taker because his crossing, corners, free kicks, penalties are perfect. I should rather say they were perfect.
He signed on Thursday, December 1, 2022.
I set his training in a similar way as to Wayne with half intensity and I set him as our routines taker.
I was thrilled with the new signing during the press conference on Friday, December 2, 2022, at 10:41.
The next day, on Saturday, December 3, 2022, at midnight, I received the e-mail stating:
Sebastian Larsson has announced his decision to retire. After talking the matter over with friends and family he has decided that his best option is to retire while he's still in his prime. He intents to retire on Monday, December 19, 2022.
Fifteen days later, on Sunday, December 18, 2022, at midnight, he informed us he will retire the next day after he made the final decision.
---
Midfield overhaul
I knew there will be some work to put the squad together before our fourth season. Mainly because of the Rooney's retirement. And also because Burnley FC (English Premier League) activated the release clause of Matt O'Riley.
It was €1.8M. The board in line with the Director of Football accepted it. Same as I would have to accept it.
I signed him for free in September 2020 as he was a free agent. He was our best midfielder, CM(S) or DLP(S), it depended on if Wayne Rooney played in the previous season. I added England and Premier League as a playable nation/league just because of him from summer 2023.
---
The fact Sebastian Larsson retired didn't help me either. And it resulted in the fact I realised I don't have enough central midfielders.
Poor management, poor planning. Probably.
Tomas Ganning, Samuel Adrian and Kwadwo Karim Oppong (screen below) were signed to fill the midfield slots. All of them are able to play as CM(S) and also as DLP(S). Especially as I'm using the CM(S) role with Hold Position instruction. Experienced Daniel Pedersen was signed too but he moved to CD(St) role later in the season. But that's a different story.
But as the first season progressed, I still felt it's not enough. I thought we were missing something despite the I was happy how Ganning got used to CM(S) role in combination with Adrian as DLP(S).
I was on my typical trip within the player search screen tweaking the searching filters during the summer break in June. And I decided to sign Dan Gosling. Another English midfielder within this save. He is younger than Rooney when he signed.
---
But it didn't work out this time as I would like. Dan played very well but he was unfortunate and he damaged his cruciate ligaments at the end of November 2023. That meant 8-10 months out of the game and he decided to retire.
He made 18(2) appearances and added 3 assists, 1 yellow card and 1 red card.
---
Tactical & training tweaks
The main changes for the fourth season were two:
I changed the Pressing Forward role to DLF(S) – the signing of Hudson-Odoi helped to make that decision and I wanted to involve this striker even more within the 3-5-2 formation in the build-up.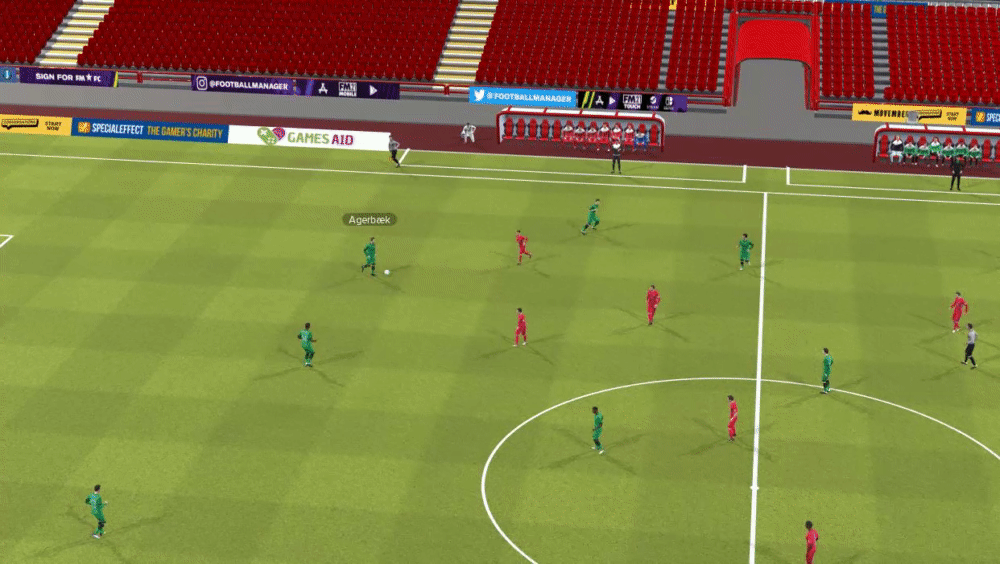 ---
The Whipped Crosses instruction was added – it helps slightly to both WB players in combination with Cross From Deep instruction. And also maybe during set pieces – can't confirm this 100%.
I also tried to change the midfield flat trio during the end of the season. I moved DLP(S) to the middle and CM(A) to the MCR slot. And I tried Mezzalla on support for example against FC Basel and it worked perfectly. It's something I will consider using in the future of the save.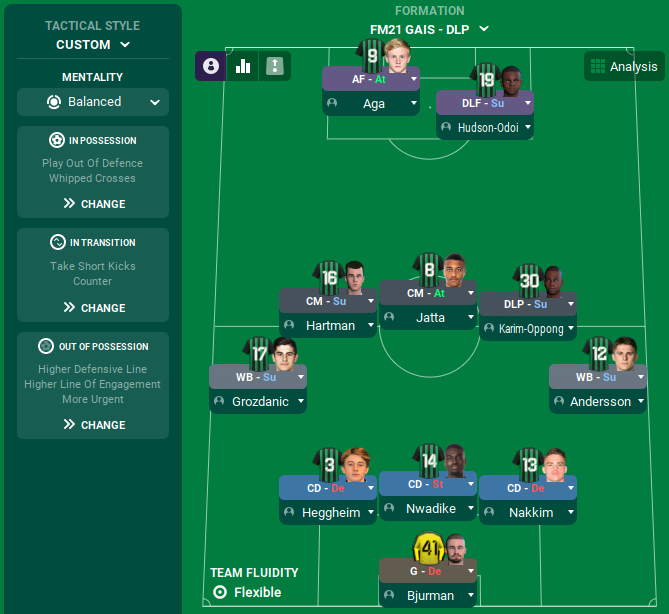 ---
I also made some adjustments to the overal training schedule. Both versions for "Saturday match" and "Sunday match" schedules were updated slightly.
I added more tactical sessions including the one from the General "pack" for the day after the match when we play on Saturday. Maybe it doesn't work as I would expect but I like to think it can help my players to gain tactical "feeling" in combination with a match review session.
You can see the example of training weeks while the match is played on Saturday/Sunday. Or when it's various due to mid-week match. I like to do everything on my own so I tweak it a lot while playing.
---
Ghanian future (s)
Many people have Scandinavian clubs connected with scouting, buying and developing African players. Some of these clubs, I'm sure most of you will think about the FC Nordsjælland, have this system at the absolutely top level.
I will be clear. It's not my main aim of the save to be another club like this. I like to have a mostly domestic-based squad. Or at least regional-based squad in this type of the save in Scandinavia. I have no issue not have only Swedish players in the squad and I really enjoy having Finnish, Danish, or Norwegian players here too. It's just part of my Scandinavian scouting roaming system.
But I couldn't refuse to sign two players. Both of them are Ghanian youth national team players. Both of them are ready for the first team football already in my eyes and they were almost for free.
If nothing more, their possible future transfer can boost club finances a lot. Kingsford Hudson-Odoi was bought from Hearts of Oak for €8.5k. He will play as DLF(S). And he is the main reason why I decided to try DLF(S) role after three seasons with the Pressing Forward role.
Kwadwo Karim-Oppong came from Berekum Chelsea for €25k. And I will develop him as DLP(S).
---
The season
Same as in the post about the third season, we can divide the season into three parts. The first one is about the Svenska Cupen. We lost 0-1 in the final last year against Djurgardens IF. We made it to the final again after wins over Eskilstuna, Norrköping, Norrby, IFK Göteborg and BK Häcken.
And we faced Djurgardens again. This time, we won the trophy thanks to a converted penalty kick by Oscar Aga in the 18th minute.
As the reigning champions of the Allsvenskan, we weren't the main favourites for the league title trophy again. I didn't expect it as well. Mainly because I didn't know what to expect from our first appearance in Europe (more later).
We were moving between the first three places for the whole season but we were 2nd most of the time. Exactly as you can see in the picture with the past positions.
Malmö FF moved to the top after the ninth round and remained here until the end. They won the league for the first time since 2017. And they deserved it for the consistency.
---
The European experience
I already mentioned our first participation in some European competitions. It was the Champions League thanks to the league title. And we started in the 1st qualifying round = a long way to the group stage through four qualifying rounds.
But we made it. The first two matches against Gap Connah's Quay were easier than a friendly match against our own youth team. There was simply a too big gap between both teams. Sorry.
Other opponents were stronger but we were perfect and we gave everything to the qualifiers and ditched some league games around. I would be happy even with the Europa League or the Europa Conference League. But.
We beat Dinamo Zagreb, APOEL, and also Basel and made it to the group stage with Stade Rennais, Juventus and Chelsea. The 2-1 win at home against Rennais gave me some boost. Chelsea and Juventus away were not playable for us. But we tied with Juventus at home and with Rennais away and secured the third place and Europa League knock-out stage.
We were 2-0 up against Chelsea at home in the last match but they scored four goals within 22 minutes to make it 2-4 and it ended 3-4. A perfect match at the end of the season.
The club earned over €19M thanks to Champions League prize money so I think just the number speaks for itself.
---
Season ticket holders
If you read the first blog post about this save, you maybe remember I shared some info about the "The Fanager" campaign. This project was introduced by GAIS during the 2017/2018 season in a real-life. One of their fans got the option to become a manager of the team for one match.
It connected the club with their fans and they increased the season ticket sales by 21,9%. One of my aims of this save was to bring fans back to the stadium and increase the average attendance and the number of season ticket holders.
We started with the 560 ticked holders. But thanks to the promotion to top tier and thanks to the league title win in the 3rd season, we are now in an absolutely different world.
The number of season ticket holders increased to 5,115 before the 2023 season.
The average attendance also had some development and the promotion to the top tier gave it a big boost. We were around 1k in the first season. If there would not be a derby match against Örgryte, we would be under 1k probably. The first two seasons were almost similar, the difference was just in tens.
But the first season in the top tier increases the average attendance by almost up to 4k. And we also saw our first ever stadium sell-out of this save. It's more regular now. Our stadium was sold out 7 times during the 2023 season just in the domestic league.
---
Average attendance is affected by the fact we played four Champions League matches at the Gamla Ullevi stadium with a capacity of 16,600 seats. If I would count only the league and cup matches, our average attendance would be 7,609.
---
Every day/week/month/year or season we play within the Football Manager can be a learning point in my eyes. Or you will just experience something new. As I mentioned at the beginning, I really enjoyed playing this fourth season.
It was also probably the fastest season of my FM21 playing thanks to it despite I wrote this post while playing. There were times when I forgot about the time before I realised I didn't experience anything like that for a long time.
I also found out that I have more foreign players in the squad than probably for the whole last two FM editions together. That means I will try to get back to a more domestic-based squad in the near future. The 5th season of the save will probably be my penultimate or last one for some time. Let's enjoy it.
Thanks for reading as alway. The save with GAIS from the beginning? Click HERE