It all started quite innocently. I was between two seasons in my save and I was thinking about some tactical switch. Or maybe better worded, just a little tweak. Mainly because the football I like will be very similar. And I decided to change my formation – FM20 Tactic 4-1-1-3-1 DM Wide as it's called in the game.
The tactical tweak was also influenced by FMSlack as we talked about the positioning of DM and CM players with FEO in his channel.
He is using asymmetrical positioning of his defensive and central midfielder and as it was in the time when I started to test my new set-up, I was interested why he doesn't use these players in the same line.
As he said "your determination to get this working is very clear!" And I wanted to get it to work.
The new look
Why I wanted new formation when the 4-1-4-1 DM Wide worked perfectly? Maybe that was the reason.
If you are interested, there are four individual instructions within this formation.
FB(A) – Stay Wider
IF(S) – Stay Narrower
FB(S) – Cross From Deep
CM(S) – Hold Position
---
Bye Half Back
The decision to try the Half Back role within FM20 save was the best one I could make. It's a lovely role. It can help you with the defending but also with distributing the ball all over the pitch same as it would be a playmaker.
And my both main half-backs wore more like playmakers. In combination with the playmaker role in the AM position (more below), I made the decision to say bye to the HB role.
It was changed to a standard DM(D) to just have a role which will sit between defensive and midfield lines and just recycle possession. But not playmaker-type player/role to not attract every second ball.
I compared some matches with the Half Back and DM(D). It's about 15-20 received passes per match different. There is more passes distributed straightly to the CM or AM player. Or to the side.
---
When I checked one of my recent matches, Carlos Castillo as our DM(D) had 25 passes with the CM(S) player. Most of them are short passes as they are close to each other.
But the main point is it's the 8th highest pass combination from all players. With the Half Back, it would be at least about 10+ passes.
---
Hi Poacher
Another change I wanted to try for some time was to use Poacher role. One of the reasons was that I currently have three natural Poachers in the team. All of them are young players who can develop further.
And yes, the main striker Víctor Ríos can play in this role as well. He played as Advanced Forward and Complete Forward before.
My aim is to be a little bit more straightforward. I would like to take advantage of good central players who are able to pass the ball straight to the poacher or to the space where winger or inside forward will be.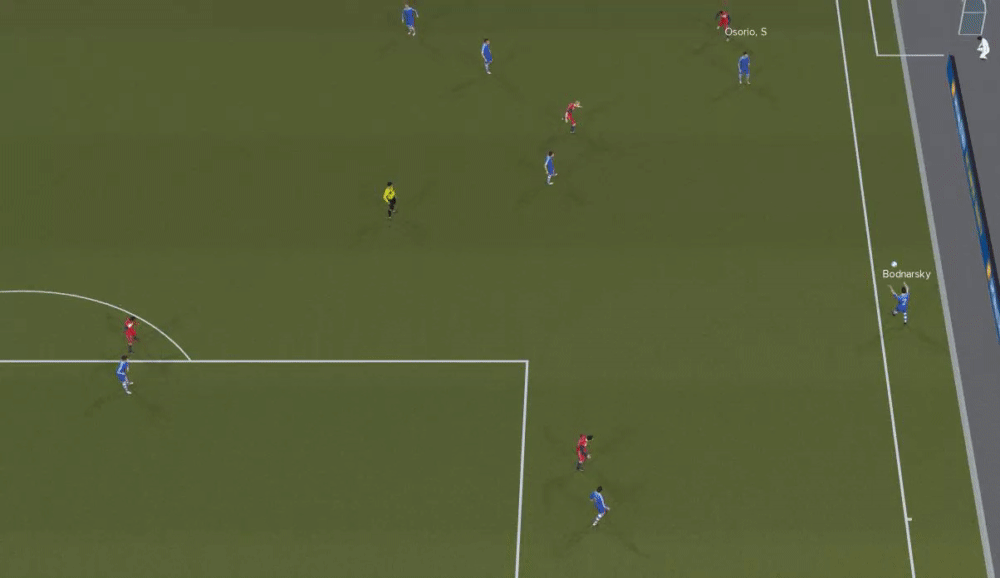 Another example is about the patient buil-up play from the back. Mainly thanks to the central defender (number 13), defensive midfielder (number 16) and it resulted in a perfect pass from Escobedo (number 20) to Ríos.
---
---
These four are my current strikers in the first team. Víctor Ríos is the main choice. He is the best. I was very happy when he signed a new contract in the summer and he didn't even want some big money.
Christobál Aguirre is the main backup, currently wanted by Manchester United, Liverpool or FC Porto.
Eric Silva is our own newgen. Not sure what but there is something with him and I would like this 199 cm tall player will play a top flight football.
Jonatan Arenas is the youngest one, will play mainly for U20s team. I bought him for €500k from Tigres.
---
The AM role decision
This part of the new look was the hardest despite this position was the main reason why I changed our set-up and moved one CM player higher.
It was, or still is, hard because every time I tried the AM position/role since my FM15 save, it didn't work. I always made it wrong.
There were some 100% things I knew:
I don't want to use Shadow Striker because of Poacher role
The AM players are not mature enough to play as Enganche I would have to buy someone and I didn't want to buy someone
I would need runners around Enganche but I don't want to have everyone in the penalty area same as before
Newly signed youngster Leonardo Ortega will be great as the attacking midfielder when he will develop but he needs time
I need to decide between AM(A) and AP(A) role
Both these roles with the support duty mean the player is too deep within the pitch, very often in the same area as the CM(S)
It will be between Julio César Villalobos & David Escobedo.
I put together two tables with the key and preferable attributes for the AM(A) and AP(A) role.
Firstly, as I already mentioned, the CM(S) player has the hold position instruction.
I added also Ortega because he will be the future probably and he already has some very good attributes despite the young age. You can open the profiles of all three players if you will click to their names in the header of each table.
[wptb id=30516]
---
[wptb id=30518]
---
Not good enough finishing
When I compare Escobedo and Villalobos, both have something what I like. But also something what I miss or I would like better.
I would be happy if Villalobos would have better physical attributes. On the other hand, Escobedo needs to improve in passing and flair.
The AM(A) role has Get Further Forward instruction. It's similar to CM(A) as you expect this player will be able to finish same as create.
And neither Villalobos or Escobedo are good finishers. That's something what decided to use Advanced Playmaker role with the attacking duty.
In the end, Julio César Villalobos won the imaginary battle of the number
shirt. Mainly because of his better attributes of Passing, Technique, Teamwork and Vision.
I tried both roles with support or attacking duty. The Advanced Playmaker with attacking duty is the best choice so far as no player is able to fill the AM(A) criteria in terms of being able to be the second scorer.
Maybe when the Juan Henriquez will be back from his loan spell…
---
Tactical training
Another thing I decided to change is training. The combination of two things:
I was putting too much concentration to set-pieces (5 sessions when the match was played on Saturday) and the results were almost the same as with one or two sessions, meant, I decided to scrap the set pieces sessions and concentrate on something different.
I decided to use more Tactical session to try something different again.
Tactical (Team – General) – it should improve the tactical familiarity + composure, concentration and more mental attributes
Tactical – Attacking Shadow Play (Units) & Defensive Shadow Play (Units) – the primary focus is set for the attacking or defensive units. Both these sessions are separated, both should increase mental attributes and tactical familiarity.
---
I have used only one Tactical session before. You can see I'm using three general session and two tactical sessions for units now.
For both options – when the match is played on Saturday or Sunday. When there are two matches per week, it's affected by travelling.
---
The first months
How it went? Well, I don't count results in friendlies. Everything will show in the competitive matches. Same as set pieces for example. If your routines work in friendlies, it doesn't matter they will work in the league…
But it went well. Víctor Ríos scored 11 goals in the first 8 competitive matches as Poacher including 4 goals in the match against Dallas.
Five goals against Dallas in the Leagues Cup 2027. Four of them started with a throw-in.

And there is also one assist we all dream about – backpass from the goal line instead of the blocked cross.#FM20 pic.twitter.com/OUMdTSs445

— Rensie (@FMRensie) July 8, 2020
This match was a great example of how a small change can help as I decided to use Slightly More Direct passes too and it worked perfectly against 4-4-2.
It's mainly about my own feelings what to add or remove. Sometimes it works, sometimes I only say to myself it was not a good decision.
Gilberto Erick Serrano scored once and made 6 assists with 26 key passes in 7 matches as CM(S). Julio César Villalobos made 4 assists as AP(A) in 6 matches.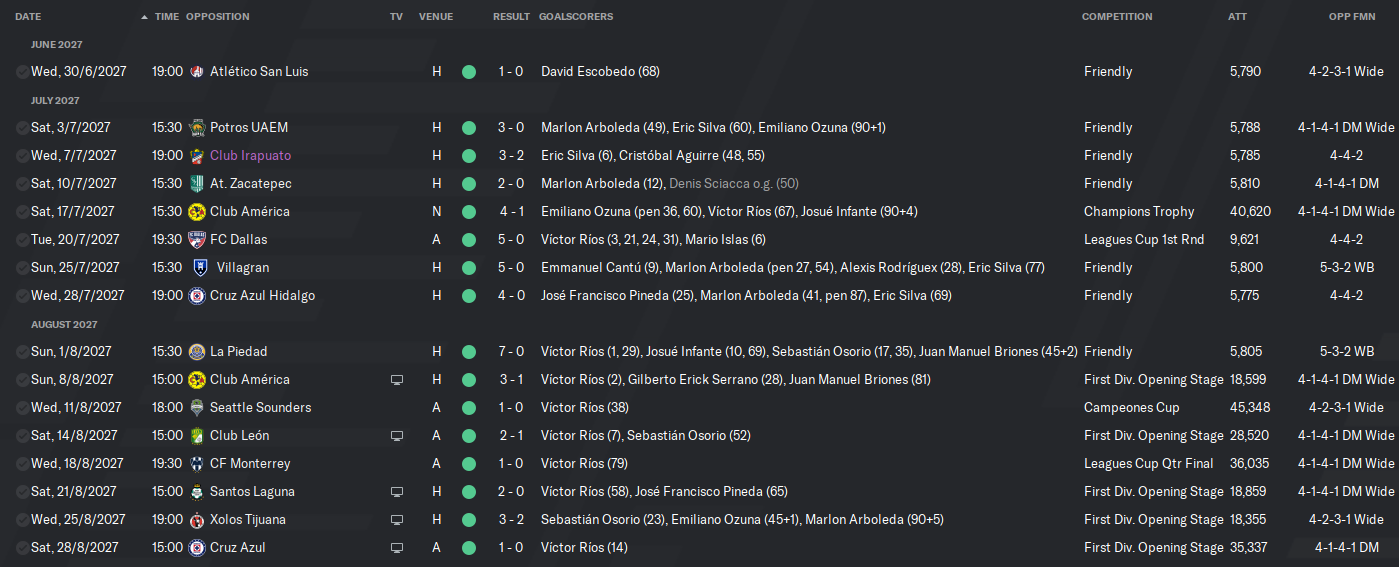 ---
---
---
As always, thanks for reading, @FMRensie.
Don't forget, you can join FMSlack via THIS link. My channel is #fmrensie but there are many other interesting channels to talk about FM.