Coach reports. Do you pay attention to them? Do you trust your coaches? I usually judge players by my own eyes but something caught my eye recently in my FM20 save.
The coach report consists of three simple parts.
Pros
Cons
The role suitability with the squad comparison
Your coaches will give you a report of many things your players do well or bad. From the training rating to specific attribute, advantages or weaknesses.
The right coach selection
If you ever read some my post about set pieces, you know how pedantic and reluctant I'm if it comes to the point when you have to select the right players to the right roles.
To be fair, it's absolutely the same in this case. If you will receive the report from the coach with bad judgement attributes, you can judge your own player wrongly.
The (almost) top right corner of the Player/Report screen is key for us when we want to check what judgement attributes of each coach are.
I have my assistant manager, Mikele Leigertwood (click to see his profile), as he has 14 Judging Ability/Potential. It's the best from the current coaching team.
If you will move your eyes to the left side of the screen you can open the drop-down menu and select different assistant/coach.
Pros, cons but also the current and potential ability will change. It depends on the judging attributes of each coach.
If you didn't set some of your coaches to provide the reports within the responsibilities screen, the last selected should stay here.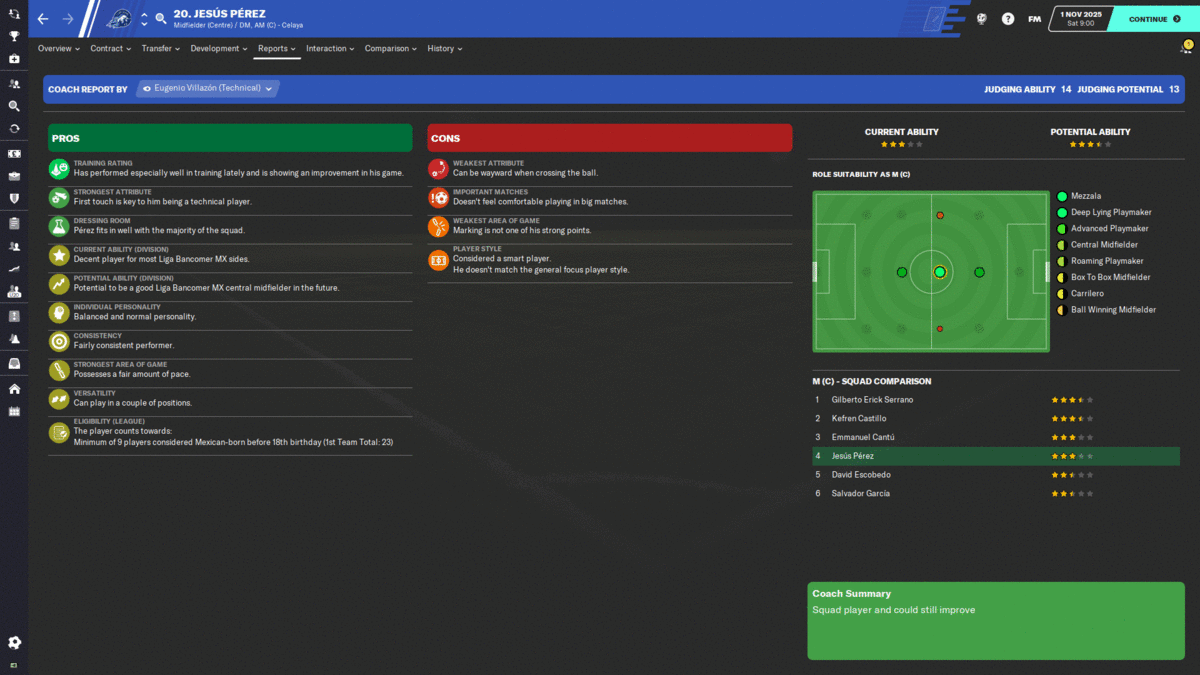 ---
A simple trick
You can also set the default assistant/coach in the staff responsibilities. Just open Staff/Responsibilities/Staff and select the Advice and Reports item on the menu.
The required line is in the middle of the screen named Provides Player Reports.
If you will open some of these popup menus under the Get advice from you can see the key attributes for the specific role.
Unfortunately, it's not a case of the Provides Player Reports, Provides Youth Development Information and Providing Loan Feedback.
But you can open the Player Development just above the selected item and you will see Judging Player Ability, Judging Player Potential and Working With Youngsters attributes. They are available to sort out.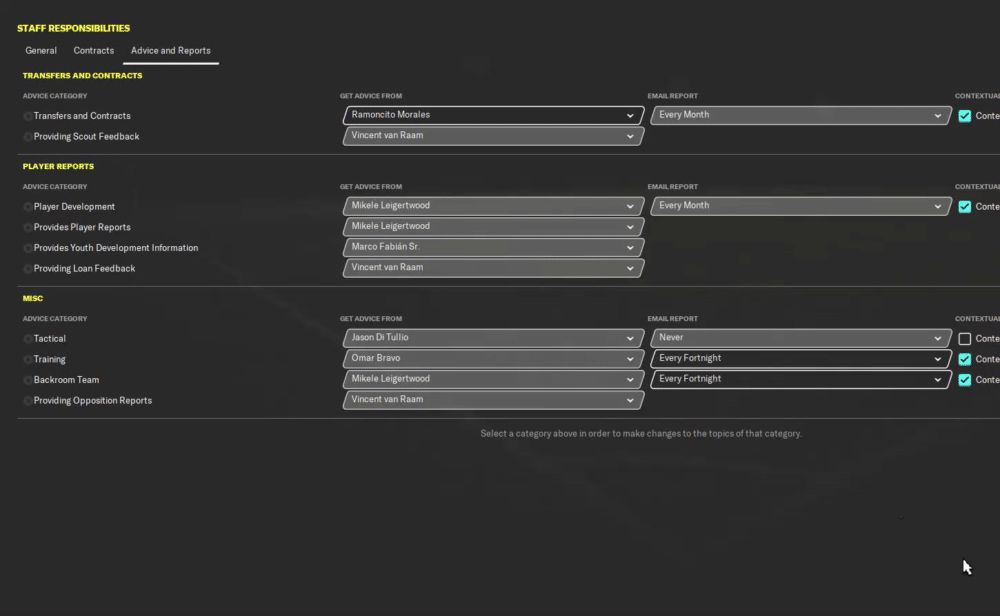 Judging Player Ability and Potential
---
When employing a scout, these two attributes are the first things you should look at, but it remains valuable for all non-players, particularly coaches too. High attribute ratings in these two areas will most likely result in more accurate scouting reports and player evaluations. Judging Ability is important if you have assigned a scout to watch players you intend to bring in, are scouting upcoming opponents, or ask a coach to provide reports or advice on players in your squad. Judging Potential does much the same, but concerning the player's long-term outlook, rather than his current situation.

JPA & JPP description in the game manual.
---
Both these attributes together with Management are set as the key attributes for the Assistant Manager role.
That means you will want to have the best possible assistant manager with these skills and it would be logical to have your assistant manager set as the one who will provide the reports.
If some of your "normal" coaches will have better knowledge attributes, change the responsibilities. Or give him the assistant manager role
---
Loreto Composure long passes
I would like to share this example. I bought the young Mexican central defender Julio Jesús Loreto in summer of 2025.
His best role is No-Nonsense Centre-Back with the Cover duty. I don't use this role and he is playing as a CD(D). You can see his key/required attributes for this role are quite good.
Except the Composure attribute. It's only 6 in November 2025.
---
Composure reflects the player's steadiness of mind and ability, particularly with the ball. When faced with a big goalscoring chance, or heavy pressure defensively, a player with high Composure will be able to keep his head and more often than not make an intelligent decision which is beneficial to the team. In general play, they will appear to have more time on the ball, make smarter and more successful decisions with it, and generally be more aware of their surroundings in all phases of play.

Composure attribute description in the game manual.
---
My assistant manager, and some other coaches, share their opinion about the weakest attribute in the coach report.
"Lack of composure hinders any skill element to his game."
I checked his profile, his stats and the coach report(s) after the latest game with Atlas Guadalajara. Despite we won 2-0 I was not happy with one thing. We lost the ball too many times.
And it was mainly due to long passes. Mainly due to Loreto who had 15 intercepted passes in that game. Most from all players on the pitch.
It opened my eyes and I checked the previous matches when he played.
Club León – 11 passes intercepted (most of them long as you can see in the gallery)
Xolos Tijuana – 11 passes intercepted
Santos Laguna – 10 passes intercepted.
Deportivo Guadalajara – 14 passes intercepted. The second central defender José Maria Franco had 19 passes intercepted, most of them also long. His Composure attribute is 8.
Puebla FC – 12 passes intercepted.
The issues can be quite easy to find out. Loreto didn't have enough support to pass it shorter and he sent the ball far away. He is not able to play under pressure due to low Composure attribute.
Composure is important for all players who will be under pressure. Playmakers when they want to make a good pass while they are under pressure. Defenders to control the ball and to make a pass instead of hoof the ball to nowhere.
---
---
It's the key attribute for all to being calm under pressure. Not only for strikers. It only affects players in different ways.
Decision attribute should work together with Composure as they affect each other.
---
The ability of a player to make the correct choice the majority of the time. This attribute is important in every position and additionally works out how likely a player is to feel under pressure at any given moment and to make the best choice accordingly.

Decision attribute description in the game manual.
---
Despite Loreto has Decisions attribute of 11, what is not that bad, he is currently not able to take it together and main of his passes under pressure are long ones and we are out of the ball.
What did I decide to do? I gave him the additional training focus Final third as it's focused on Composure and Decisions.
I don't know if he will develop both attributes but it's only a game and I want to try it.
Btw. I tried one match with the No-Nonsense Centre-Back role and it was almost the same. Seven from his 8 intercepted passes were long balls to nowhere.
---
More examples
Josué Infante (click to see his profile) is known player for you who read the previous posts. He is our own newgen and our best central defender right now.
One of his cons within the Coach Report is "Fairly susceptible to injuries".
It's his fourth full season in the club. He played 129 matches for the first team up to date. And around 60 for the youth squad.
He had 9 injuries in three years, the longest one took 6 days before he was back. He was never out due to injuries for a long time. It's the moment when I don't trust the report.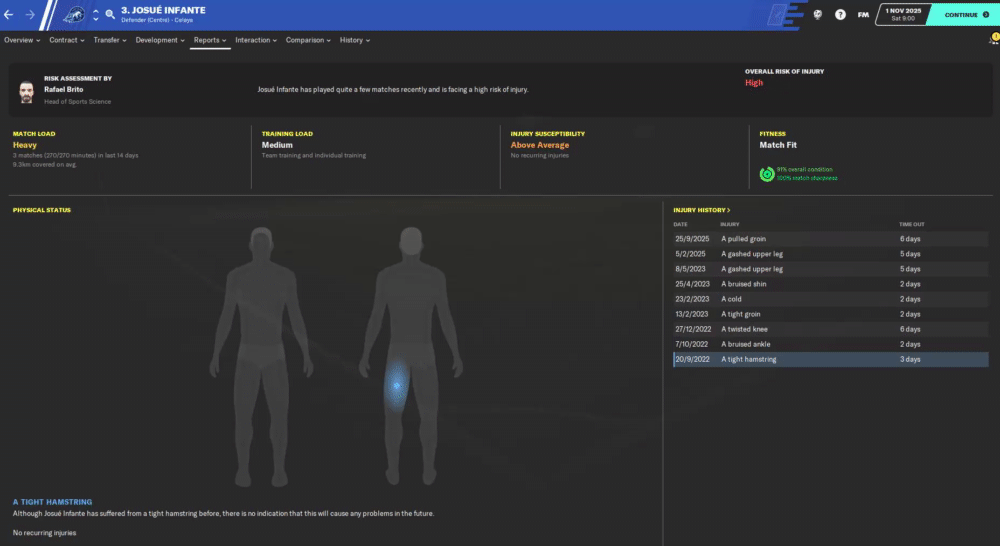 ---
I will continue with the cons as I like more to find what is wrong and try to improve it.
Salvador García (click to see his profile) is currently the main Half Back. His weakest attribute is Heading and the coach report suggests "he has work to do in the heading department."
He sure has. His Heading attribute is just 7 and it's really the biggest, and the only, weakness.
Garciá made 18(2) appearances so far in the 2025/2026 season. He has 73% headers won ratio but it's a sample from only 24 headers. Least of all players.
The solution? Try to improve his heading or find him some different role within two CM positions.
---
Osorio – consistent player for big matches
I still have some real players in the squad. One of them is Colombian Sebastián Osorio who is 28 years old. I signed him for free before the second season and he plays mainly as IF(A) on the right side of the pitch.
He passed 250 matches for the club in the current season.
Two of his pros are Very consistent player and Relishes big matches.
In October 2025 we lost to Santos Laguna at home after a poor display. We needed to earn some points from next three away matches to secure the play-off spot.
We won twice and drew once and Osorio scored two goals from five. And played very well. These three matches were crucial for our league position. Not sure if the game considered them as big matches but I did for sure. And Osorio probably too.
---
I would be able to continue like this almost with all players. I have a talented central midfielder right now in my U20s team.
Raúl Ortíz is our own newgen with the Profesional personality, good decisicions or balance attribute and also a very solid free kick attribute.
My assistant reports he is a fairly selfish player and fairly susceptible to injuries. And he should work on improving his crosses.
I know I will want him to play as CM(A). The fact he is a selfish player can help him in that role, I have no problem with it. Leigertwood also thinks Ortíz has the ability to be better than current key player Emmanuel Cantú.
---
What's the point?
Well, I consider myself as the FM player who likes to do the main things by myself. Including the judgement of my own players. But this is how I'm using the Coach Reports in FM20.
Sometimes, it's good to take advice or just read the opinion of someone another who can spot the different things. Like in the example of the long passes of Loreto.
Since I found out the numbers of his intercepted passes, I have to think about the tactical changes until he will improve.
I know it's not science and it's nothing complicated. Why it should be? I just like to take some time and go through the player reports to see if something will catch my eye. I am not able to see everything by myself…
---
[poll id="3″]
---
Thanks for reading.
Don't forget, you can join FMSlack via THIS link. My channel is #fmrensie but there are many other interesting channels to talk about FM.
And don't forget to try the FM20 Rensie skin.