Regular readers of this Football Manager 2020 save will know the save stopped at the end of the 2024/2025 season. It stopped because I wanted to write some posts before I will hit the continue button again.
I recently wrote about the conceding from set pieces but also about the fact I switched to to the formation including the defensive midfielder with the Half Back role.
And I decided I will divide this post to some parts, mainly for the parts before and after the tactical changes.
The 1st part of the season with the flat 4-3-3
We started the 2024/2025 season with Celaya typically with some friendlies. I also decided to create our own summer tournament as I invited some Club América, Cruz Azul and Atlas Guadalajara.
We played with the 4-3-3 formation with the flat midfield trio and it worked well but as I mentioned in the previous post about the Half Back, I felt the team needs some change.
We didn't play too good as I would expect. Every time I rotate the squad it was quite hard to watch. Sometimes, I felt the young players were all in the same area like when you are watching some U5 sides.
It took me 16 matches before I decided it's time. We beat Tiburones 5-1, for example, but they were bottom, we also beat Pumas 3-0 but they were in a very poor form.
Our team was 6th in the table before the tactical change. And we missed something in both attacking and defensive phase.
---
José Manuel Dojaquez was the best goalscorer of this part of the season with just seven goals. Emiliano Ozuna was just behind him as the main winger with the support duty.
We conceded quite a lot of simple and stupid goals and it was the main reason to think about how the midfield trio is working. Or doesn't working.
I also let play some youngsters and it led to these type of the goals when they were not too confident in my eyes. And they made some unnecessary mistakes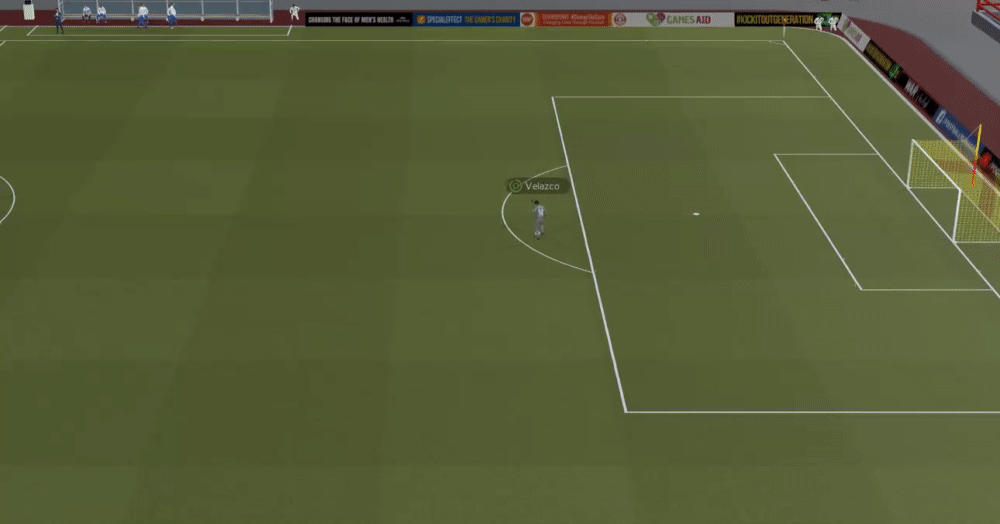 ---
---
The 2nd part of the season with Half Back
The second and better part of the 2024/2025 season started in October after the international break. We tied 2-2 with Atlas before and I decided to make changes before the next match.
I like to use less team instructions so it was not different this time. The final set-up had some development.
We tried CF(S), F9, Trequartista as roles for our lone striker but same as with the previous formation, I ended with the Advanced Forward. And with the combination of Winger (S) and Inside Forward (A) as AML/R.
My first intention was to use Play Out of Defence instruction to take the Half Back and DLP/RPM player to the game very quickly.
But it led to risky situations when too many players were in or around our own penalty area. And it was easy for the opponent to press.
So I removed this instruction. It was too obvious against stronger and more reputable teams like Monterrey for example
There were a lot of examples when our keeper passed it shorter to the near teammate, he passed it back and our keeper sent the ball to the stand. Or central defender smashed it to the stand by himself. Or to the area where no our player was.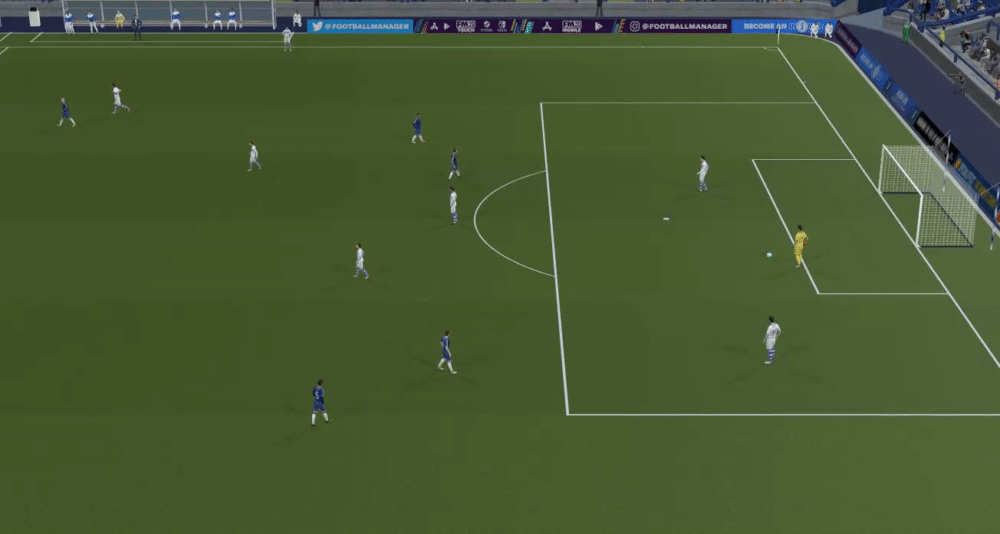 It looks like this when I'm not using the particular instruction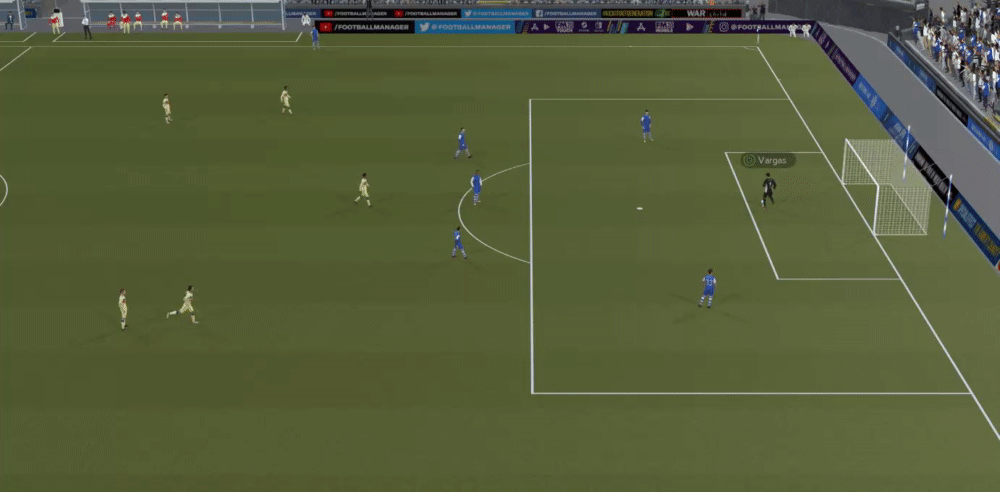 Or this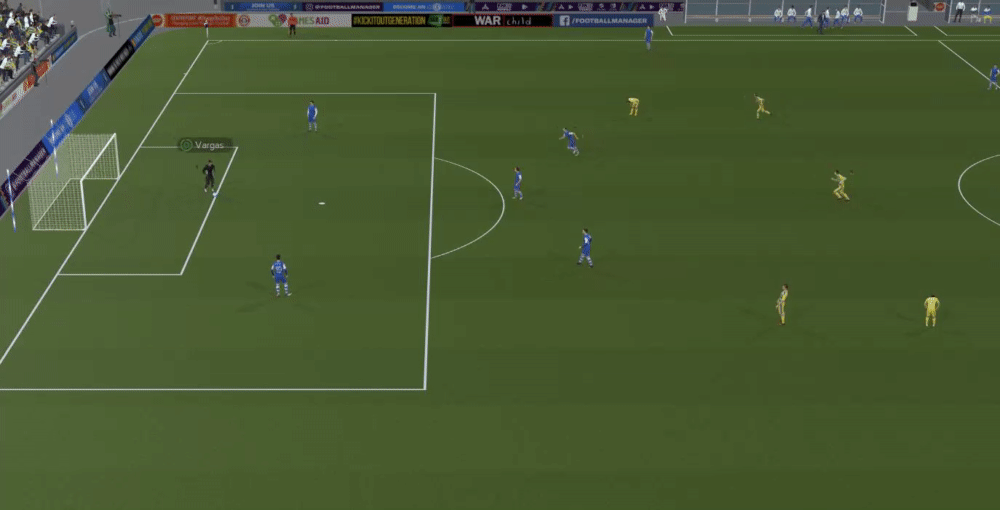 ---
The promising signs came quite fast as we reached the Apertura play-off despite the draw with Cruz Azul and defeat with Santos Laguna.
But we were great in the play-off, we had some luck, our defending was better and better. And we won the Apertura.
---
The Clausura started in a perfect style as we were able to keep 6 clean sheets in a row.
We were first in the table for some time during the Clausura. But as we progressed also in the CONCACAF Champions League we moved down to the third or second place.
Fewer goals but…
As the season went through and I experimented between the DLP(S) and RPM role in the MCR position, we were more and more solid in the defence.
And it resulted in the Clausura play-off winning along with the second consecutive Champions League trophy after we beat Monterrey in the final.
We lost 5 players due to the U20 World Cup before the play-off final, the other two were suspended. That means three 18 years old newgens played both finals against Cruz Azul. They did perfectly. The future is bright…
---
Josué Manuel Dojaquez ended the season with 16 league goals and 19 goals in all competitions.
It's fewer by 3 goals in each in comparison with the previous season. But on the other side, we had more players who reached 10+ goals in this season.
Osorio – 17 goals as IF(A)
Cisneros – 12 goals as IF(A) or AF (he was affected a lot by positions/roles switching)
Ozuna – 12 goals as Winger(S)
Josué Infante – 10 goals as Central Defender
The 2022/2023 season was the best season by Sebastián Osorio as IF(S) when we played with the fluid team fluidity and everything looked so easy…
Emiliano Ozuna had 15 assists. It was his third consecutive season with 15 or more assists.
But only Gilberto Erick Serrano was another player who reached double-digits in terms of assists as he managed 11 assists.
It's something I need, and I would like to improve.
---
Josué Infante
Do you know why I added the
emoji to the line with Josué Infante in the list above?
Because I love this player. Really.
It's my favourite own player within this save. Especially as my long-term love affair in both FM and real-life is the quality central defender from developed through the academy.
The one thing I will make before the next season is I will change his number from 22 to 3.
Josué came to our club through the 2021/2022 Youth Intake
He made 11 appearances for the Under 20 team before the end of that season.
I promoted him to the first team for the 2022/2023 season and he made 11 league appearances and 5 continental appearances. And also more than forty matches for the youth side.
His development was perfect and he became the part of the starting XI in the 2023/2024 season when we won the CONCACAF Champions League for the first time.
---
And this season he made 52 appearances in all competitions, scored 7 league goals and 3 Champions League goals.
He also added three assists and he was voted player of the match 10 times. The most from all players. He ended the season with the 7.27 average rating.
Infante is trained as Ball Playing Defender. Additional focus was changing between Strength, Agility & Balance, Endurance and he has Aerial as the current additional focus to improve his heading.
His Attributes changes within 3 and a half year since he appeared in the Youth Intake
He still is only 20 years old now. He has a contract until June 2029 and he is now valued at €7.5M.
I sent him on Leadership course now. Not sure if it will bring something but I wanted to try.
Will he be our new captain and leader? Or he will move to the bigger club? We will see…
---
Clean sheets…
…are like the obsession. When your team didn't concede in two or three matches in a row, you want more.
This was our sixth season and it was 100% the most successful season from all in terms of defensive effort.
The experience Miguel Núnez was our number in the first season and he kept 12 clean sheets when we won the promotion.
I bought José Alberto Castillo before the second season and he was our keeper one for three seasons before he left to Deportivo Toluca.
His record was 24 clean sheets in the 2022/2023 season.
The last two season we have almost our own newgen Erick Vargas as our keeper number one. Almost because I bought him from Cafetaleros for €40k after he appeared in their Youth Intake in 2020.
He rotated with American Luke Hickey in the previous season but as Hickey was seriously injured, Vargas took the number 1 spot. And if he will not move elsewhere, he will remain our number one for a long time.
Vargas played 59 matches this season, conceded 32 goals and kept 36 clean sheets.
We had 28 clean sheets in 50 league matches but we was not the best in terms of conceded goals. Club América conceded only 29 in 44 matches, we conceded 31.
And Deportivo Guadalajara conceded 30 goals in 40 matches but they didn't even make the play-off in the Clausura.
I'm sure I will not overcome this record within this save, it will live forever with me
---
Thanks for reading.
Don't forget, you can join FMSlack via THIS link. My channel is #fmrensie but there are many other interesting channels to talk about FM.
And don't forget to try the FM20 Rensie skin.