My Football Manager 2020 save in Mexico is partly dedicated to Emilio Butragueño. He played for Celaya FC at the end of his career. The Real Madrid legendary striker was a great player and I created a search filter for FM20 with several key attributes.
"Butragueño was a football genius and a Real Madrid legend who turned football into an art form. His dribbling was simply out of this world and his goals were the stuff of dreams. His intelligence on the pitch was too much for the brute strength of defenders and he turned the game into something sublime."

Real Madrid official website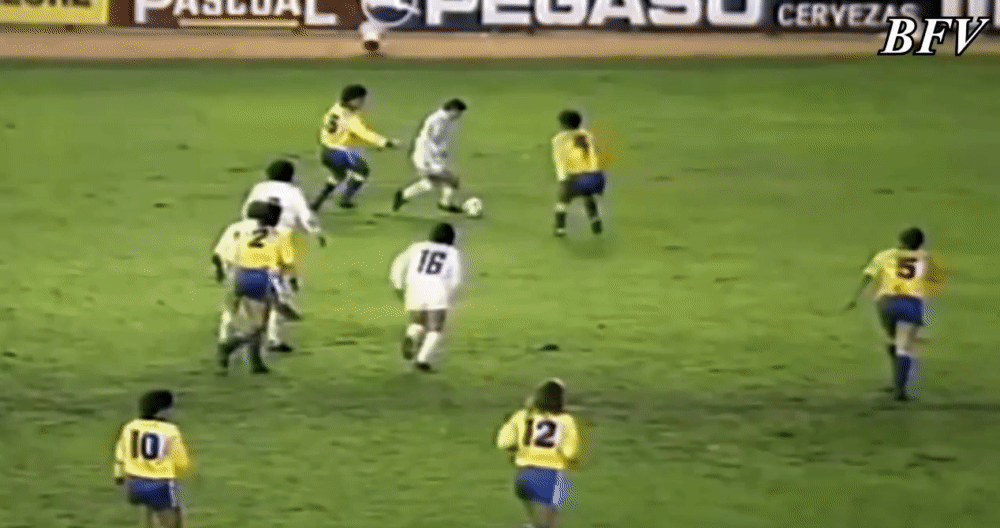 ---
My aim is not to have the full squad of new Butragueños. But I like to use it to search for players who can offer something different to our squad.
As Emilio Butragueño was very technically gifted but also a very brave player, the filter consists of technical and mental attributes mainly.
The thinking behind the FM20 Search filter resulted in 7 attributes
Dribbling – the first and logical selection as Butragueño is considered as one of the best players in terms of dribbling.
Technique – "This attribute reflects the quality of a player's technical game and how refined they are with the ball at feet." It's surely connected to Dribbling.
Bravery – this attribute it's not only about the commitment in terms of tackles in my eyes. It also affects how often can a player do something non-traditional.
Composure & Decisions – I put these two attributes together because they are connected to each other in my eyes. Both of them are very important for midfielders and forwards in key situations.
Teamwork – It's not only about scoring goals and making assists. It's also about how players are able to work for each other.
Vision – the game itself describes this attribute as the ability to see something another player may not have seen. I think it says all and it's perfectly suited for such creative and free-minded player.
The eighth and additional attribute I'm looking at is Flair. But I don't have this attribute selected among conditions in the search filter.
Mainly because of the fact the already chosen attributes are enough for me. If searched players have good Flair attribute, it's only a bonus.
---
The behaviour of search filters within the Player Search screen is very easy to use. You can always add or remove all available conditions. From attributes to statistics or something from general info.
Interested in transfer/loan or not
I'm doing one thing very often. I like to add Mexican nationality to find players from the nation I'm playing in.
I would do the same if I would play in Tanzania or Belarus.
Two small buttons in the upper area of the searching screen can be crucial for your search as well. I mean buttons with the option to tick Interested in Transfer | Loan.
It's nice to see the best players like Bernardo Silva, Naby Keïta or Lautaro Martínez but there is a bigger chance to win a lottery than you will be able to sign them.
(*This applies mainly for saves like the mine in Mexico outside of the top European leagues)
---
If you have time and you are interested in it, just open pictures above. The difference between the value of the players is clear on first sight.
Not only the value of founded players but also the value of each attribute.
---
Match 7/7 or less?
If you use the search filters, you know it can be hard to find some players. It depends on several things.
The main ones are two:
Scouting Packages
Match option
The scouting packages (Senior & Youth) are available to buy in Scouting screen. As you probably know, we have several options for both packages. It's usually dependent on how much money you have available.
I like to play mainly with domestic players so I'm using Mexico packages for both Senior and Youth to cover players in the nation I'm playing in.
---
The second thing I mentioned is available to find in the right corner of the screen under the bright edit search button. "Match X/X" option.
It works very simply. If you will have 7/7 it will search for players who have all 7 attributes with the specific value – 12 in our example.
If you will set it to 5/7, two from seven attributes will have a different value than 7. It means you can find more players but not all will have the required attributes.
The difference in founded players if I change it.
You can also play with the "Attributes -/+" option. I mean, if you are using "Match 5/7" you can also increase the value of all or some attributes from 12 in our example.
---
This screen consists of the best possible players around the world sorted by value when I untick the Interested in Transfer option in August 2024 in my save.
Kai Havertz, Harry Kane, Joao Felix within "El Buitre" FM20 Search Filter…
---
Search & Squad view
If I'm using some special filter I usually use also some custom view connected to this filter.
And it's not different in FM20. You probably already noticed it in the screenshots above so it's not necessary to talk about it in much detail.
The custom search view consists of basic info like Position, Club or Age.
It also includes Personality and other things but the most important part is the required attributes I'm looking for.
You can see the edited squad custom view to match the FM20 "El Buitre" Search Filter in the picture below.
It's quite similar to the general squad view I'm using but it's slightly edited with the required attributes and some other columns were removed.
If you will open the latest picture you can see some things in terms of this searching/squad policy.
Gilberto Erick Serrano and José Manuel Dojaquez are the best players in terms of these 7 attributes.
The players with the Bravery attribute 14+ are all defensive players – that's something we need to improve in terms of attacking players.
Only 1 midfielder (Emmanuel Cantú) has Teamwork 14+.
We need to improve dribbling skills of all players. Or find better players.
Thirteen players have 14+ Decisions attribute – I really like this.
---
Random founded players
The pictures below show you the random players founded by this filter I'm currently scouting. They are all interested in the transfer but I would have to pay a lot of money.
It's more possible I will lower the requirements and will try to find the best possible young Mexican players.
---
One of my summer 2024 signings thanks to this filter was Diego Montano. I signed him for a two-year loan from Club América. I signed him despite the scout reports was not too good.
But check the attributes in terms of FM20 "El Buitre" Search Filter with me: Technique – 15, Bravery – 16, Decisions – 15, Teamwork – 15, Vision – 13.
Dribbling and Composure bellow average and average but he is 19 years old and he can improve it. He will not play as the brain of our team, I will retrain him to full-back role.
---
Butragueño vs. Dojaquez
The last thing what I want to share with you. If you will watch the video with the best Butragueño's goals, this is one of many.
Perfect movement and precise finish. The very good assist-pass is also key. And I was able to see the (almost) same in my FM20 save recently thanks to the assist by Serrano and finish by Dojaquez.
---
If you are playing in the top league and you would like to try this filter, I'm sure you will find very good players. And it doesn't matter if they will be real players or newgens.
You can find a perfect complete forward like Butragueño was during his professional career. But you can also find a very good midfielder and playmaker.
I think it's obvious this filter is made mainly to find attacking-minded players but I like to use it for all positions within this save.
I like to play in smaller leagues so I have to lower the value of required attributes but it doesn't mean I can't find good players…
---
---
Don't forget, you can join FMSlack via THIS link. My channel is #fmrensie but there are many other interesting channels to talk about FM.
And don't forget to try the FM20 Rensie skin.