FM20 Far Post Corner is here. The fifth season of my Football Manager 2020 save in Mexico is well underway and I failed again. I mean, I wanted to add make the most from set-pieces to the club culture/vision. But there was a not option to do it between the seasons. So, I decided I will just keep it in my head and will try to tweak/edit/improve set pieces through the season.
It led to the fact I decided to try to recreate the good old trick with the far post corner kick routine.
It's simple. When you want to use a short routine, you place someone to offer short option role.
If you want to use near post routine you concentrate the best options in terms of your best-suited players around the near post. It's logical.
But I made the opposite this time.
My idea was to use far post corner delivery but don't place all players to attack far post, lurk at far post etc.
I decided to put most of my players to the near post. Two players are set as attack near post & lurk at near post, two players are set as go forward and one player lurk outside area.
---
---
That means at least two, but better three players stay back. And the last one is set to attack far post.
This is my initial set-up as it's available to see in the picture above. The idea was to convince the opponent's defending players to go and defend mainly the area around the near post.
And the main and the most important task you have is to select the best possible player with the best possible tor the attack far post role as he will be here alone. Sometimes against two or three defensive players.
But sometimes only against one…
This is how it ended in the picture above.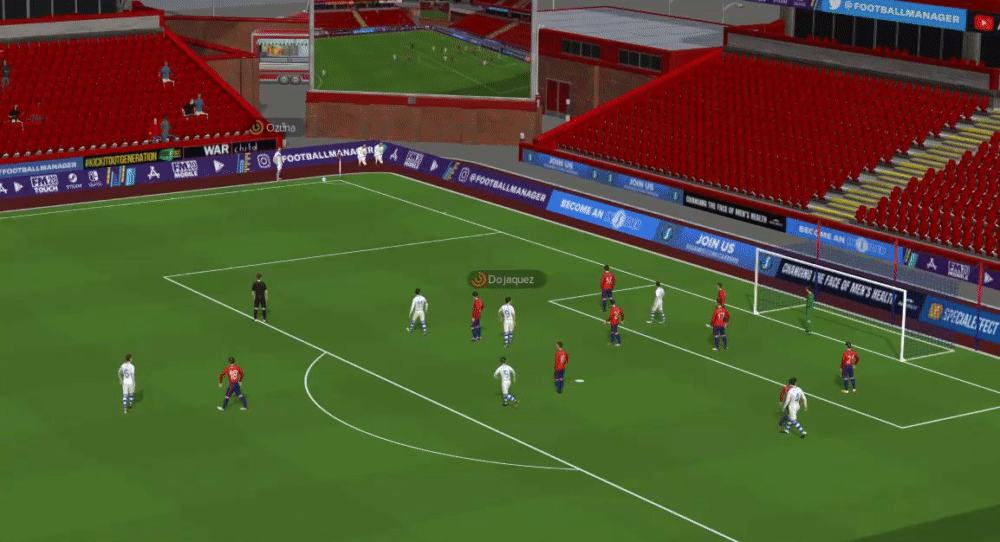 In this case, our young central defender Infante was set to attack far post. This our own newgen was (almost) unstoppable in the previous season for our U20s team in terms of set pieces.
He scored 9 goals in 15 matches and seven from them were from corners.
I found out it's easier to score from set-pieces for my first-team players when they play in the Under 20 league. But this defender was still 17 years old so I thought: wow, that could be great if he will be able to score at least a half of these goals also for the first team.
And he scored the winning goal in the "Campeones Cup" against Salt Lake. But it was not that easy as I thought.
---
I can say, the young Josué scored only twice during the first part of the season. It was clear he is not that good in the top tier matches as against the young and not that good players in the youth league.
And I started to test different players in the attack far post role. But one thing became like a tradition – strikers or defenders were the best here.
---
I also made one change to the whole set-up during the season as I decided to add offer short option role as it means another defensive player will be dragged out of penalty area position.
Do you know that feeling when you made some change and it worked in the first match after you made that change?
---
---
It happened when we played Chivas away. I decided to test Daniel Cisneros in attack far post role.
And, as I mentioned, I added one player to offer a short option. Well, Cisneros opened the score in the 20th minute after the corner kick.
---
Cisneros was able to beat his only one defender and opened the score with the perfect header.
The main idea behind this routine was complete. See gif.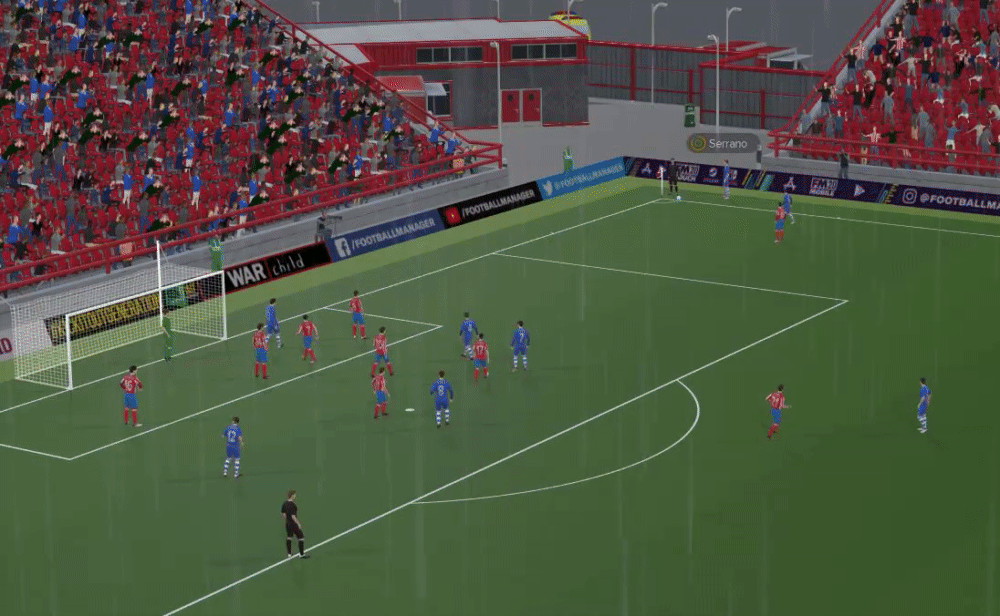 Sometimes, it can also lead to an own goal or the player set to attack near post can score. If the players around the near post are able to avoid offside position. For example like this one…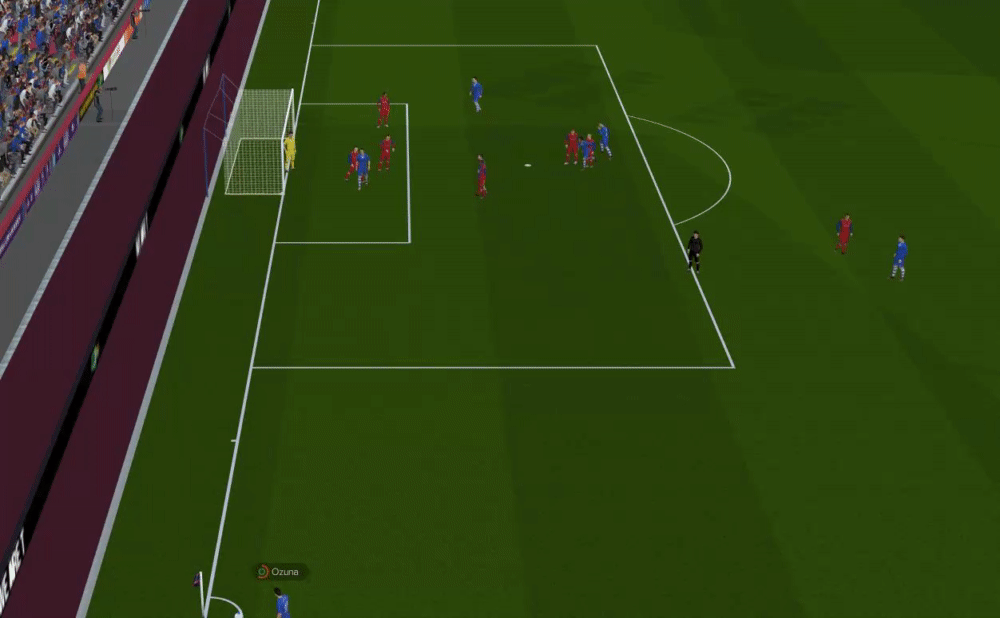 As I already said, the main task is to select the best possible player for the attack far post role in terms of Off The Ball, Bravery, Decisions or Finishing attributes.
I was not able to sign some good players in terms of "SfS" strategy the same as last year as most players with the right attributes for set pieces are out of our financial possibilities.
But it's fun to test my current own players at least.
---
The last gif shows two goals by Óscar Moreno, the 18 years old newgen striker, who scored twice in a single match for our U20s against Cruz Azul to seal 2-0 win.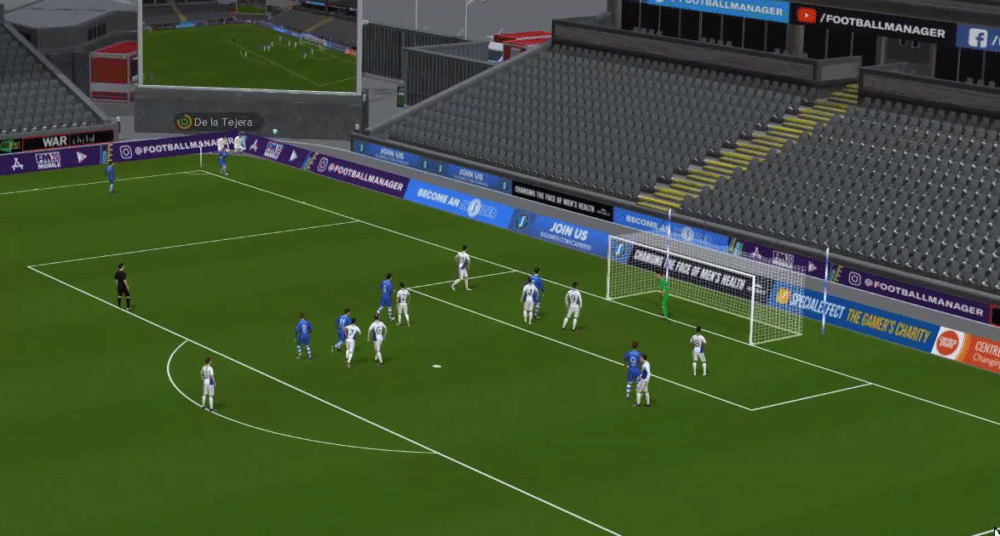 ---
Note: this is not intended to be routine what will assure you will score many many goals with it. This is mainly about the fact I had some idea what to do and how it ended with the limited options within the set pieces in Football Manager.
It's a different type of the FM20 Far Post Corner routine this time but I really enjoy it.
If the only thing what you want is the download link, read the post again 😉
Don't forget, you can join FMSlack via THIS link. My channel is #fmrensie but there are many other interesting channels to talk about FM.
And don't forget to try the FM20 Rensie skin.