The life of football clubs is very fast. You can be the most famous and the most popular after one match and you can be the worst one two days later. The life within the Football Manager video game is even faster. Same as I was disappointed at the end of the 2021/2022 season, the small decisions made me happy almost straight after the beginning of the new season.
I wrote a separate blog post about the Clausura (the closing stage) 2021/2022 because I felt there is quite a lot of things to write about. I also write about the possible tactical changes before the next season. And it happened…
…but I decided to play the whole season with the new tactical set-up before I will write something about it. Because, as we know, we can be the best team of the Apertura (the opening stage) but we can fail in the Clausura.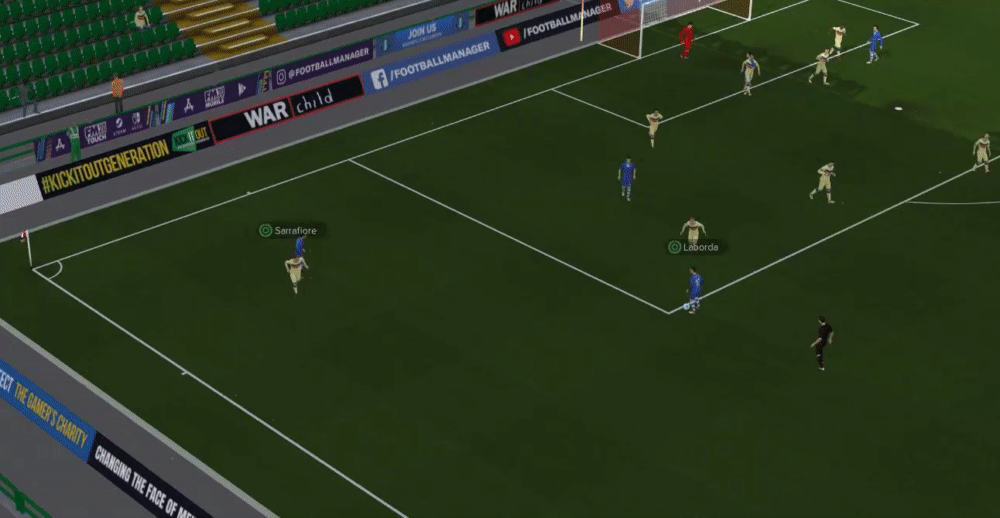 Tactical changes and the results
Is it enough to be satisfied? The key question I asked myself after we were defeated by Club León in the second quarter-final match of the Clausura play-off what was our last match of the previous season.
The answer was simple – no! As I mentioned in the past, our club is still one of the Mexican top tier underdogs. We don't have the same money as the Club América, Chivas and more bigger clubs. We don't have that high wage budget but it doesn't mean I don't want to win.
Our tactic from the previous season what I put together before the successful Apertura play-off was not good enough at the end of the season.
I like patient play but I also like to counter. Nothing worked in the last month of the previous season. We were not the team.
We were a group of 11 individuals and we played the perfect system with the idea every single player is able to win the match on his own.
The central defender took the ball and tried to score after the run through the centre of the pitch. Inside Winger took the ball at his own half and tried the same. Wing back, full back, deep lying playmaker, complete forward…
They failed. All of them. And me as well. That's why we had to react. Not by many transfers or squad overhaul. But with the tactical tweaks.
The first change was the switch from Positive to Balanced mentality and removing the Higher Tempo.
Both wide defenders were changed to WB(S)
The right central midfielder was changed to BBM from CM(D)
AML changed to W(S) from IW(A) and AMR to IF(S) after Osorio was retrained from AM to IF(S)
The last change in terms of the roles was the change to Advance Forward from CF(A).
I also removed Distribute to full-backs and play out of defence (sorry, it's missing already in the first screen). Higher Line of Engagement and Preven Short GK Distribution instructions were also removed.
I added Take Short Kicks to still distribute from our own penalty area to our defenders but to avoid potential mistakes straight in our own penalty area.
After changes within player roles, the team fluidity switched from Flexible to Fluid – our overall play really was more fluid.
The WB(S) & IF(S) cooperation
As I said, our overall display was much smoother and more fluid during the matches. One of the things I enjoyed was the cooperation between WB(S) and IF(S) players.
Our main inside forward was Sebastian Osorio and Tripichio was the main WB(S) before he decided he wants €50k p/m wage within the new contract offer and I decided to play someone different.
Example: Cisneros as IF(S) and Tripichio as WB(S) after a great ball from the other side of the pitch by Laborda.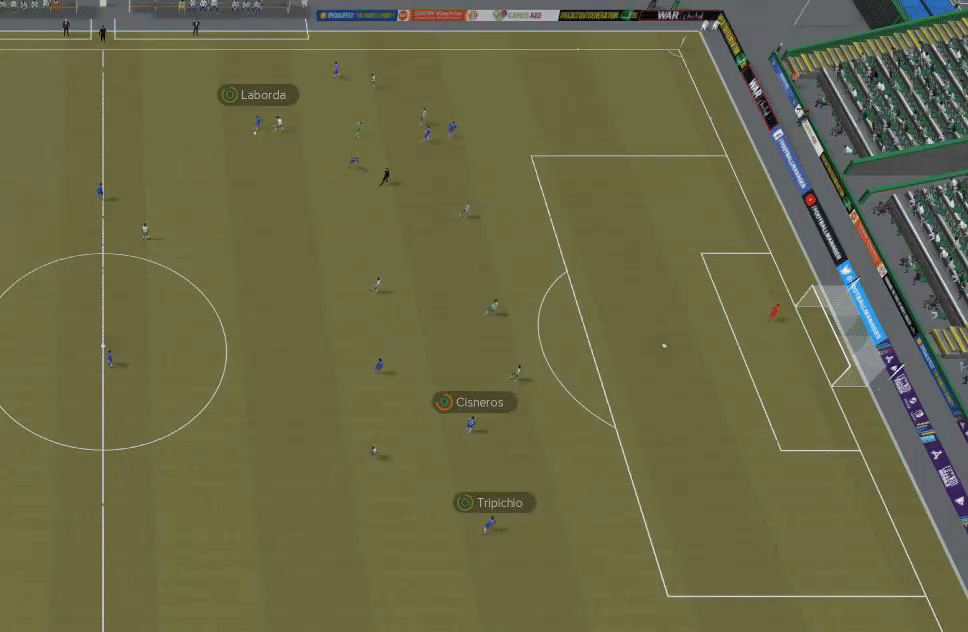 The IF(S) & AF cooperation
The second one also includes inside forward role but it was not only about Osorio this time because the combination of these two roles and Pass Into Space instruction worked very well even when different players were on the pitch.
Except for the default player instructions, I decided to use also Roam From Position & Sit Narrower for my IF(S) player. He already has Cut Inside With Ball instruction by default.
Example: Cisneros again as IF(S) – he won the ball, passed with the header to Castillo and moved inside to receive the ball from Castillo. Dojaquez as Advanced Forward made a very good run behind the defensive line and scored with the help from the stick.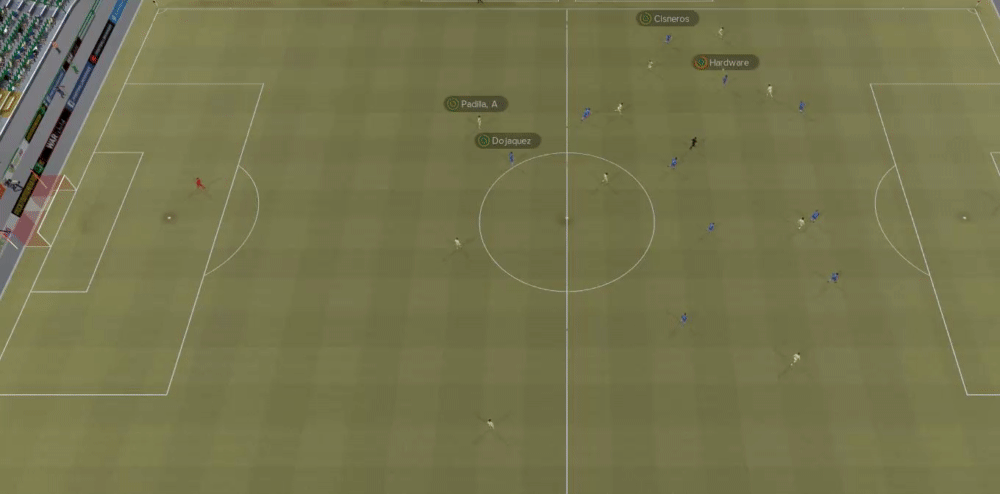 Example: This time with Osorio as IF(S) from the match against Tigre (ended with a 4-4 draw) but again with Dojaquez as the goalscorer.
Opponents' defender made the long ball, our defender won the header and we kept the ball between defenders and Laborda mainly – DLP(S) – before Osorio received the ball just before the half-line, cut inside a little and found Dojaquez with the great assist.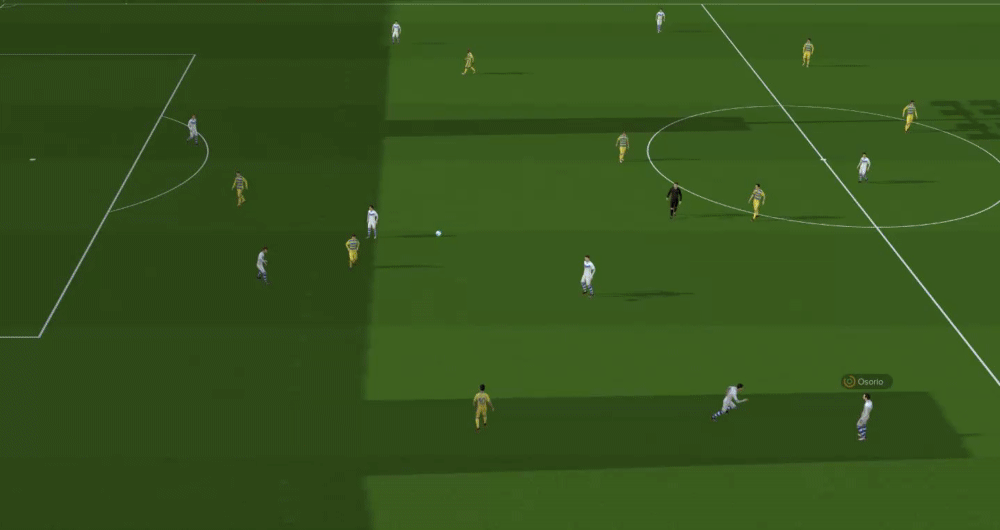 ---
Ozuna 🇦🇷 & Osorio 🇨🇴 🔥
One of the main thing, why we played so good in the Apertura, was the form of Emiliano Ozuna and Sebastián Osorio. Emiliano Ozuna was our best goalscorer in the previous season as IW(A) but I decided to change his role to W(S) on the left side to take advantage of his crossing abilities.
Osorio was brought to the club as AM player in a time when we used the 4-4-1-1 formation. He also played as Pressing Forward and I thought to make him CM(A) player. But in the end, he was trained as Inside Forward and he found a strong form.
Osorio played 20(2), scored 11 goals and made 3 assists. Ozuna continued to be our best player in terms of goals and assists despite he played as a winger. He scored 14 goals and made 8 assists in 23(1) appearances.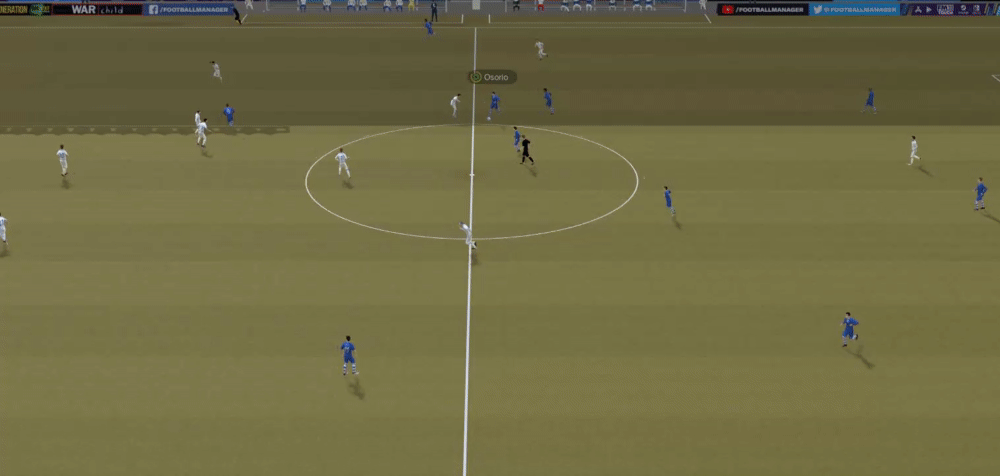 ---
The main change and difference with W(S) + IF(S) were I also removed the Prevent Short GK Distribution, it means both AMR/AML players are deeper when we don't have the ball and they both have more space ahead of them when we win the ball.
I scored a lot of goals thanks to this as I saw not too many teams play from the back and Ozuna or Osorio just took the long goal kick at the half-line and they had a lot of space ahead of them.
One example from the last match of the season, it doesn't contain goal but I like it because Osorio as IF(S) passed the ball to Chapman (BBM) with the header and Chapman is able to run wide, centrally or pass it to someone other. He decided to run wide and won the free-kick at least.
I'm not using a narrow defending but I like how the team became much more compact when I stopped using Prevent Short GK Distribution and Higher Line of Engagement.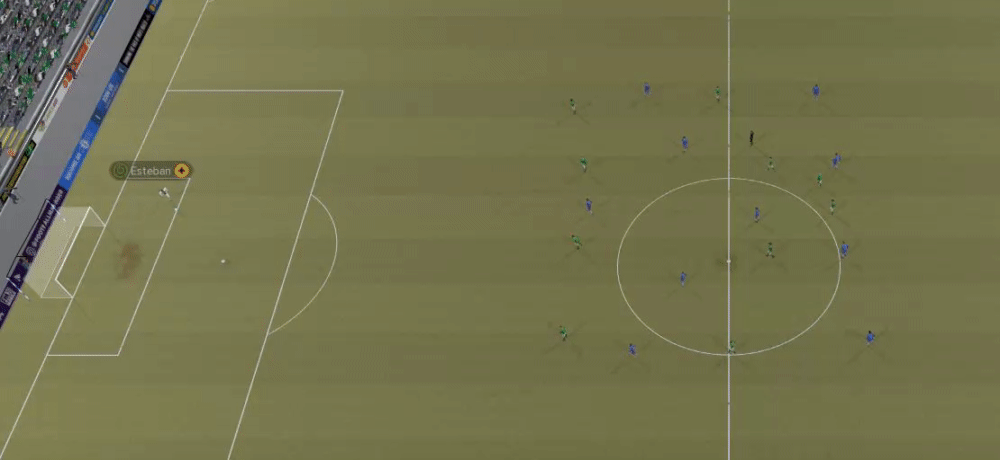 At the end of the season, both Ozuna and Osorio were in the double digits in terms of goals and assists.
Osorio scored 25 goals and made 13 assists, Ozuna scored 21 and made 16 assists in all competitions. Osorio also made the new record of the Liga Bancomer MX as he was voted man of the match 12 times during the season.
Hernán Rivero, Dylan Borrero and Emiliano Ozuna scored the same amount of goals in all competitions in the first three seasons. Sebastián Osorio scored 7 more goals in all competitions this season.
25 goals by Sebastián Osorio = a new club record.
16 assists by Emiliano Ozuna = a new club record.
24 clean sheets by José Alberto Castillo = a new club record.
---
Apertura 2022/2023
Despite we started with the defeat with Club León in the Champions Trophy, we had a perfect form after it.
We dominated in the league matches, we only lost to Monterrey in the Leagues Cup Quarter Final but we stayed unbeaten in the league in 19 matches. We won 13 and drew 6 times with 43 goals scored and 16 goals conceded. Only Club León had a better defence with 13 goals.
We beat Cruz Azul and Club América in the first two play-off rounds to face Monterrey in the final. We didn't beat them in this save so far and we were able to gain only one draw against them.
It was 7 defeats and 1 draw before the final.
We added another defeat after the first leg but the home game was absolutely perfect from us and it ended 3-2 after the extra-time as the aggregate score was 4-4. But we missed three from five penalties and Monterrey won thanks to penalties.
It was a great performance and I was really happy and satisfied with how we performed when we consider our club is still very small and just overachieving in the top tier.
Clausura 2022/2023
The second part of the season went even better than the first one. And even after I decided to sell several players we were able to consider them as key players.
We made it to the Concacaf Champions League Final after we beat Plaza Amador, Real Salt Lake and Atlanta United on the way.
But we were unable to score a single goal against Tigres in three consecutive matches during seven days including both final legs and we lost after penalties in the end. Frustrating but it had to be. If some formation is hard to beat, it's 4-1-4-1 DM when it's set it up right. And Tigres did great against us.
It was the second lost final this season as we were defeated by Monterrey in the Apertura final but we were able to celebrate at the end of Clausura.
We made finished 2nd in the table after 19 matches and made it to the play-off. We beat Pachuca 1-0 on aggregate in the quarter-final, we beat Xolos Tijuana and we met Club León in the final.
We lost only two matches during Clausura: 2-3 against Mineros and 1-2 against Club León. But we didn't give them a chance in the final and we won 5-0 on aggregate and became Clausura 2022/2023 champions.
---
---
---
Transfers, Finances & Off the pitch development
As I already mentioned, I decided to sell some players who were able to consider as key players including Dylan Borrero, Nicolás Tripichio or Michael López.
All these three came to our club for a very small fee. Tripichio wanted a new contract with €50k per month, Borrero was the third choice after several small injuries and Michael López was able to play in too many positions and roles that he didn't perform as I expected.
It was an easy decision to sell them because it was clear I will make a profit from their transfers. López was signed for free, Borrero for €32k and Tripichio for €150k.
On the other hand, we signed four American young players for free (Nestor is typing: "Have they also Mexican nationality?"). Yes, one of them, Liam Chapman, has also Mexican nationality.
Christopher Hardware, a young Jamaican ball-winning midfielder who is retrained to play as a wing-back, already made his senior national team debut during the second part of the season and he also scored his first-ever goal for Jamaica.
We also signed Colombian central defender Jainer Portocarrero from Bogotá but it was not enough to satisfy club board as they are very disappointed with the signing Colombian players but until I will be able to get rid of this item in the club vision, they will probably be disappointed as I will have more and more domestic-based squad…
---
The season ticket holders have slightly increased again this season, almost about 200 new ticket holders, it would be great to have another big boost same as after the promotion but that would require probably some big signing or continental win (I know, these draws with Tigres in the Champions League final).
The average attendance also went up a little bit what I think it's a good sign. The stadium was sold out only four times what I think it should more but again, it will need some time.
---
Financially, overall, we are doing well. We had €300k in the bank balance at the start of the first season, we now have €7.7M at the end of the fourth season.
And the facilities investments are counted in it already…
It's nice to have Training & Youth facilities improved twice in a row without some issues with the club board.
Some players are wanted abroad, the last youth intake as not good enough to be able to promote more than only one player to the first team before the new season. I will try my best to keep the best young players around for some time, at least one more season.
The more we are overachieving, the more other clubs want for their young players. It will be hard to sign someone as I'm financially strict.
We will see.
The average age of the first team went from 25,9 to 20,4 in three years between the end of the first and fourth season. We also had 8 loan players at the start, we have no loan players now.
---
Thanks for reading and enjoy your own FM saves.
Don't forget, you can join FMSlack via THIS link. My channel is #fmrensie but there are many other interesting channels to talk about FM.
And don't forget to try the FM20 Rensie skin 😉