The Apertura 2021/2022 champions. It sounds great but it's already forgotten. You, who read the previous blog post about the FM20 save in Mexico with Celaya FC, maybe know or remember what I wrote about.
Tactical changes I made before the Apertura play-off were great but there has to be another tactic revisit in the future because of our results and overall display in the second part of the season.
Blame the tactic and the manager, not the public beta…
Sign to sell for a profit
One of the new aims of our club board is to buy or sign a player for profit. The club representatives want something I have been doing probably since I have been playing Football Manager.
Good. I will have approved if nothing more. The season 2021/2022 was the first, within this save, when we were able to add some 💶💶💶 to our bank balance.
To be fair, some of the sold players should stay in our club and I didn't have to sell them just because of this policy but I had young and hungry players available (our own or cheaply bought newgens) and I decided to continue within my typical behaviour in terms of giving playing time to the players no matter how young they are.
Transfer history 2019 – 2022
2019/2020: IN – total €0 | OUT – total €0
2020/2021: IN – total €875k | OUT – total €19.25k
2021/2022: IN – total €1.5M | OUT – total €4M
The summary of transfers so far is very easy. The first season was about to meet the squad and we signed two loan players without a wage contribution and three free-agent players.
We spent €875k during the second season, mainly for youngsters after I spent a lot of time scouting players from the first youth intake of the save. Luis Hernández or Kefren Castillo appeared in the previous post.
But I also signed a new number one goalkeeper – José Alberto Castillo – from Pumas for €15.25k. We paid the highest fee for midfielder Ulises Rivas – €220k from Santos Laguna. He was 24-year-old and I wanted him to play in DLP(D) or CM(D) role.
He is the great example of sign to sell for a profit as he left the club a one and a half year later for €2.5M as he joined Millonarios in January 2022.
Another good example is midfielder Ramiro Jiménez. I signed him for free in the first season but he hopes of his development didn't go well and he stagnated despite I did many things.
When Chivas came with the offer, I decided to sell him. I negotiated it up to €1.1M with the possible rise to €1.6M and also 50% from his next transfer but he is in their B team right now. But I think it was a good strategy even if we will receive nothing from the next transfer.
Chivas participated also in another example. I signed central defender Juan Carlos Santibánez from Santos Laguna for €425k in summer 2021 as I wanted to develop him in our key central defender. In the end, he made only four competitive appearances. Why? Because he was injured in the first half of the season…
…and when I wanted to give him a chance in the Clausura, he was unhappy I rejected the bid from Chivas. And that was the end of our relationship. When Chivas made the second bid and we negotiated it up to €850k and 50% from his next transfer, it was accepted.
Both Jimenéz and Santibánez are set as available for loan by Chivas now and they are in the reserve and U20 squad respectively.
There is a big possibility to continue with this policy as, for example, striker Dylan Borrero was signed for €32k and he is now valued at €1.2M, he is wanted by Vélez from Argentina and he is also unhappy I rejected the first bid. Everything that I will accept will be a great profit.
---
Inflexible Club Vision
As you all know, the Football Manager 2020 arrived with the new addition – Club Vision including the 5 Year plan. Our aims for the 2021/2022 season changed from Don't be outclassed to Avoid relegation.
You already know we won the Apertura, the opening stage of the season. We overachieved and passed the expectations.
It was surprising to me the club board aims didn't change for the Clausura and it remained as it was – Avoid relegation.
I accept the main aim was to stay in the competition in terms of Average Points Table but I would probably expect some changes between Apertura and Clausura when we won the title in the opening part of the season. Same as when you play in Bundesliga and you are able to change the aims through the season when you are playing too good (or too bad).
But no, it was changed for the next season. We will see, maybe it will be more flexible in the future also in other than only in the top nations/leagues. [SI Forum suggestion post]
---
What went wrong, Mrs Public Beta?
We started the Clausura same as we ended the Apertura – winning. We won five from the six matches in January and we were comfortably first in the table.
February was also good month as we made it through to the NACL quarter-final after 5-0 and 6-2 wins over Bandits from Belize.
Some injuries, some players needed a rest and the public beta switch. When we beat Necaxa, tied with San Luis and beat Atlas, I thought it will be alright. But it wasn't.
I switched to the public beta version of FM20 before April 2022 and we lost four from the last five league matches. It meant our fall from the top to the 8th place of the table and we secured our play-off spot only thanks to better results against Morelia.
It was not only about the bad results but mainly about our overall style of play. We still used the 4-3-3 with a flat midfield trio but it was full of fear, timidity, long balls and it was total chaos.
We played Club León in the quarter-final and I switched to 3-5-2 formation I used in the beta with Augsburg. We were 2-0 up at home in the first leg but it ended 2-2. We conceded both goals after the far post free-kick routine. The stupid thing is they were the first two goals conceded from free-kicks in the whole Clausura.
The second match was more about hope it will end soon than the joy from the game. We were able to score two goals but they were much better and won 4-2 (6-4 on aggregate).
We at least scored the goal of the season…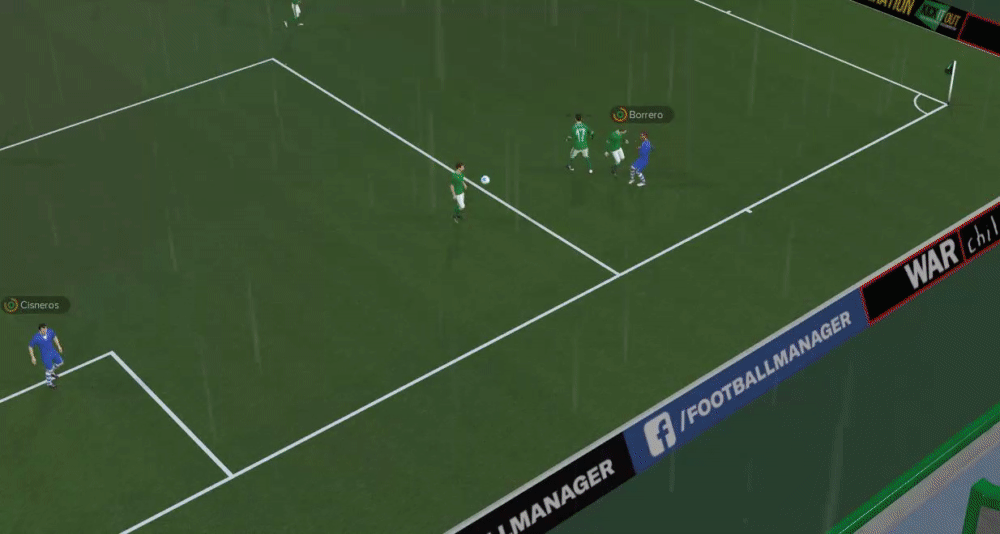 To finish as the Apertura champions and the quarter-finalists in our second season in the top tier is a great achievement and it's overachieving. But who likes defeats?
Probably no one. And that's why I will have a lot of work during the summer before the new season will start. I decided I want to continue with the 4-3-3 with a flat midfield but I will have to make some roles & instructions adjustments because it would be a disaster if I would let it the same.
I absolutely not blame the public beta version and I'm not superstitious that it went wrong because of it. Maybe in a small way.
But if you will look at the results, you can see we already were not in the same good form as during the start of the Clausura. The public beta version only helped to open eyes to the manager to see our tactics is not good enough.
The Apertura was a great bright day but the Clausura became the awful dark night. [a great end]
---
Three best players & high expectations
My top three players of the 2021/2022 season are Emiliano Ozuna, Dylan Borrero and Tomás Lecanda.
Unfortunately, none of them is a domestic player. But I'm sure it will change in the future.
Emiliano Ozuna, 26-year-old Argentinian, is able to play as Winger, Inverted Winger and also as a striker this season. Former Estudiantes de la Plata player made 47(1) appearances, scored 18 goals and made 5 assists. He ended the season with an average rating of 7.09.
Dylan Borrero is 20 years old Colombian who, as I already mentioned, was bought just for €32k from Santa Fe. He is able to play in AML position but he played mainly as the striker in CF(A) role. He scored 16 goals in 36(5) appearances but he also spent more than two months sidelined due to injuries.
The third pick is 20 years old central defender from Argentina – Tomás Lecanda. This young player spent his life with River Plate, he never played for a different club. We bought him for €425k and he played 39 appearances in his first season. His development is very good and I'm glad he doesn't have some release clause.
I would like to mention also one player who will earn decent money with his next transfer. It's 18 years old American striker Daniel Cisneros. I signed him for free from New York Red Bulls and he can also play as Inside Forward. I hope I will be able to extend his contract soon as it's only until 2025.
---
Off the pitch development
It was for the third time in this save when I rejected the option to activate the B team. Firstly, I don't want to ruin our finances. Secondly, this new team would play in the non-active league and there is a no 100% secure they would be able to reach the second tier.
I will rather have only U20 squad to develop our young players who are able to compete in the U20 league.
The great thing is I was able to convince the club board to start Training & Youth facilities improvements so we will make the one step forward from Adequate and Below Average during autumn 2022.
Our finances changed in a very good way as we had around €300k in bank balance at the start of the save and we now have almost €9M at the start of the fourth season.
The club development overall is going slowly but well. We started with three coaches for the first team and we already have 7 coaches. We started with two scouts and we already have 5.
We will play Club León in the Mexican Champions Trophy (Apertura winner vs. Clausura winner) in the first competitive match of the new season. What can go wrong?
---
Thanks for reading and enjoy your own FM saves.
Don't forget, you can join FMSlack via THIS link. My channel is #fmrensie but there are many other interesting channels to talk about FM.
And don't forget I released the FM20 Rensie skin update "v2.0" including many small tweaks and changes.