Introduction
With us now reaching the seventh blog entry in the series – I've established a pattern in my writing, and settled on the elements I enjoy covering most withing these blog entries. Briefly touching on the expectant chase for silverware opposite our bitter rivals from the east-end of Glasgow; before zoning in on our relentless mission to nurture and develop talent from within the club. I believe it's best to get some months into the new season – which enables us get a good feel for the squad and how new players slot into our setup.
---
Season Two
League title number fifty-six is added to the clubs vast trophy haul – although, as you know by now – this is a part of the save we tend to skim over, seeing it's a year-on-year requirement. My second campaign at the helm witnessed the team succeed in bringing home the league title as expected, however, in surrendering both domestic cups to our bitter rivals – it wasn't all plane sailing.
UEFA Youth League
If ever evidence was needed to prove that our plan is well and truly in motion then, we need only look towards our triumph in UEFA's Youth League.
This save game is very much focused on the advancement of our burgeoning youth academy and molding the Rangers stars of tomorrow. What a year it has proved to be, with the youngsters steamrollering their way to the final of the UEFA Youth League, where they defeated Ajax. The Amsterdam club are the absolute benchmark when it comes to player development. This was highlighted in an earlier blog post where we outlined our concepts for the save.
To seal victory in the continent's premier youth competition, again gives credence to the entire project and strategic planning at Rangers. It also means that the stars of this successful youth side can be advanced into the senior squad for the coming campaign.
What an achievement for Scotland, though – to have two clubs in the semi-finals of Europe's elite youth tournament. It's always pleasing to defeat our rivals at any level but, to do so in the penultimate fixture of this competition is nothing short of wonderful.
Of course – winning is paramount at an institution of this magnitude; it's everything!! However, in my eyes, the true goal is to cultivate Rangers into a football development factory. A centre of excellence where elite footballers are produced.
We're getting there.
The two players worthy of immediate attention are Alex Lowry and Nathan Young-Coombes. Both players excelling as our youngsters put a whole host of Europe's academy elite to the sword.
The club has gone out of its way to clear the necessary pathway for both players to excel in season three and beyond. A deal has been agreed to move on Glen Kamara for around £7.5 million; freeing a slot in the side for Alex Lowry. The left inside-winger role has been opened for one additional player too – following the £23 million sale of Ryan Kent to Leeds United. Both are players of great quality, but we simply couldn't hold Lowry and Young-Coombes back any longer. Kamara also started making grumblings relating to a new bumper contract that would have far exceeded our self imposed £20k per week wage cap.
---
Tactics
I like my teams to really go for the jugular – never giving the opposition a moments rest. Pressing them aggressively into making mistakes in advanced areas of the pitch where we're able to capitalize to devastating effect. The wing-backs provide maximum width, but it's in central areas where our technicians are able to seize control of the game. Additionally – the two inside-wingers operate in the half-spaces, and have the ability to draw the opposition defenders out of position which, in turn, leaves acres of space for our wing-backs to work in.
Wing-Back
Borna Barišić plays a pivotal role on the left – with the Croatian International possessing a wand of a left foot. I like variety on either flank so we've instructed Barišić to cross more often and cross from deeper areas. This gives opposition players something else to think about, and whether they should break ranks in order to close down Barišić before he whips in one of his pinpoint crosses.
Luke Matheson dovetails well with Glenn Middleton on the right side of the pitch. The youngster has made this position his own, due to his attacking prowess which he is allowed to utilise with creative freedom of the right channel.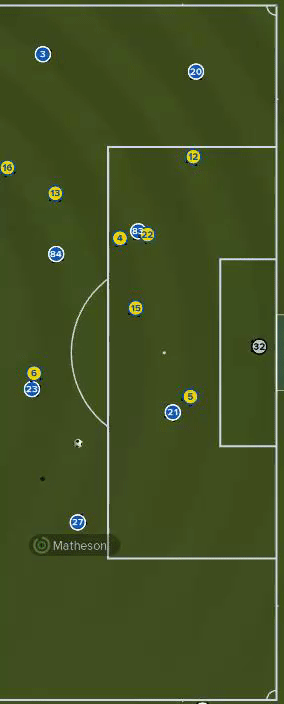 Centre-Back
At the heart of defence I like one centre-back to focus more on attacking the ball and simply defending, whilst his partner covers; mopping up any loose balls – cutting out any dangers by positioning himself in important areas in order to nullify opposition attacks. Most pleasing for me, following the £30 million sale of Connor Goldson to Norwich City, was having a ready made replacement waiting in preparation. George Edmundson is in command of tremendous passing ability, therefor, the aim is for him to attempt more direct passes when collecting the ball from deep areas of the field.
Here's an image and video taken from analysis of the 2-0 UEFA Champions League group stage victory at home to Valencia. When the opposition spring a counter-attack – Edmundson instantly decides to drop off [cover], leaving his partner, Tomiyasu to approach the Valencia player in possession. Yes, this does happen to be Tomiyasu's side, so you would expect him to be the player tasked with closing down Rodrigo, however, without posting images from several matches – I can confirm that this is indeed a pattern in our defensive play. Something I'm pleased to see working as intended.
Edmundson proceeds to jockey the Valencia forward – allowing our other defenders time to get back into position, before pouncing into the tackle; winning the ball cleanly and forming our defensive shape once more.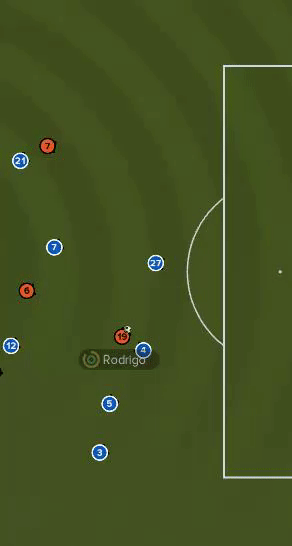 Most youth driven focuses within Football Manager come with a variety of stipulations, and this particular save game is no different. I've really limited myself in terms of senior transfers and how much the club will spend in order to finance the acquisition of talent. That being said – each season I like to bolster the squad by treating myself to a player or two. This will remain believable; staying within certain parameters such as the £20k per week wage cap. I focused more specifically on this way back at the beginning of our journey.
George Edmundson is first pick at central defence – with both, Nikola Katić and Filip Helander rotating as his partner. Katić has age on his side; boasting strong defensive attributes across the board. A warrior like player!! Although much the same could be said for Helander – the towering Swedish International is slow and at times cumbersome. At twenty-eight years old he's not likely to become any quicker so I decided that now would be the perfect time to move him on; receiving £8 million from Jeonbuk Hyundai Motors in South Korea's K-League.
So, that brings us to the big Swede's replacement.
With Helander's exit, it also sees the departure of our only left footed central defender. I'm a big advocate of having a naturally left sided player at the left of my defensive duo. Therefor, it was vital our new man fit this criteria. It's also a requirement for this player to be quick of the mark – allowing us to maintain our high line whilst never being overly concerned if our defenders have the legs to get back in the event of a counter-attack. Natural fitness certainly helps if he is to adopt our high-energy pressing philosophy. Concentration levels must remain high at all times, because with Rangers dominating a large proportion of matches – we must be ready, should the opposition spring an attack.
We are delighted the chance presented itself at the right time.
Takehiro Tomiyasu arrives from Bologna in Italy's Serie A for a fee of just under £5 million. The Japanese cap brings commercial value – alongside important attributes in the areas pinpointed above. Takehiro is adept at using either foot, and is able to play anywhere along the backline. He ticks all the boxes.
The partnership is pleasing me greatly thus far; giving the club a solid foundation whilst the new batch develop themselves for a future promotion to the first team.
Promoting from within is great; it's what we look to do at every opportunity, but it is important to choose the best moment for each individual case.
---
Outro
Again, it had been my intention to discuss my entire tactical approach, however, at the time of writing – I've switched to the public beta due to the update being recently released. Although I'm happy with what I've seen in relation to how my defenders deal with long balls and counter-attacks – I need more time to assess how our midfield and attack function in this setup. I'm also aware that I'm prattling on a bit, so let's aim to focus more intently on the other parts of the machine at a later date.
blackcaesar_a5