I didn't write a specific blog post about the first season in the top tier. I like to write about my save but I also like to play the game itself and I was enjoying the game between the seasons and I didn't feel the urge to write.
We certainly overachieved in the first season after the promotion. We ended 11th in the Apertura table what was already not an only respectable position but very over the plan.
The Clausura (the closing stage of the season) was even better. We earned a place in the play-off. We lost to Monterrey 1-2 twice in the semi-final but it was a great success.
---
My second season in the Mexican top tier saw us in a very good form at the beginning of Apertura.
We won four from the opening five league matches and everything looks great while we still were using 4-4-1-1 formation. Before I decided it's time to change our formation to 4-3-3 with a flat midfield…
I think it was another great example of how to complicate things to myself. The 4-4-1-1 tactic works/worked very well with a simple approach and we earned the promotion in the first season and the play-off appearance in the Clausura of the first season in the top tier.
But it looks like I love the 4-3-3 too much than even one mention on Twitter (thanks Gaz) and several screens are enough to make my mind to go back to it.
I took the basics of the tactics I used during the FM18, FM19 & FM20 Beta version and put it together with some set pieces and let it works.
But it doesn't work as I would like and it was a pain to watch our matches.
Despite we are still very not comparable with the big Mexican clubs in terms of transfer fees and wages we were able to sign some good players to strengthen the squad.
Lionel Laborda (the key attributes for the Deep Lying Role with Support duty selected in the screen because of the below text) and central defender Tomás Lecanda.
Also, Colombian striker Dylan Borrero was signed for €32k from Independiente Santa Fe.
We also signed several Mexican and foreign youngsters. Some of them already got their chance in competitive matches.
For example, Luis Hernández was bought for €20k, he is a right-footed inverted winger but I decided to retrain him for the left wing back and I already set him to Attempts To Develop Weaker Foot. He had some injury during the Apertura 2021/2022 so he lost some playing time but he will be our first-choice left defender again when he will be fit and his development will continue.
I also like central midfielder Kefren Castillo who can play as CM(D). He already played 10+ competitive matches this season and scored one lovely free kick goal (click to see the goal gif). His set pieces attributes have potential…
---
Our squad has changed since the first season mainly because of the number of loan players. We started with 8 players on loan but we have only one in the third season.
It's Carlos Rosel, the versatile player who is able to play as defender and midfielder as well.
Changes made before the first play-off Quarter Final leg at home against Atlas
Mentality: Balanced -> Positive
Standard Tempo -> Higher Tempo
Higher Line Of Engagement & Prevent Short GK Distribution instructions added.
RB changed from CWB(S) to FB(S)
CM(S) to DLP(S) [Lionel Laborda will take this role as he is good playmaker and he will distribute the ball well with Passing 16, Vision 16, Decisions 15 – btw. his Strength attribute improve from 1 to 3 in five months]
CM(A) moved from MCR to MC position – [both IW(A) & IF(S) will cut inside so CM(A) will be more central]
CM(D) moved from MC to MCR
AMR changed from W(S) to IF(S) [no good winger in the squad – currently scouting and trying to find good one for the starting XI + Sebastián Osorio can play as IF(S) here and I don't want to waste him on the bench]
AML changed from IF(A) to IW(A)
CF(S) upfront changed to CF(A)
The example of Lionel Laborda's two key moments in the 2nd leg against Atlast. Assist & pre-assist.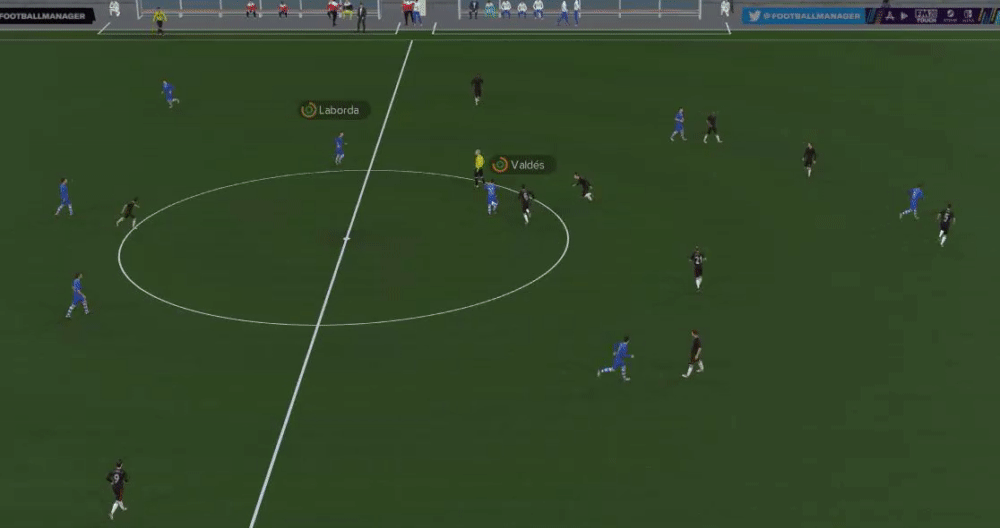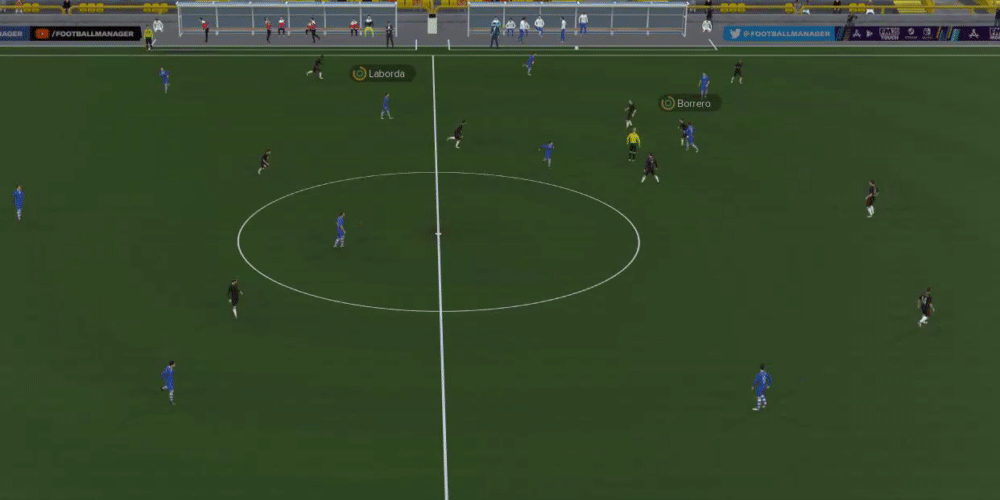 Another thing what I liked in both matches after the tactical changes, was the number of Lost Possession of Lionel Laborda in DLP(S) role.
When you compare it with the match against Club América (a 1-2 lost), he lost the ball 12 times. During the goalless draw against Tigres, he lost the ball 7 times.
In the play-off matches against Atlas, he lost the ball only once in both matches together.
What has changed in our play?
Generally, we are far more straightforward
We are more dangerous in the attacking phase
The Inverted Winger role instead of Inside Forward (both with attacking duty) is the gamechanger in terms of danger for the opponents including perfect runs.
Lionel Laborda found himself in the DLP(S) role after he was too drowned with when it was DLP(D).
Edgar Reyes was more often able to reach penalty area from the MC position than to MCR with CM(A) role and he was able to gain more second balls around the penalty area – 9 & 7 in matches against Atlas in comparison with 0, 3 & 4 in the previous three matches.
When I checked back the goalless draw with Monterey, we had 91 backwards passes. If nothing more, this is a good prove we were too much scared to play our own game.
In the first match against Atlas, it was only 55 and only 44 in the second leg away.
There are the screens of our Quarter Final matches against Atlas Guadalajara.
---
Do you want to know how the Apertura Play-off ended? We beat Club León 2-0 on aggregate after a home win and draw away from home.
We got Tigres in the final and we lost 1-2 away in the first match. But despite the loss, I was happy with our play and with our changed play.
And we beat them 2-0 at home after extra time despite we had to play with 17-year-old newgen as a lone striker after Dylan Borrero was injured in the first leg against Tigres.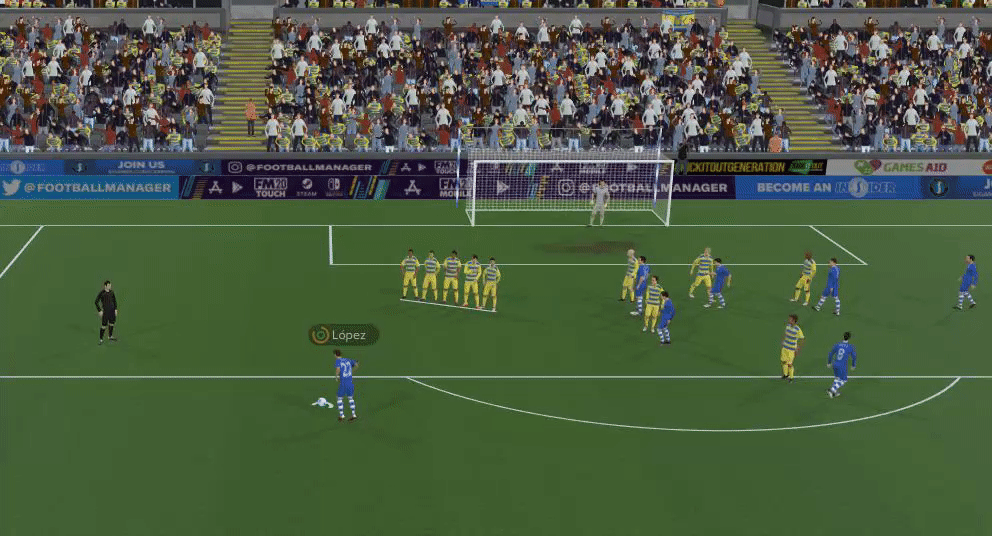 ---
Emiliano Ozuna, the best player of the season in my eyes, scored the title winning goal in the second minute of the first extra time half.
He also scored in the first final. He scored 4 goals and made 2 assists in 6 playoff matches after I changed his role to IW(A) from IF(A).
He had the same amount of goals & assists in previous 12 matches before tactical changes.
---
Average positions after changes
I would like to share also screens from matches against three clubs. They are the ones we faced in the Apertura Play-off. Atlas Guadalajara, Club León and Tigres.
You can see our Average Positions (Overall) before the play-off and in the play-off.
The results in the opening stage against these clubs were not successful. We drew 0-0 with Club León, we lost to Atlas 0-2 and we drew 0-0 with Tigres. Maybe, it's not such bad results but our playing style was really bad.
Even the average positions screens show we made a good decision with moving our line of engagement higher and being more active and more attacking minded.
---
*Note: I wanted to use the match comparison screen to show you the average positions changes in a single screen but it doesn't work properly, unfortunately. The starting 11, opponents and other things don't show as it should and it also resulted in the crash dump when I wanted to use this screen in Tactics/Analysis/Match/Individual Match Analysis.
I reported that issue (click the link to open the topic), hopefully, it will be resolved. If not, be sure to have your game saved before you will use this screen.
---
---
If you are interested in the club changes, there were only a few. I was able to convince the club board to make improvements to Training & Youth facilities during the third season.
Training facilities are Adequate, Youth facilities are below average.
We were able to lower average age to 22 and we changed the squad personality from balanced to determined.
Our youth intakes were not something spectacular but I know it needs time.
Same as every other aspect of the save and the club development. I signed the contract extension until 2024, the club board wants to sign under 20 players and sign players to sell for a profit.
We are heading into the year 2022 now with Clausura 2021/2022 will begin soon.
---
Thanks for reading and enjoy your own FM saves.
Don't forget, you can join FMSlack via THIS link. My channel is #fmrensie but there are many other interesting channels to talk about FM.