As far as FM20 is concerned I've gone on a relative hiatus from blogging. I'm into unmarked territory. I wanted to take a step back from the blog and not clutter your timelines with too regular updates. As such I've blitzed through my second season with AZ and it's about time I brought you up to speed.
So we ended our first season as the surprise winners of the Eredivisie as our rivals failed to provide much competition. The summer was bound to be interested as a few key players were likely to leave. Can we bolster the squad for a run in the Champions League? Can we challenge for the title again? Let's get stuck in.
Summer of 2020
I love pre-season. There's nothing better in FM than a pre-season after a promotion and secondary to that is a just any pre-season. Transfers, staff, contracts, tactics, excitement for a new season. It's all there.
Towards the end of the season we had a few Premier League clubs sniffing around the likes of Stengs & Boadu and the summer proved fateful for a few key players.
A healthy £97m raised in the sale of players with the notable departures being Stengs, Koopmeiners and Bizot. Stengs was just phenomenal in our title win; operating from the right he scored and assisted more than anyone, it's tough to see him leave already but his release clause was met by Bayern and he goes from earning £5k a week with us to £250k a week with them!
Bizot was a nice sale. A very solid keeper for us and made a big difference in some matches yet I had a number of news items during the season that stated he wouldn't renew his contract (that ends in 2021) and so we should look at selling him. So I did. £9m was a great price.
Koopmeiners was one I didn't want to sell. He was my captain and with Vlaar retiring he was my only real leader in the team. Yet a £25m offer from Watford was too good to turn down.
So how would I replace these players? 3 key players in important positions not to mention replacing the output of Stengs. I looked to my academy but most are still too young and haven't developed enough to make an instant impact – so I went to market.
Absolutely chuffed with the business we were able to do. We only spent out around half what we brought in so the coffers remain healthy. With Stengs leaving I wanted to bring in someone with a similar skillset; in searching for players I was left a little frustrated with what I found but it was my scouts who informed me that Ihattaren could be available from PSV for an absolute steal.
He's one of the brightest prospects in Dutch football and was no doubt frustrated with the awful season PSV had. £9m may seem like a lot for an 18 year old but I'm guaranteed to see ROI in the future and it's only 25% of Stengs' sale price.
Koopmeiners was the metronome in midfield as my DLP-D so replacing him was key. I searched for players with similar attributes and they returned Killian Sardella of Anderlecht. This shows the beauty of not searching by position only as this fella is a centre back or right back by trade but as you can see has all the attributes to be successful in a DLP-D role.
The plan was to retrain him at MC in this role…however a week later I stumbled across Marco Kana, also of Anderlecht. Now this chap was one of those where you see he is 17, look at his attributes and just know you have to buy him no matter what. He's versatile, able to cover DC/DM/MC (just like Koopmeiners could) and at 17 has bags of potential. A deal was sealed for £12m. I decided to keep Sardella as a RB and he was very, very good all season long.
Finally, I have to mention Sergio Gomez. £1.5m from Dortmund is daylight robbery and how they've let him go for that figure I'll never know, nor will I ever care. He had a good season for us. Love him.
So we head into the new season, 2020/21 and I'm desperately wanted the like of Ajax and PSV to not be so shit. Let's have a competitive league please.
A very solid start to the season carrying on where we left off after winning the league. This was sustained until November/December where we managed to lose 3 games in a row however sandwiched by a home win v Ajax. It was a strange and frustrating time as I continually tweaked my tactics. Ultimately I decided to stop being a dick and go back to the system that worked well in season 1. This was a good move. Yet it was too late for any hopes of a Champions League fairy tale.
We had a bloody tough group but we were pretty pitiful. Compounded by having 3 tough games during the same losing streak we had in the league our youthful squad seemed overawed by the bright lights of Tuesday & Wednesday night football. Just one point collated from our 6 games and much like a Tory zeppelin piloted by Boris 'Maniac' Johnson, we unceremoniously crashed out of Europe altogether. Yet all was not lost…
33 games played and almost nothing could separate ourselves and Ajax, it's great to see them competing where they should be and topping the table. Over the last 10 games both of us have held the top spot yet a draw with 4 games to play saw Ajax leapfrog us and retain a 1 point lead heading into the final game of the season. It proved to be a pretty tasty fixture:
With my vision attribute set to zero I didn't even see this coming until I was setting up my training schedule for the last few weeks of the season. Away to Ajax, we needed nothing short of 3 points to win the title in their back yard. Ajax has not lost in the league since February (we hadn't lost since December) – the two best and form teams battled it out. They only need a point…who would be crowned champions?! Here's how the action unfolded in my Slack channel (#a2zed).
KICK OFF
Ihattaren misses a golden chance, header at the back post over the bar
9th minute – penalty to Ajax…
Balotelli tucks it away
1-0
24th min Ajax hit the bar…
38th min header from Gomez saved by Onana
41st min – BOADU
Ihattaren ball over the top, runs onto it and slots it home
1-1
HT
my keeper is nervous
bodes well
sake!
46th min – van de Beek heads in a corner
first one we've conceded is soooooooooo long
2-1 Ajax
CACERES!!
heads in a deep free kick
2-2 48th min!
59th min Tadic hits the post…
78th min, we need a winner
87th!!!!!!! min
BOADUUUUUUUUUUUUUUUUUUUUUUUUUUUUUUUUUUUUUUUUU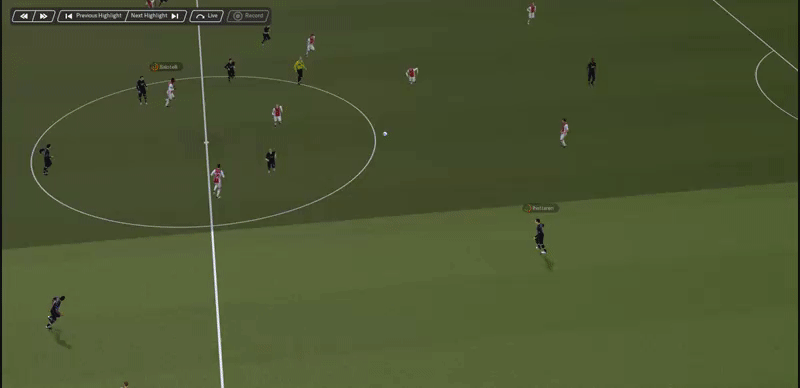 Incredible game and what a performance, what a win. Boadu the star man of the game and season as he took his tally to 30 goals in 36 games. To go behind twice and still come through to win the game…I'm still buzzing. What a climax to the season. I think I climaxed at the final whistle.
A fantastic second half of the season as we went unbeaten and won the league on the final day. I love it when FM throws up these moments. Can't beat it.
So how did the stats look for Season 2?
57% average possession (1st)
85% pass completion ratio (1st)
Most penalties – 11 (scoring 8)
78 goals (1st) – big improvement to Season 1
302 crosses completed (4th)
9 goals from corners (2nd)
3 goals from Indirect FKs (13th) – big drop from last season
175 chances created (1st) – this is a vast improvement and very pleasing
335 shots on target (1st)
20 dribbles per game (1st)
19 clean sheets (2nd to Ajax)
Salary per annum – £8.8m (4th) – Ajax top the list on £33.4m!
I think the match engine tweaks that come in 1/3 into this season have definitely improved the experience, more chances are being created and more crosses completed to a level that feels more realistic.
Manager performance rating – B
Club Vision rating – C+
The board are happy/satisfied overall yet I'm still yet to be judged on developing players through the academy, I need to draw more focus to this I think. They're also a bit pissed that we were shit in the Champions League – something I hope we can improve on and be more competitive in next season.
My first team squad currently has 9 players who have come through the academy, 3 of these are out on loan and unlikely to impact the starting XI unfortunately. There are prospects within my youth squads yet I'm still hoping for better intakes in the future. I also need to focus on poaching some sub 17-year olds into the academy to help bring us to that 50% quota.
What a season. Onwards and upwards.