Now I've set the stage for my save I've pondered how best to tackle my blogs moving forwards. Basically I've been scribbling a bunch of notes as the first few months have gone by in this save and made various observations around what I've done, most notably around my two tactics.
So here comes a whirlwind blog no doubt lacking in #narrative or structure but I hope you enjoy the ride. It could be a long one.
Staff
Parts 1-3 were all written before I'd even pressed continue. Fun times. Yet even more fun awaits. First things first and the club needed a massive overhaul in the staff departments. Part of my aims for this save is to have as high a calibre of staff as I can so I set about replacing my head of youth development, scouts, data analysts, fitness and general coaches; none of which were up to scratch. I also brought in the new roles of Loan Manager & Technical Director.
When searching for staff I was quite restricted in the wages I could offer, which prevented me from getting some of the better staff. But this is very much a process and I'm never one to keep staff beyond one contract so we'll be looking to revamp a number of staff in a few seasons time. We did improve across all departments and are better placed moving forwards.
Team Report & Development Centre
I usually like to have a quick browse around the team report screen to see how we compare to the rest of the league on a number of variables. One of the surprising ones to jump out at me was just how sensible we have been on our wage budget. The average player wage being £2.6k per week, a fair bit below league average and way way way below the highest (Ajax). It does scare me that players will leave fairly promptly at the promise of having their wages increased tenfold.
A quick browse into the new development centre (a lovely new feature) showed two stand-out young players that my staff were keen to let me know were ready for the step up to the first team:
Both players look like they can instantly be great squad players even at 17 years old. I hope that frequent exposure to matches via cup games and substitute appearances will help quicken their development. Taabouni I can see playing in my AML role and Goudmijn one of my two more advanced central midfielders or at AMC.
It's your tactics mate…
The critical part of pre-season comes along with our friendly matches, I watched each game on comprehensive highlights with a view to closely analyse how my systems were performing. I won't bore you with each individual insight but safe to say I made a number of changes by the time our competitive games came around.
Central midfielders becoming clustered, Boadu struggling as an Advanced Forward, conceding chances galore, home system far superior to away…things weren't terrible but changes were needed.
The first two images depict my first tactics after my AZ analyses (is that a word?), whilst the latter show where I've ended up as of October 15th 2019 in game. Not a million miles away but some subtle differences. I've been running this two systems in tandem now for about 6 games, the home one still better but not perfect and away from home we're slightly more hit and miss with stern tests to come (more on that soon).
To summarise;
Tactic 1 / Home Tactic / When I'm Expected to Win Tactic
Attacking was dropped in favour of Positive as I found I was too often caught out at the back
Dropped work ball into box to try and encourage more crossing (hint: it hasn't worked, players just don't want to fucking cross the ball)
Koopmeiners to DLP-D from DLP-S
Wider in attack (I want my wing backs to be wider…still isn't really happening as I'd like
Tactic 2 / Away Tactic / When I'm Scared I'll Lose Tactic
IWB dropped, gone, fucked off, too advanced and often bombed on when he shouldn't have, massively exposed at DR
Switched up to Positive as this still suits how I'd like us to play when we have the ball
Central MC (Koopmeiners) drops to DM to provide deeper security to our defence and have a deeper starting position
I'll continue to watch, learn and (hopefully) improve on these.
So a few months in and how are things shaping up?
I've been really happy with our start to the season. We rode our luck at times (at home to Frankfurt despite the scoreline), the 3-3 draw away to Emmen (two last minute goals to snatch a draw) but as it is we are unbeaten so far this season, something I don't expect will last but it's been good to grind out some results despite the tactical tweaks. This leaves the table looking like so:
It makes for good reading. Feyernoord have blown a few teams away with Berghuis notching 9 goals in 8 league games. We face them away from home next up – it'll be our biggest test yet.
Philosophies / Club Vision
In Part 1 I outlined my own philosophies for club and these will be things I'll review come season end. However, in game the new 'Club Vision' feature is where the board outline their image of club culture and a 5-year plan, so how have we fared so far?
The board rate me as a B but are very pleased with progress to date. They're very pleased with our style of play both from an attacking and entertaining aspect (which is great as these sit within my own philosophies too). We're working within our wage budget and have made the Europa League group stages.
We've also scored a few crackers…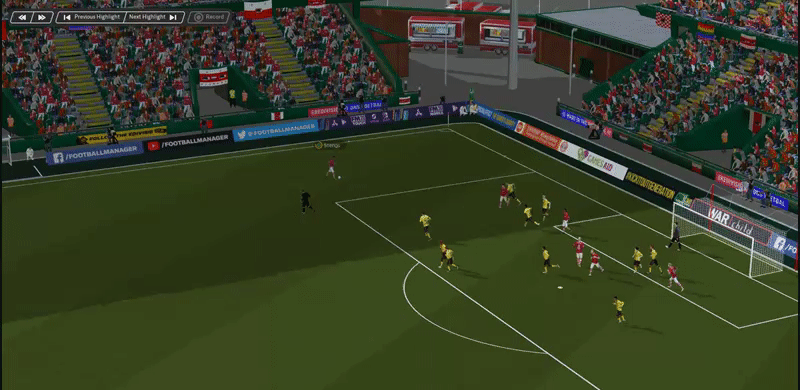 Part 5 in this series will see us at the end of January, looking back on the season so far, the transfer window and a look at how some of our youngsters are progressing (ok that may be Part 6 too).
Until then!