Please the club board and meet the club requirements, vision and culture, or play with your own style and be successful?
This question made me think about my FM20 beta save with FC Augsburg in the half of the first season. I stopped for a while and just checked what I have done.
The aim of this save was simple – a 4-3-3 formation with flat midfield trio was not allowed to use. I mean the same I used during the one-season save with Athletic Club.
There were some quality central defenders in the Augsburg first-team squad, also on-loan but that's not so important. There was also Philipp Max (screen below) and I also discovered Simon Asta screen below) in the U19s team.
It resulted in the decision to try to develop 3-5-2 formation.
The default shape
The initial thought was to make something very simple, same as with 4-3-3 formation as I don't like the "Select all Team Instructions" tactics.
Sweeper keeper, three central defenders with defending duty, two complete wing backs with attacking duty, DLP(S), CM(A), BWM(S) and DLF(S) with Poacher upfront.
Main aims?
I wanted to play from the back but not using short passing or play out of defence instructions. That's why Distribute To Centre-Backs.
I wanted to take advantage of playing from the back with a combination of wide positioning of complete wing backs.
---
One of the best goals with this approach
---
I wanted to score goals after crosses…
---
Every time I play with three at the back I tend to use Higher or Much Higher defensive line/line of engagement to make it really hard for the opponent thanks to the high intensive pressing.
That was also one of the club culture parts. "Play high-tempo pressing football." That's why my initial shape looked like this.
We had quite average pre-season as we beat Middlesbrough or Reims but we also lost 3-6 to Liverpool.
The first competitive match was against Saarbrücken in DFB pokal and we won 4-0 but we also lost the first league match of the season away against Dortmund. I said to myself that's a normal thing to lose to Dortmund and it was only by one goal. Why change something…
The second league match at home against Union Berlin. Alfred Finnbogason, our Poacher, scored four goals and we won 6-0. I sat before the laptop screen and thought – wow, it works, do nothing. Don't save the tactic, don't change something. Superstition at its best…
Club vision vs. your aims and club board reaction
It lasted until the end of October when we were eliminated by Hertha from the DFB Pokal after the extra time with a winning goal in 120+2.
We were 7th in the Bundesliga after the first 9 matches, Finnbogason was the best goalscorer of the league with 8 goals and both CWB had 5 assists, the most from the league.
And the board was very pleased with attacking football & high-tempo pressing football.
But I felt we will move down in the table. We conceded four goals from Bayern and we didn't score a single goal in three league matches in October.
Most importantly, were really lucky to not lose all of them. Mainly because we were slow and too risky with Higher Defensive Line as many teams just passed over it.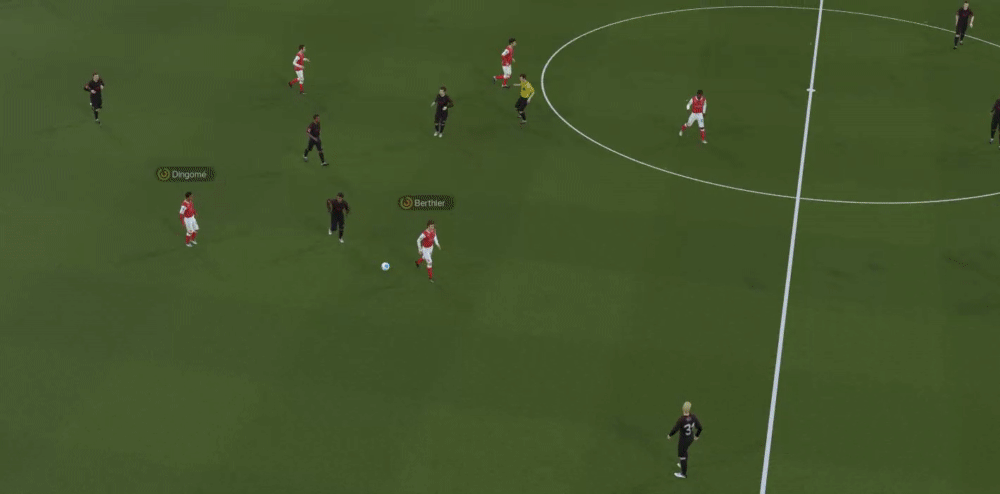 ---
Tactical changes
After the Hertha Berlin match in DFB Pokal, I decided to make some changes. The first one was obvious – I removed the Higher Defensive Line and Higher Line Of Engagement and both were returned to Standard.
The left central defender was switch to BPD(D), the left central midfielder was switch to CM(S) with Hold Position instruction from DLP(S) and DLF(S) was changed to False Nine.
Also, the team instructions were tweaked little bit including the fact I removed the Higher Tempo for example.
It resulted in 6 wins and two draws in the 8 league matches. We scored 17 goals and conceded 7 goals. It catapulted us to 4th place in the table after the first half of the season.
Distribute Over Opposition Defence instruction was useful mainly when we were losing. On the other hand, I changed it back to Distribute To Centre-Backs quite often and I think I didn't use it in the late league stage.
I kept this also during the winter break and started the second half of the season with it. And we beat Borussia Dortmund 2-0 at home with to make it 10 matches in a row without losing.
The results came thanks to changes but as you can see in the next picture, our club board was already "only" pleased" with the aim to play high-tempo pressing football.
Same as with any other formation, my aim was to be patient despite I was set to take some pills due to some mistakes. And the patient was the key.
It takes up to 10 games for the team to learn a tactic. I can't see the benefit of adjusting everything in one game.

Dan Gear
The above wisdom from Dan Gear is one of the most important things in FM tactics. If you think your players and your team in overall will react five minutes after you changed all the instructions and mentality, you are wrong.
---
4 years ahead of schedule
Our highest league position was 2nd place after the 22nd round when we beat Freiburg 1-0 at home.
It took us 15 matches without losing before we lost to Bayern at the start of March. We lost also to Schalke and Hertha but three defeats in the whole second part of the season are an absolutely perfect statistic.
Alfred Finnbogason (click to name to see his profile) scored 21 goals in 34 Bundesliga matches as Poacher, he also missed four penalties. Just one goal behind Robert Lewandowski who won the best goalscorer award…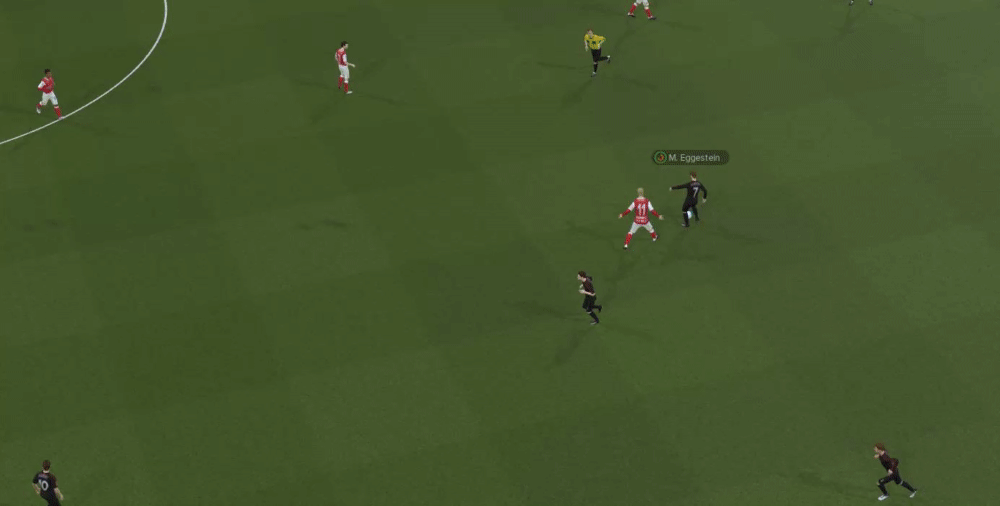 In the end, we finished 5th in the league with 65 points, just one point behind RB Leipzig and Champions League place as we were unable to beat them in the last league round. Leverkusen, Dortmund or Hoffenheim (12th!?) finished behind us.
If you asked, yes, the main aim for the season was to Avoid Relegation and media prediction was we will finish 14th.
The fifth place in the table secured us also the Europa League group stage place. The initial club vision and the plan for the next 5 years was:
2019/2020 – Avoid a relegation battle
2020/2021 – Record a Bundesliga top-half finish
2021/2022 – Work towards qualifying for the Europa League
2022/2023 – Work towards qualifying for the Europa League
2023/2024 – Qualify for the Europa League
As it stands, we made if four years earlier.
During the course of the season, I was able to see the club board was not satisfied with the aim to Play high-tempo pressing football and also Play attacking football status was only Satisfied.
It was mainly because of the fact I decided I want to finish as higher in the table as possible while we have so good run of matches and there was a big chance to finish on places securing European cups.
And that was also the reason why I saw my assistant manager Stefan Sartori more often in my mailbox with his tactical advice and with comments about how we changed from the original style of play.
But it worked very well so I didn't listen to him.
I kept the same formation also for the next season and despite quite big squad changes and many transfers, we are 2nd in the table after the first 5 league matches and started the Europa League group stage (Lokomotiv Moscow, AS Roma & Real San Sebastián) with a 2-0 home win over Lokomotiv.
---
Complete Wing Hackz
As you maybe know, wing backs or complete wing backs are probably the most discussed topic during the beta version time. They are able to find each other with the precise pass/cross from every angle and from every place on the pitch.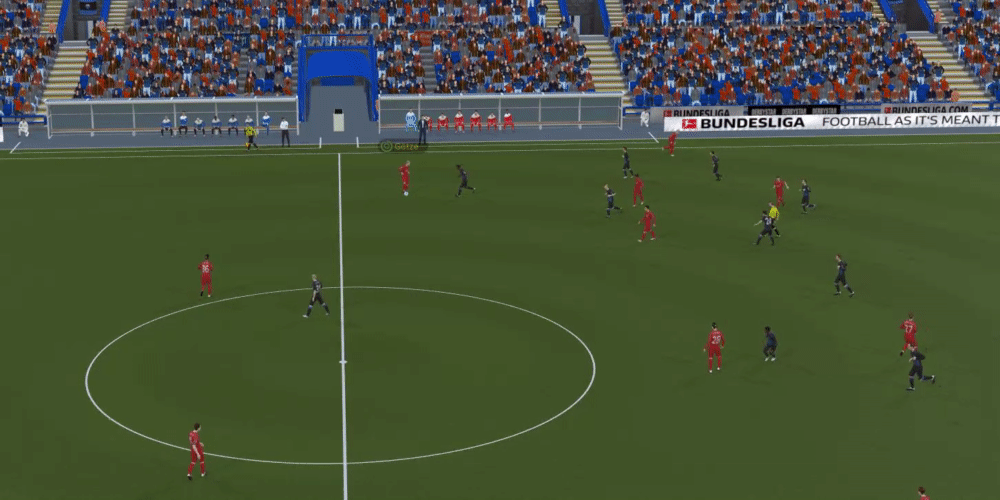 You may be also noticed Focus Play Down The Left/Right team instructions in the screens. It probably helped it too.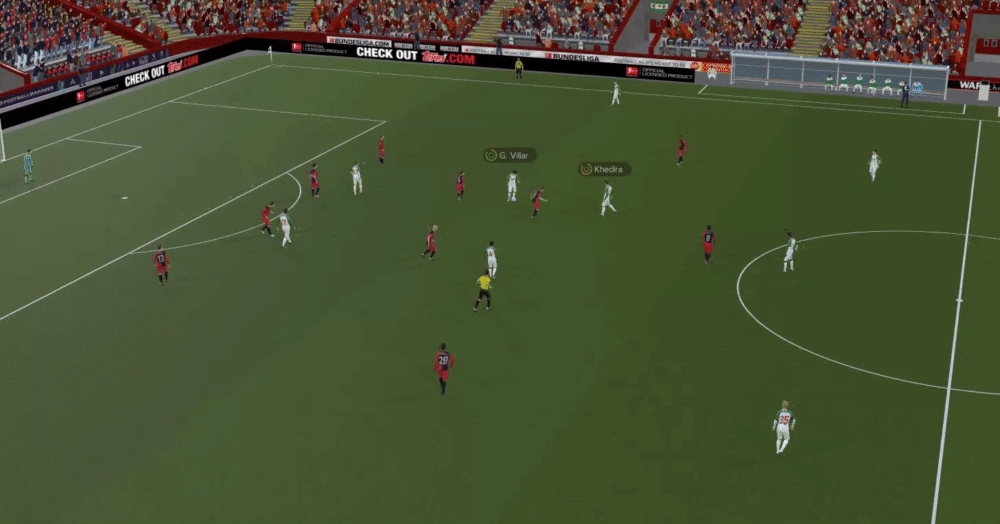 The first moment, I said to myself there is something weird, was when we beat Reims in the friendly before the first season and Philipp Max (CWB(A) on the left side) made four assists and the other CWB(A) – Simon Asta – scored two goals.
Philipp Max (click to name to see his profile) played 16 league matches in the first half of the season with 4 goals scored, 11 assists and 5 Player of the match awards before PSG bought him for €50M in the winter transfer window.
Simon Asta (click to name to see his profile) was a member of the Under 19s team at the start of the save and set as available for a loan. I moved him to the senior squad and placed him as a starter. In the end, he played 31 league matches, scored 5 goals and made 12 assists. One goal and two assists in two cup matches.
Progress
He went from Fairly Good to Impressive in terms of Progress. Also, his value has changed from €1.4M to €12.5M at the start of the next season.
As Philipp Max left the squad in the winter, 22-years-old Kilian Jakob took his place as CWB(A) and played 17 league matches but scored 2 goals and made 2 assists so he was not as successful as Max.
But Jakob's progress thanks to playing time is evident…
---
More to come?
I ended the Augsburg save after the start of the second season and decided to just make some fun with Reading FC and made two changes to this 3-5-2.
Roles of strikers were changed to CF(S) and PF(A). And both complete wing backs' duty was changed to Support.
Maybe it will work, maybe not, we will see…
---
Thanks for your time and see you next time when I will have something to write about.
As always, if you would like to ask something, just let me know.
Don't forget, you can join FMSlack via THIS link. My channel is #fmrensie but there are many other interesting channels to talk about FM.
Until next time…take care!