UEFA Champions League Final 2023
Heartache for Andy Robertson as the flying Scotsman misses the big match, and the opportunity to play in his fourth consecutive European Cup final.
These massive nights were exactly why the club decided to splash a record £57 million to acquire his services from Liverpool.
Such a shame…
This is what we get paid for as elite coaches and managers.
22 May
12 days to go…
Liverpool Tactic
They're such a strong side..!!
Every single one of our players need to bring their A game.
Individual battles and certain on-field partnerships must rise to the occasion in the Barcelona heat.
Newcastle Tactic
With Robbo missing it'll be down to Argentine full-back, Nicolás Tagliafico to fulfill his duties at left back. He'll most likely have Trent Alexander-Arnold to contend with as Mo Salah will mostly look to cut infield and onto his favoured left foot.
I've decided to switch Tagliafico from support to defend.
Perr Schuurs gets the nod ahead of Harry Maguire. The towering Dutchman's partnership alongside Ross McCrorie instills me with much more confidence, and his passing ability can be used as ammunition offensively but also in retaining the ball in tight pressurised defensive areas.
David Brooks replaces David Neres on the right [inside forward].
Having watched Neres closely in recent months – it's quite clear that he's not quite up to the standard required for a fixture of this colossal magnitude.
I'm instructing the boys to setup in out original high-energy Gallowgatepressing system that served us so well in previous seasons.
We will, however, switch the attacking midfielder for a deep lying playmaker [DM slot].
The passing ability of Geiger and Winks will be essential to any success in this match.
Training
As we'll be adopting our high-pressing system – I've setup training in accordance.
Gegenpressing related training schedules with additional evening modules where we will practice set pieces and penalties.
It had been my initial idea to arrange a friendly match for the first team but, my players looked spent in the final weeks of the season so, those in need of game-time can do so in the U23 and U18 friendlies I've arranged.
23 May
Ampadou picks up a nasty injury in training and returns to his parent club Chelsea with immediate effect.
The Welshman would certainly have been in with a shout of making the squad but, oh well…
2 June
Young Italian full-back, Magri is our only remaining cover for the wide defensive positions. He'll need to take a painkilling injection in case he's called upon.
1 day to go…
The team is ready.
Huge game for the big Dutchman.
3 June
It's FINAL DAY!!
With Tagliafico handed a defensive role at left back – Aaron will be tasked with supporting our attacks as always.
His delivery from crosses could prove pivotal.
TEAM TALK: Go out there and impress me. [passionate]
Opposition Instructions
Becker and Van Dijk will be pressed at all times and shown on to their weaker side.
Both players are tasked with starting play from the back, so we'll try to nullify this as best we can.
Sadio Mané misses out, but we'll try to show Salah to the outside as he's deadly when cutting in on his favoured left.
KICK-OFF
Here we bloody go..!!
6 mins: We apply heavy pressure – camping out in the Liverpool half of the field.
Callum Hudson-Odoi appears to be getting joy down the left flank against Trent Alexander-Arnold.
We've managed to turn their defenders – getting in behind five or six times in these early stages of the match.
We look assured at the back with Liverpool attempting to pounce on the counter-attack.
8 mins: Our players are pressing very very aggressively – forcing Liverpool and, Van Dijk in particular, into hurried long balls forward which is proving simple for our defenders to clear up.
10 mins: GOOOOAAAAAL..!!!!
Callum Hudson-Odoi

11 mins: As I said – we are forcing Liverpool into mistake after mistake with the Merseyside club kicking the ball straight out of play time and again.
The decision to switch an attacking midfielder for a defensive one seems vindicated at the moment, with Dennis Geiger sweeping up any loose play in midfield zones.
15 mins: Even though I instructed our players to show Mo Salah onto his weaker right foot – they're offering him far too much space and time to cut inside onto his favoured left side. He's a world class player.
This worries me…
17 mins: A low driving strike from Hudson-Odoi forces a fine save from Alisson, but the Brazilian can only parry the ball out and into a packed box.
There's a stramash, followed by a rifled drive from captain, Ross McCrorie which is turned behind by the Liverpool shot stopper.
Ooooohhh..!!
A great passage of play ends as Morelos loops a near post header from a corner over the bar.
18 mins: Passing ability from Harry Winks.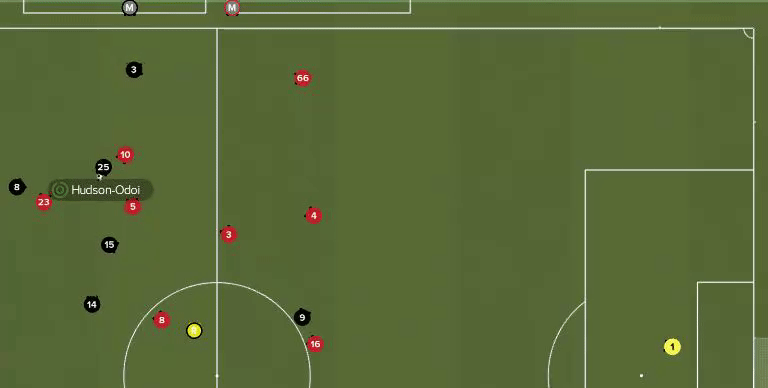 21 mins: We are playing high and in the opposition half.
Our heavy pressing and high line allows us to regain possession in advanced areas which is ultimately more dangerous in an attacking sense.
Nicolás Tagliafico looks to have the measure of Trent Alexander-Arnold.
25 mins: GOOOOAAAAAL..!!!!
Alfredo Morelos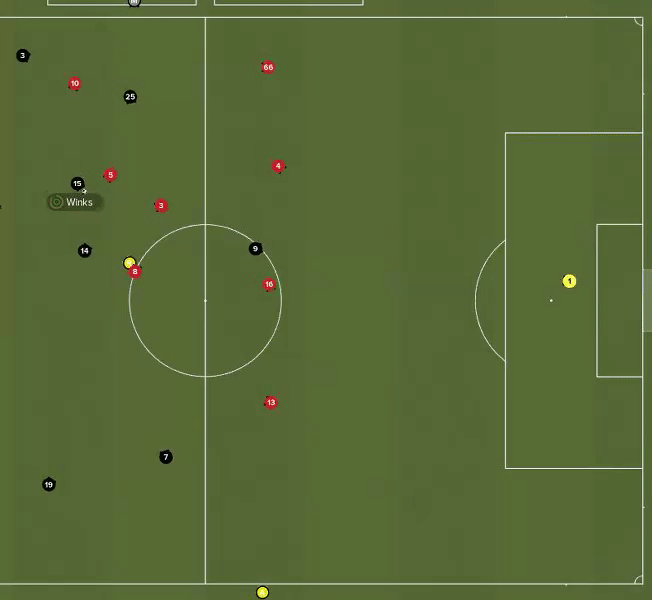 Winks with the killer pass again.
He's putting his stamp all over this match!!
28 mins: Brilliant from [8]Dennis Geiger; back defending – reading the danger well.
We are hunting them in packs.
29 mins: Huge double block from Woodman – followed by a lunging effort by Perr Schuurs to deny his fellow countryman, Van Dijk.
There's a magnificent duel going on between Alfie and VVD.
Every single time Marco Asensio receives the ball Wan-Bissaka is there to take it away.
I'm quite pleased with myself for making academy keeper, Woodman our number one this season after so many years on the periphery.
Well done, son.
42 mins: OOOFT..!!!
Morelos comes close with a bullet header.
We are forcing them into so many errors.
Tagliafico has been immense..!!
45 mins:
TEAM TALK: I'm pleased, keep it going. [cautious]
Liverpool have switched Batshuayi and Asensio.
Wan-Bissaka will need to be careful as the Belgian attacker is a much more robust player.
We are witnessing a Geiger x Winks passing masterclass.
49 mins: Aaaahhh..!!
54 mins: What a pass from Ross McCrorie.
Both of our centre-backs are in command of great passing attributes. This can be used as an attacking weapon to devastating effect.
55 mins: Persistent fouling from Naby Keïta.
57 mins:

Alfredo Morelos is booked for a late challenge on Vigil Van Dijk. [The old Rangers/Celtic connection].
Hmmmmm..??
Morelos looking like red card material…
67 mins: Marcus Rashford replaces Alfie. The Englishman will be deployed as a deep lying forward on attack.
70 mins: Ex-loanee Ben Woodburn comes on for Asensio.
I instruct my players to show him onto his weaker left foot and to the byline.
Wan-Bissaka has this locked down.
75 mins: Firminho comes on for Batshuayi.
I switch Rashford to a pressing forward [attack].
77 mins: The one time that Wan-Bissaka has been caught up the pitch.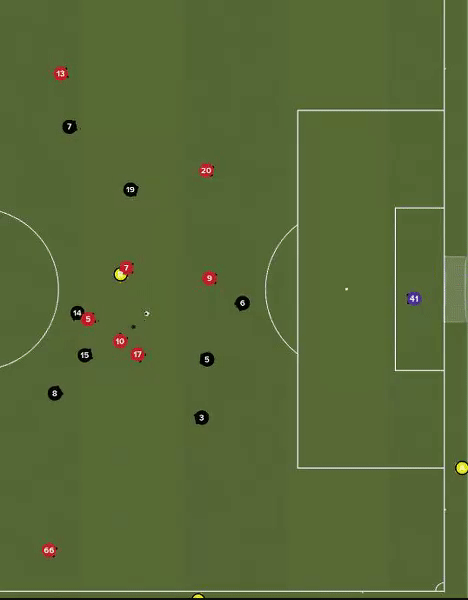 Lucky..!!
The decision to switch Tagliafico from support to defence looks a wise one as he's sat back and mopped up everything coming down their left side all evening.
84 mins: I send out the message to start wasting time from time-to-time.
86 mins: Harry Maguire replaces the yellow carded Dennis Geiger. I've asked Harry to anchor the midfield in the dying embers of the game.
88 mins: PRAISE PLAYERS.

Nivaldo enters the field in place of Hudson-Odoi. A time sapping substitution which in turn gives the fans a chance to show their love for the gifted wide man.
We've fucking done it..!!!!
TEAM TALK: I'm proud of you, lads. [passionate]
Absolute warriors – the pair of them..!!
Thrilled to pieces..!!
Quite the epic match and blog-post to accompany such an occasion.
That'll do me for now, guys.
See you soon.
blackcaesar_a5