Howay the Lads !
– High Noon
Football Manager 2019

/Initial release date
November 2, 2018
Everything we've been working on since the game was released, way back in winter 2018 boils down to this precise moment.
– Every click of the mouse; every decision I've mulled over before pressing the continue button has ultimately led us to here.
Seven and a half months of graft – with this, my twelfth blog entry which serves as a wonderful companion in accentuating the football management simulation experience.
Shall we begin?
2 April 2022
With excitement reaching fever pitch, we travel to Goodison Park where an exciting Everton side lie in wait.
The effervescent feeling in the air soon dissipates as the Toffees sweep our conceivably over confident players away.
Conversely, this defeat could stand to galvanize our group for the upcoming dash for the Premier League title.
Screw the nut, lads..!!!
5 April 2022
Three matches against Arsenal – with the league clash bookended by a UEFA Champions League double-header.
Our somewhat unprecedented voyage in Europe's premier club competition would begin to visibly take its toll on my players.
Nicolás Tagliafico, Aaron Wan-Bissaka and Harry Winks all succumbing to injury at the business end of the season.
The defensively sound attacking wing-back had recently made the right side his own – chipping in with no fewer than ten assists in the league this season.
To lose Aaron just as he was finding his groove – is a sickening blow to take but, luckily we still have Luke Ayling to call upon. [my first signing way back in the summer of 2019].
Hmmm… Not exactly the result we'd have liked; with a nasty away goal conceded to boot.
9 April 2022
Premier League
Cardiff City v Newcastle United
9 April 2022 – 17:30
Cardiff City Stadium
My decision to play something resembling a full strength starting eleven appears to be vindicated when Callum Hudson-Odoi adds to Alfredo Morelos' early strike with a beautifully floated chip from outside the box.
0-2..!!
Doubts begin to creep in with the match poised at 1-2 heading into the half-time interval.
Just as I position myself to make one final time-evaporating substitution – Ex-Villarreal attacker, Karl Toko Ekambi ghosts in at the back post to earn a share of the spoils for the Bluebirds.
Nooooooooooo..!!!
I can't sit here and tell you bare faced lies – I'm worried..!!
The defeat at Everton, followed by this – a poor draw away in the Welsh capital; it's not a good start in our final push for silverware.
13 April 2022
Ismaïla Sarr; you magnificent bastard..!!!
A staggering strike from the Senegalese attacker sees us stun Pep Guardiola's Gunners –
and means we advance to the semi-final stage of the Continent's top club competition.
16 April 2022
Premier League
Newcastle United v Arsenal
16 April 2022 – 12:30
St. James' Park
A hero is born…
That man, Ross McCrorie rises to the occasion; the captain grabbing the only goal in a hard fought match.
Both centre-backs providing performances that would ultimately lead us to victory against a formidable opponent.
Perr Schuurs coming up with the magic; the designated dead-ball specialist delivering a superb assist for his central defensive partner to cap an all-round masterclass from the defensive duo.
With a deal already agreed to bring Harry Maguire to St. James' Park in the summer – it had been expected that he would automatically replace Perr Schuurs in the starting eleven, however, the giant Dutchman has been exemplary throughout this campaign.
Note: Possibly implement a 3-5-2/variant next season.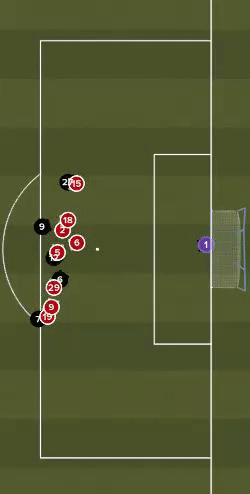 Ross McCrorie – 7.8
Perr Schuurs – 7.8
In my head, I always had the triple header against Arsenal as the fixtures that could potentially break, or indeed, make this campaign.
Two wins and a draw when facing a Pep Guardiola side ain't bad going at all.
Right – wipe the sweat from my brow…

Huddersfield away…
23 April 2022
Premier League
Huddersfield Town v Newcastle United
23 April 2022 – 15:00
The John Smith's Stadium
Fuck..!!!!
Ashley Maitland-Niles gives the Terriers the lead with nineteen minutes played.
Sweeping changes had been forced upon me with many of those who'd seen us over the line against Arsenal in need of a rest.
However, I'd need to summon those warriors once more as the first period ends with us trailing the home side 0 – 1.
A superhuman second half showing featuring four goals without reply – and we take the crucial three points back to Tyneside.
Honestly though; I need to single out a few of my players for grabbing this game by the scruff of the neck..!!
What a player..!! I've previously highlighted Ruben's importance to the team and discussed how he's absolutely vital in making us function tactically.
I'm not sure what's left for me to say about Alfredo Morelos…
"Alfredo Morelos,
Alfredo Morelos,
Alfredo Morelos,
Alfredo Morelos…
(Repeated…)"
Following some much needed council from several of my peers – we decided that this clear shot at the Premier League title was too good to jeopardise.
Several key players would need to be carefully managed through the upcoming UEFA Champions League semi-final.
26 April 2022
Unlucky, lads..!! You gave it your all…
[quietly gutted…]
Here we are then…
A single point all that's needed in order to clinch the title.
30 April 2022
Premier League
Newcastle United v Tottenham Hotspur
30 April 2022 – 12:45
St. James' Park
One, two, three, four, five, six, seven goals..!!!
I'm in ecstasy..!!
[makes a change from being on it]
To clinch the Premier League crown in such fashion – well, it's left me somewhat speechless…
When you think about this being your hobby and, all that time and effort spent – pays off.
Sure, the trophies are just the gloss that finishes off the job but, wow..!!
What a way to do it..!!
A little shout out to one of my unsung heroes – Dennis Geiger.
Granted we now have Harry Winks to choose from but, it was down to the consistently high performance levels from Dennis Geiger that seems to have prematurely ended Ludovic Blas' Newcastle United career.
The decision to go with a deep lying playmaker opposed to an attacking playmaker in our central midfield combination now appears vindicated.
Over the moon..!!
Fucking love this team, love this save and absolutely adore this game..!!
blackcaesar_a5
We lost the UEFA Champions League Semi-Final 6-3 on aggregate.