I know there are much better players available. I know it's probably not the best way how to do it and it could be easier to sign 'already made' players but this is how I enjoy the game. But this is not a guide. This is just a random thought about how I play the Football Manager.
I'm in the 2033/2034 season in Argentina with Arsenal de Sarandí. My team play with a flat 4-3-3 formation and I don't want to buy expensive players. I rather want to retrain and follow the development of our own newgens.
Despite they are not perfectly suited for the roles we are using at the beginning of their football careers.
Luciano Cambiasso – CM(S)
One of my favourite role is still the simple CM(S) and it doesn't matter if it's within 4-1-4-1, 4-1-2-3 or a flat 4-3-3 formation.
I like to use this role for attacking and defensive phase. I mean, I played the best football within my older saves when I had two players with this role but one had Hold Position instruction and the other one had Get Further Forward to act more like CM(A).
In my current save I use CM(S) role within a flat 4-3-3 formation and I'm using this role as the attacking option.
I have an advantage that my current main player for this role, our own newgen Luciano Cambiasso, has CM(S) as his best-suited position/role and he also has Get Forward Whenever Possible trait.
This means he would 'get further forward' even if I would not use this instruction for his role.
I like almost all his attributes for the required role – I mean, he plays as CM(S) but I like to see him act as a central midfielder with attacking duty.
In a combination with DLP(D) and BBM as other two central midfield roles, I want from CM to move forward and be the one who will cooperate with Inside Forwards and also with Complete Forward (with Support duty).
Cambiasso is 18 years old and he was trained as a roaming playmaker during the first two years in the club to gain some important attributes for the midfielder. But since he is in the first team squad and he is part of the starting XI I changed his position/role focus to Central Midfielder with Attack duty.
In the screen below you can see the required attributes for the role with attacking duty.
Decisions, Teamwork and First Touch attributes lead the line and they are really important to me so this player is currently the best one. Hopefully, he will be able to improve Off The Ball and Composure too.
As I want from this player to act as a central midfielder with attacking duty I know he has to improve also Finishing attribute.
And that's why his additional focus right now is Shooting as it covers Finishing, Long Shots and Technique attributes.
I shared the best possible example of what I want from him in the previous blog post and also on Twitter but there it is once again + other two goals by this player.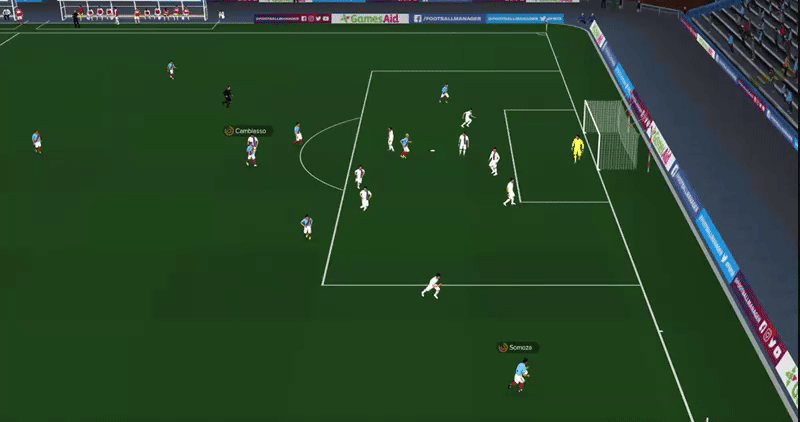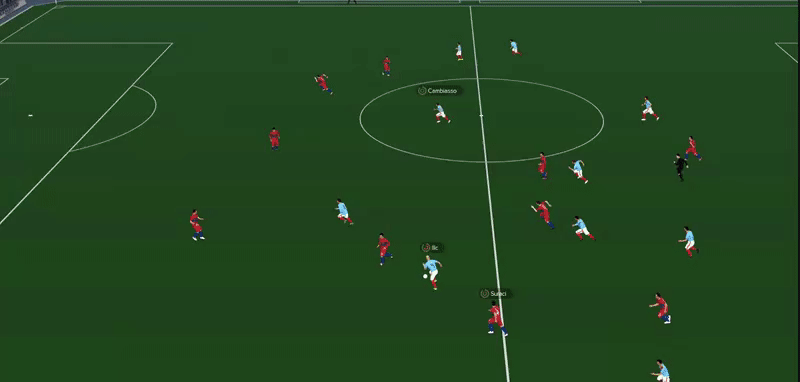 ---
Other options for this role and the development of players
The picture below could be a little bit confusing for some of you but it's nothing complicated. When you click to the 'down arrow' near the player name in the tactical pitch you can see other player's options for the specific role.
Same as you are able to customise some views as a squad or a fixture view, you can set your own view for this part of the game. You can see it's sorted by 'RDS' – it's a column with the graphical information of Suitability for role and duty. Cambiasso tops this list, logically.
There are also Best Position, Best Role and Best Role Duty columns.
There are also Chocobar & Ascacibar but they play in other roles. So. What other options we have here for CM(S) role?
Jorge Bernuncio and Omar Jerez Silva are young talented players but even without showing you their attributes they are much better alternatives for DLP(D) role as a cover for Santiago Ascacíbar.
The rest three midfielders are all mainly AMC players but I don't use this role and I feel these three players will be able to play as CM(S) – when I will play two from these three I will change BBM role to CM(S) in the MCL slot.
Damián Guevara is 16 years old and he is from the 2032/2033 youth intake. And I really hope he can make it very far. He was moved to the first team squad and he is trained as a roaming playmaker with strength as an additional focus and with double intensity.
If you set your eyes for the key attributes for the CM(A) role you can see the absolutely perfect combination of attributes. Decisions, Teamwork, First Touch, Technique over 13 in his young age. In a combination with Flair (15) and Free Kick Taking (15), he will be our new GOD.
He needs to improve tackling and physical attributes but he has enough time and I will closely follow his development.
Despite he is two years older, Matiás Arriola also due to injury stagnates a little bit. But I think he could develop at least into rotation player as well by the same way.
Kevin Faguaga same as Guevara is from the latest youth intake. This young midfielder has probably the longest way before him. Same as the other two midfielders will be trained at least two years as a roaming playmaker to gain physical and some crucial mental attributes.
Btw. all these young players are set to Double Intensity training level as I mentioned earlier. Another thing is these three players, but mainly the last two could be very good in Mezzala role in the future if their development will continue in a good way. Just if I would want to change…
---
Wing backs? They have to be Complete defenders!
Another thing I like to do for several years is to drill wide defenders. What do you want from wing back? Width and crosses?
Crossing, dribbling but also tackling or marking are very needed attributes for this role. I'm using both with support and attacking duty. The required attributes are the same but the attacking duty also 'wants' Flair attribute.
I know complete wing back role could be demanding as fuck and I would be the first one who would say fuck off to my coach if he would want me to play here. But my players in the Football Managers who are wide defenders are trained as Complete Wing-Backs. Usually with support duty.
In comparison with a 'normal' wing back position/role there are also First Touch, Composure and Balance attributes trained. All of them could be useful for the wing back role.
It can also be useful to train wide players as Complete Wing-Back but within WBR or WBL position. You never know when you will decide to change formation to 3-5-2…
Examples? Twenty-seven years old Lautaro Contreras who is our first choice at the right side and his backup, 17 years old Franco Somoza who has everything ahead of him.
---
Mentoring. Does it have any effect?
The answer to this question is not clear right now. I think many FM players still don't exactly know what to expect from the new mentoring system. Some of them would be happier if it would not be in the game at all.
During my time with Magallanes in Chile during the first period of this save, I had some similar mentoring groups as now with Sarandí.
The groups are set by position mainly. And it also applies to the individual training of mentioned players in this post.
Two young players – Arriola and Guevara – are in the same group as a team captain Agustin Chocobar who has driven personality, determination attribute of 18 but mainly, he is Team Leader so his influence on the group is big.
The other two mentioned players – Faguaga and Cambiasso – are with Ascacibar and Bernucio who are both influential players. I think Cambiasso's role in the team will change from 'other players' during this season as he will be the main choice in the starting XI but that's good. We need another leader.
As I mentioned the Magallanes time, it was here when I spotted players passed some traits to each other within mentoring groups. If Cambiasso would be able to pass 'Gets Forward Whenever Possible' to the other two young players, it would be perfect.
There could be some personality changes but what I saw so far everything was mainly due to the team 'atmosphere'.
I'm sure this part of the game will be improved in the future. Or better worded, it will be developed somehow. Right now, it's more experimenting…
Same as I like to act this within central midfielders or wing-backs, I like to train offensive-minded wide players to the Complete Forward role. But it's almost impossible in FM19 due to a known bug of constant resetting individual training to 'Playing position'.
Hopefully, it will be fixed soon or at least for the next game edition. If not, it's stupid…
---
As I said, this is not a guide. It's only one thing from many how I play the game.
---
As always, if you would like to ask something, just let me know.
Don't forget, you can join FMSlack via THIS link. My channel is #fmrensie but there are many other interesting channels to talk about FM.
If you would like to find and check all the Football Manager related content I would recommend you to join Tea&Busquets where you can follow almost all FM players/creators.
Until next time…take care!