When I decided to not renew a loan spell of striker Lucio Cordero for the 2030/2031 season due to high wage demands by his club I thought we will struggle a little bit. Why? Because of many players at the same or a higher level were not interested to join our club.
But I was patient, I spent a lot of time with searching and scouting players and despite I usually, do not these things I decided to use game small features like visiting matches in which my main targets played, I talked about them in the press, I praised them and declared an interest as a top target.
I was slowly making these things despite I'm sure it had a minimal effect but if it helps with 1%, it was worth it.
My aim for this season was again very clear in terms of transfers. I needed to find some players for free and to sell several players. In the end, we earned €8.75M from outgoing transfers mainly thanks to a transfer of midfielder Ignacio Cirino who went to my former club Magallanes for €7.5M and he became their new captain soon after his transfer.
It was one of the most typical transfers within my Football Manager style of play. He was bought for €850k in 2028 and sold for already mentioned €7.5M in 2031. And yes, we can also have some % from his next transfer.
I was also able to finally get offload some not-needed players, some for free but Patanelli left for €1M despite his value was around €1.8M. But I rather took straight €1M and get rid of his wage to help our finances.
On the other hand, we brought 4 players to the club. All of them were for free after their contract expired. All of them are attacking minded players. Pablo Menéndez, Fernando Márquez, Santiago Ortiz and Andres Díaz.
SANTIAGO ORTIZ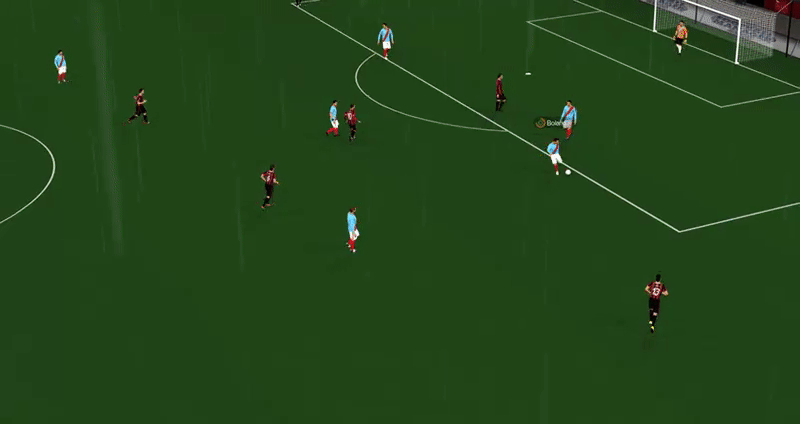 If you are following mentions from this save on Twitter or in FMSlack you probably know one of these players is THAT ONE why this post has the title as it has.
I think Ortiz is my fav signing of the save!

Vincent Guzman
Santiago Ortiz was out of contract in the summer and he was one of the players I was stalking in the last months. He didn't want to join us during the first offer but it changed and it ended quite surprisingly.
Santiago Ortiz was out of contract in the summer and he was one of the players I was stalking in the last months. He didn't want to join us during the first offer but it changed and it ended quite surprisingly.
His first wage demands were €27K per month for three years. I'm not sure if I'm such a good negotiator but he signed a contract for 5 years with a wage of €21K per month and without a minimum fee release clause for any clubs.
The beginning of his life with our club was perfect as he scored three goals against César Vallejo in the Copa Sudamericana 3rd Round the second leg.
He's rather ridiculous 😮

FMSamo
Six goals and 1 assist in the first six matches. Twelve goals in the first 10 competitive matches.
The great thing happened almost at the end of August when we played against Chacarita and we were 1-0 down after the first half. I decided to move Ortiz from CF(S) role to IF(A) role and he scored four goals in the second half. (The gif above is from this match)
Despite he was injured for three weeks he was back in October for matches against big boys Boca, River and for the Sudamericana Final against Vasco. He scored after 25 seconds, for example, against his former club River Plate.
He was called up to the Argentina national team for the first time in November 2030, played second half in both his first matches and scored his first international goal in his second appearance.
Despite I saw him as a perfect player for Complete Forward role I'm using within the flat 4-3-3 formation I, and maybe also him, enjoyed our season more as an Inside Forward on the left side of the pitch from where he scored most of his goals.
He scored one goal against Boca in March from CF(A) role but he didn't score in next four matches he played in. He was fatigued and I decided to give him a rest for two matches. He scored 11 goals in 6 matches after I put him back to the starting XI. Four goals as CF(A) and seven goals as IF(A).
His stats at the end of the season were great – 27 goals + 8 assists in 38(3) appearances.
Our season 2030/2031 was absolutely perfect. We won the Copa Sudamericana after a 2-1 win in the Final against Vasco.
We won the Copa Libertadores Group E ahead of Nacional with 16 points from six matches as we scored 19 goals in these matches.
We had a magnificent form since the River Plate defeat at the beginning of February. We played fine football and when we played all the matches in hand we found ourselves at the top of the table 8 points ahead of Vélez three matches before the end of the campaign.
We were 2-0 up against Independiente, they levelled the score but our central defender scored a winning goal in the 85th minute. Yes. It was after a corner kick. How weird…
…and this goal secured the league title. The first league title in the club history. (Arsenal de Sarandí won a Closing Stage in 2011/2012 within the old league format).
I don't want to say it's only because of Santiago Ortiz but I felt he is the main key reason why we are strong and so good during the whole season despite the club background as facilities, available coaches and finances are still below average.
I know I will not be able to keep him there for too long. He is already wanted in Europe. But I will try to keep him here for at least one more season. Maybe we will be able to make some real progress in the Copa Libertadores with him.
Santiago's 12 Man of the Match awards is a new club record as he doubled Cordero's six awards from the previous season. Thirty-one goals scored is also a new record as he, again, doubled Cordero from the previous season.
It's safe to say the decision to not sign Cordero and to give a proper chance to Ortiz was a great one.
We gained 92 points thanks to 28 wins and 8 draws this season and we created a new league record of points gained in one season. Only 2 defeats are also a new club record, obviously.
There is also Superleague Cup after the league campaign. We were lucky to win after penalties twice against Racing and River but we made it to the final and thanks to winger Rubén Acevedo we won this competition for the first time.
---
Is the future bright?
I'm not sure how long I will be there. I was disappointed at the end of the season when I asked about training & youth facilities upgrades but I received a negative response as "We feel the current facilities are good enough for the level of the club we are."
I know finances are limited as we have only around €4M in the bank and we have around €9M debt remaining to pay but I would rather see this as the main reason to not upgrade facilities rather hear this level of facilities is good enough despite we won Copa Sudamericana and Superliga too.
Just to mention, our training facilities are "Adequate" and youth facilities are Below Average.
I would like to see bigger ambitions but at least one more season is 100% with this club. Also because of Santiago Ortiz.
And partly also because of this newgen from our latest Youth Intake. The young midfielder Jorge Bernuncio who was promoted to the first team squad in the winter and signed a contract until 2033. He made 17(7) appearances during the second part of the season mainly as CM(D) and there really is some potential.
---
As always, if you would like to ask something, just let me know.
Don't forget, you can join FMSlack via THIS link. My channel is #fmrensie but there are many other interesting channels to talk about FM.
If you would like to find and check all the Football Manager related content I would recommend you to join Tea&Busquets where you can follow almost all FM players/creators.
Until next time…take care!