Howay the Lads !
– Number 9.
Back when Alan Shearer was signed for a record £15m, Kevin Keegan had the task of telling Les Ferdinand he'd lost the number he enjoyed wearing so much. Ahead of a tour to the Far East, Ferdinand said:
I was in the duty-free area at the airport and Kevin came over and wanted a word.

He told me nobody else knew but we were signing Alan Shearer.

He said he had to take the No 9 shirt off me. I was gutted.

Wearing the No 9 shirt meant so much to me.
Shearer told Oba Martins he would need broad shoulders when he wore the number back in 2006 after he had hung up his boots, and there had also been talk of retiring the No 9 shirt all together.
For some, it can be a heavy number to carry, a burden if you like. I want somebody to earn the right to be Newcastle's No 9.

– Chris Hughton [Newcastle United manager 2008-2010]
The iconic number was always something I had especially set aside for one special player when doing my homework prior to kicking-off this journey with Newcastle United.
That player has all the attributes required to spearhead the attack in a modern-day football setup, and his shoulders are more than big enough to carry the so-called weight of the number nine jersey.
Alfredo Morelos – Rangers [2017/19]
I'm an immensely proud Rangers supporter in the real world – which only heightens my adoration for the player exponentially.
Even following his fifth dismissal of the current season [2018/19] during Rangers' 2-1 Old Firm defeat on March 31 st – I couldn't bring myself to sell him in the Football Manager world [the alcohol fueled anger and disappointment was real; It did cross my mind].
I have absolutely no hesitation in estimating that Morelos will go on to have a glittering career – akin to that which he's currently fulfilling with me at Newcastle United. I do know for certain that Eintracht Frankfurt recently sent scouts to sample one of his recent performances.
Players such as Alfredo Morelos, who can be the future of football in our country.

He has a lot of talent and has all the qualities needed to be a top player for us.

Alfredo is young, has had a great season and is a top striker.

– James Rodríguez
Alfredo Morelos
Alfredo is integral in allowing our high-pressing tactic to function as intended; a key component in a well calibrated footballing machine.
The Colombian International's attributes allow him to lead-the-line with aplomb – dropping deeper to collect and hold-up the ball, thus giving his teammates space to bypass him – breaking the final defensive line in the opposition rearguard. With three attacking players surging forward – they're able to cause confusion in any opposition backline.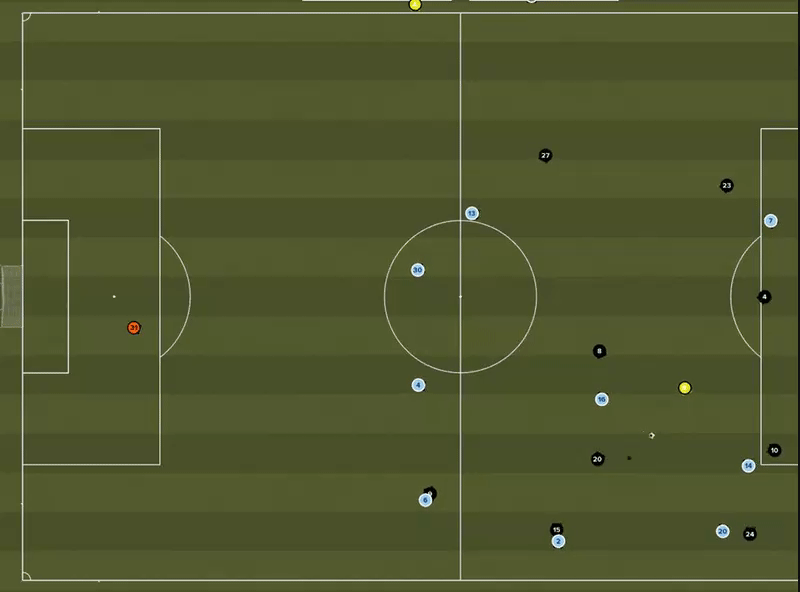 [This clip is prime example of what we're used to seeing from Alfredo Morelos; dropping deep to collect the ball, allowing his teammates space and time to rush forward into advanced areas.]
Morelos is not necessarily a prolific goalscorer but he leads the line brilliantly and the partnership with his attacking teammates is that classic combination of power and pace.
He possesses all the key ingredients required to spearhead any dynamic forward-line in modern football; backing into defenders, wrestling with them, using his elbows.
Not only is Morelos a top-top link player – his goal return per season is at least 20+ goals in all competitions.
My main man offers so much more to this team than goals.
Everyone has a game-plan until they get punched in the mouth

.

– Mike Tyson [Former World Heavyweight Boxer]
– Goodbye Gnabry?
After what can only be described as an explosive end the the season, both domestically and on the European scene – I envisaged a summer of relative stability and certain inactivity in the now polluted transfer market; however, early signs indicated otherwise.
….
Serge Gnabry has handed in transfer request – with Liverpool being his desired destination.
Well…
-as I discussed in the previous blog post – Gnabry is a vital source of creativity and, more importantly, goals..!!
If he is to leave – we should be commanding something in the region of £60 million for what we'll be losing, and more worryingly, what we'll be selling to the strongest side currently in the Premier League.
That moves us swiftly on to our financial mismanagement.
In the pursuit of success on the field – the club once again finds itself in financial woe.
[one I pray will be a minor one.]
Newcastle United failed to comply with the Premier League's FFP regulations for season 2020/21.
The club and the board of chairmen have decided slash the transfer revenue from player sales to 15%.
I know..!!
I need to gather my thoughts; head to the drawing board and formulate a plan as it seems certain that business will soon be required.
More care must be taken in relation to our current homegrown player quota; particularly in continental competitions.
Being forced into promoting unfancied youth players in order to comply with UEFA regulations simply cannot be repeated this campaign.
Going forward – the aim when improving [notice the use of the word, improving] our squad will be to buy homegrown.
Therefor, with Gnabry potentially departing the club – I'll be trying to focus on homegrown players.
Thorgan Hazard
A player I've long since admired, and have coveted since we kicked off our journey with Newcastle United.
The player ticks all the boxes, and even qualifies as a homegrown player having trained at Chelsea between 2012-2015 – before permanently joining Borussia Mönchengladbach, where he's been proceeded to be quite outstanding.
Admittedly the player did previously spurn my advances due to our lack of participation in UEFA's Champions League.
No such issue this summer…
Age vs Outlay…
Age: 28
Value: £30.5m [cost: £28.95m]
Contract: £80k p/w
Wilfred Zaha
Although declared for his father's native Côte d'Ivoire – Wilfred Zaha has lived all his life in the nation of his birth, England.
Now a Chelsea player and approaching his thirties – he appears to be deemed surplus to requirement in West London.
He would undoubtedly deliver in the goals department, however…
Age vs Outlay…
I think this will ultimately rule us out of a move which is a shame.
Wilfred Zaha is a quality player.
Age: 28
Value: £24m [cost: £12m]
Contract: £79k p/w
Son Heung-min
Where to start…
Alfredo Morelos aside; Son was always the main player I wanted in North-East England prior to kicking-off the save.
Bad timing would spell the end of any such pursuit as the player would leave Spurs to join Marco Silva at Everton for £30.5 million.
The media have already linked us with a move this summer.
He doesn't fit the bill of 'homegrown' player, so, I'm at pains to admit this deal is perhaps a non starter.
Age: 28
Value: £33.5m
Contract: £105k p/w
Age vs Outlay…
Callum Hudson-Odoi
Right, cards on the table…
This one excites me; it really does.
Bags of ability, young and, most importantly, English.
When you think of the current new-wave of exciting English talent – it's more than likely Jadon Sancho and Callum Hudson-Odoi who spring to mind.
Sancho is absolutely out of the question as Borussia Dortmund simply won't give us the time of day but; Hudson-Odoi, however.
Transfer listed at Chelsea and seemingly open to a move – this could be our man.
My only real point of concern being his goal return.
We're so reliant on goals from this part of the team that, to lose them could be catastrophic.
Age: 20
Cost: £20m
Contract: £55k p/w
I think we'll do a wee review next time.

-Me
blackcaesar_a5