There are many ways how to play Football Manager game and how to make specific things in this game. And we all are different and we all have our own way, our own process thinking and our own favourite features of the game. And some of them are really underestimated in my eyes.
One of these things is the Screen Flow option.
Gladly, it works properly in this year's edition so I was happy to continue with the way how I used this fine tool in the previous years.
During FM18 and my time in Hungary, I liked to use this option mainly during the several years when I was a manager of the U19s national team and the senior national team later. It was an absolutely perfect way how to keep in touch with all young domestic players in this case.
Despite I left the national team quite early I kept some of the competition in the Screen Flow and I tried to find even better ways how to improve using this tool.
Right now, I have three main reasons why I'm using Screen Flow…
Screen Flow as a tool for checking your own competition
Firstly, if you don't know where to find Screen Flow, you have to go to Preferences/Interface and select the Screen Flow option in the middle between Interface & Skin Colours.
The first thing that I want to continuously check is a competition I'm currently in. That means I just went to Screen Flow and found the Primera B Nacional in Argentina as my team is/was in this competition.
You can see in the picture below this competition is there twice.
Stats | Player Overview | On Matchdays – very easy why I have this as I want to check regularly the best players in the same league to have potentially good players for the same competition. It's also faster to check players stats with this was than to go to the competition overview and click to stats overview…
News | Transfer Rumours | Every Three Days during Transfer window – I remember @FMSamo time from time mentioned he likes to check news screen and transfer rumours of the league to, maybe, snap players who are good and wanted by other clubs. And as we have the option in the Screen Flow, I have this option set there too. I don't want to say I took advantage of this too many times and I stole many players thanks to it but it's interesting sometimes…
---
Screen Flow as a tool for finding domestic players
This is probably the most important part for me because I'm usually domestic players biased and after a move from Chile to Argentina within my save I don't see a reason right now to fill the squad with foreign players as there are many good young players.
But it doesn't matter if I'm in Chile, Argentina or any other country. Youth league (all divisions if there are more) are the first thing I add to the Screen Flow.
Same as within the domestic competition where my senior squad plays, I use Stats | Player Overview screen On Matchdays. I'm able to check the overall page with the basic stats like goals, assists, clean sheets, key passes and more.
You can also set your own 8 widgets in the bottom part of the stats screen as you probably know so you are able to check almost everything on one screen.
"Add competition screens that you will be taken to automatically at certain intervals."
Everything is said in the sentence above. The specific screen you added to the Screen Flow will appear when you want. This means I'm able to check all player stats On Matchdays and I can check the best ones.
I usually don't open players overview screen when I check stats. There is the great "i" icon near players names and you can quickly check players attributes, position and other basic staff thanks to pop-up profile.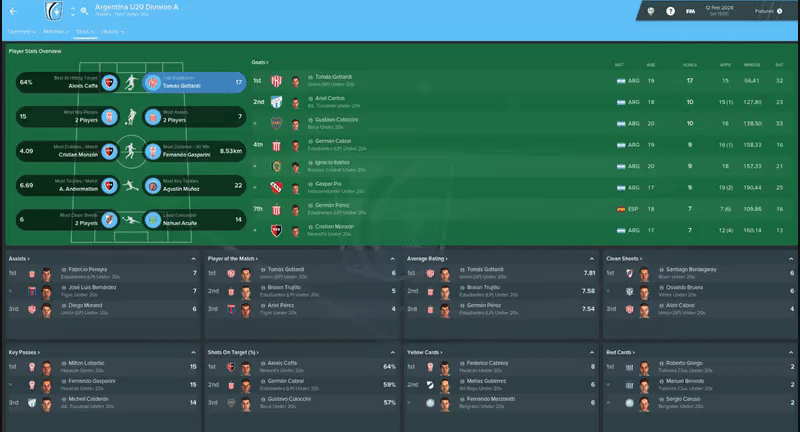 As I also set one of two bottoms widgets in the pop-up profile to Scout Summary, I'm able to see the rating of an already scouted player or I can easily click Scout Player and I don't have to go to player profile/get scout report…
---
Screen Flow as a tool for talents around the world
The system is the same as with the first two options for domestic leagues but this one depends mainly on the continent where I play.
Say, when I was in Europe, I usually had here nearby countries (the top tier + youth league(s) and the major cup competitions.
As I already mentioned, I don't want to sign or buy foreign players right now and that's the reason why I don't have there foreign leagues but only cup competitions to only check talented players time from time.
As I decided to spend the whole FM19 in South America I have here Copa América and both Libertadores and Sudamericano competitions for Under 20 players.
I also included Toulon Tournament as South American youth national teams participate too.
---
It could be something that will slow down the progress of your save, especially if you want just to pass the time between matches but for me, it's the thing I want – slow down and enjoy the game more.
---
*Note: Don't worry, I know I am able to go to Player Search screen or check scouting recommendation and all these other ways how to search players, and I do that quite often but usually when I want to find/search an extra specific type of player and I use filters etc. Screen Flow is a bonus helping tool for me.
---
**Note: When I wrote about the Stats | Player Overview screen I would like to mention one thing I found in my save and it doesn't matter if I'm using a 'normal' version of the game or Public beta version.
Every time I check the Player or Team Overview Stats screens of the competition where my teams are the widgets reset every time despite it's selected how I would like to have it. Just take a look at the pictures.
I raised it several times at SI Forum as a bug but nothing happened so far. If you will find it in your save too, please raise it too HERE.
---
Don't forget you can join the Football Manager Slack to get in touch with many other FM players. You can talk about everything, mostly not even about FM but you have to see it…
You can join FMSlack via THIS link. My channel is #fmrensie but there many other interesting channels to talk about FM.
If you would like to find and check all the Football Manager related content I would recommend you to join Tea&Busquets where you can follow almost all FM players/creators.
Until next time…take care!