Nine seasons, 466 matches played, 327 matches won, 870 goals scored, 27 trophies won, new stadium, most reputable South American club in the world…

My time with Chilean club Deportes Magallanes was fun between 2018 to 2026 in Football Manager 2019 but it's a time to end this part of the save.

I'm usually one-club manager within Football Manager saves but it seems I have to change it this year because of the rise and the development of the club was too fast and the club is now the best in Chile with seven league titles in a row and I need a new challenge.
If I would stay here it would not be a joy for me because I have the best newgens in Chile and if some big clubs like Colo Colo or Universidad de Chile have better newgens, I steal them.
I'm also in the phase when not only Chilean clubs want my players on-loan but Colombian, Mexican or Brasilian clubs try to sign Magallanes young players on-loan and I know this situation from the saves in recent years, despite it was in Europe, and I know it's the time when I dominate too much. Especially when I see my 18 years old players already in the senio national team.
The last season – 2026
We won the Copa Libertadores three times in the last three years between 2023 to 2025. I knew many months before this will be my last season with Magallanes but we were unable to win it before my exit as we were eliminated by Corinthians in the semi final after a 2-1 loss on aggregate.
Corinthians lost 5-0 to Flamengo a week later and the Brazilian side won the trophy for the first since 2020. Ronaldo Vaca scored 9 goals in 11 appearances and was one of three players with nine goals scored in this Libertadores season.
Already mentioned Colombian offensive player Ronaldo Vaca scored this goal in the first quarter final leg against Estudiantes. It looks like a nice goal straight from the corner but the truth is he has only 10 attribute for corners and it should be delivered to the near post…
---
We were more successful against Corinthians at the start of the season when we beat them in the Recopa Sudamericana 4-1 on aggregate. We also won the Supercopa de Chile.
The start of this season was exceptional and the time between February to the end of the May was phenomenal. We conceded only 3 goals in league matches in this period of the season and it was crazy we conceded four goals from Cobresal at the end of the May. Especially at home. We conceded more goals in a single match than in all previous matches together.
The first loss of the season was in June in the domestic cup match against Deportes Iquique when we had 15 players on international duty. But as you can see we lost only to Estudiantes and Corinthians in the rest of the season and we finished the league unbeaten again.
We secured the seventh league title in a row eight matches before the end of the season. Many youngsters got the chance to play in the league and they proved they can be successful as they were able to contribute and help to end this season on high.
---
As I continued with a 4-3-3 formation with the flat midfield, there was also some period during the season when I tried to play with 4-2-4. It was a very easy decision as I only moved one central midfielder upfront and we played with CF(S) & AF as our strikers. There were only some simple adjustments. It worked nicely especially as I recalled two young strikers from their loan spells and they contributed with some nice goals and assists.
The formation has some potential for sure, I mainly wanted to play with two strikers and I wanted to try to beat opponents using two defensive midfielders and it worked out nicely.
My man of the season is Ronaldo Vaca for sure. This Colombian striker played mainly as our Inside Forward on the left side of the pitch and he scored 31 goals as he made 43(3) appearances and he also added 9 assists.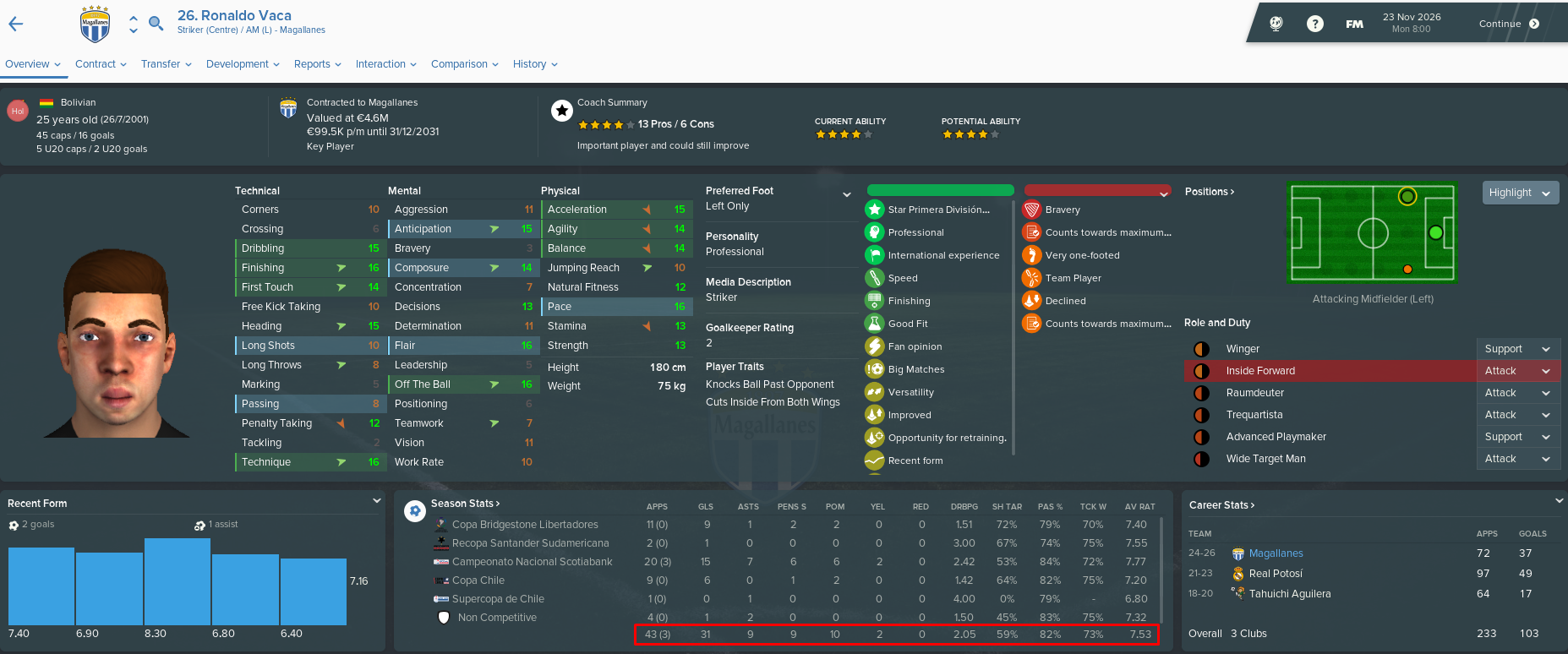 ---
La Academia update
Before we reached the final days of the time with Magallanes I would like to mention also the 'La Academia' development. It continued in a very similar way as in the most recent years but this the average age of the first team squad dropped slightly.
The other big difference was also we bought only one foreign player from abroad before and during the last season as we had enough our own newgens and we didn't need to boost the squad from Chilean or foreign clubs.
---
Favourite players

I can write whatever I would want but my time with Magallanes within FM19 will be surely connected to these three players. I know there was some love for newgen Nicolás Lobos after his arrival to the club thanks to Youth Intake in 2024 and he has already six international caps for Chile as he is still only 18 years old but my favourite players remain the real-life players.
Central defender Rodrigo Echeverría and two midfielders Diego Aravena and Tomás Aránguiz.
The first mentioned player was bought for €170K in 2019 from Universidad de Chile and he played 190 league matches during next years and scored 17 league goals, most of them after corner kicks. He is currently the oldest player.
Diego Aravena was an unwanted player at the start of this save, I promoted him back to the first team and he became our captain. He was capable to play as BWM(S), CM(S/A) and he was great as Deep Lying Playmaker in the last two seasons. He played almost three hundreds league matches already.
The last one is Tomás Aránguiz who was on-loan during the first season of the save but he was straight in the starting XI from the second season. He was mentioned several times in the previous posts as he was our best goalscorer twice but he was mostly backup in the last one and a half year. But he was a great backup and scored some important goals when he came to the match as a sub.
I will miss them…
---
The last thing I will share with you is a comparison of the club details and finances. You can see the basic differences of facilities, reputation, estimated value and more.
Finances are also absolutely from a different world. The left picture is from the end of the first season in December 2018 when we were promoted to the top tier. The right picture is from December 2026 before my resignation…
---
It was great to discover a new nation, a new league and new players. It was great to spend some time in Chile but I need to go elsewhere to find another new challenge and something harder.
---
---
If you want to read how the 2025 season ended with this formation, you can find it here.
If you want to read all the posts about the FM19 save with Magallanes, you can find it here.
---
Don't forget you can join the Football Manager Slack to get in touch with many other FM players. You can talk about everything, mostly not even about FM but you have to see it…
You can join FMSlack via THIS link. My channel is #fmrensie but there many other interesting channels to talk about FM.
If you would like to find and check all the Football Manager related content I would recommend you to join Tea&Busquets where you can follow almost all FM players/creators.
Until next time…take care!