I tried a lot of formations and tactical styles during my life so far. In real life football and in the virtual world as well. But every time I look back there are two formations I prefer the most.

It's 4-1-4-1 and 4-3-3 with the flat central midfield. The first one is great and it was a pleasure to use it in the previous versions of Football Manager but I used only very briefly during FM19 because I wanted to test myself and set the other one properly.

The idea to develop 4-3-3 formation with flat midfield came to me shortly after the start of the 2021 season.

I played with the 4-1-2-2-1 formation or 4-3-3DM, it depends how you prefer to call it, before and we won the first five matches of the season with 10 goals scored and 2 conceded including matches with bigger clubs like Colo Colo or Universidad de Chile.
---
We had the first Copa Libertadores group stage match ahead against Liga de Quito at home. I decided to remove the previous formation and created 4-3-3 with set pieces etc. The process was almost the same as with the set pieces.
4-3-3 v2021

The first idea was to use something similar as in FM18 with BFC Siófok when I used CM(S) – DLP(D) – CM(A) as central midfield trio. But I decided to use different roles this time.

As long shots goal were/are 'a little bit' overpowered I decided to use Mezzala with support duty because this role is an ideal choice (in my eyes) to take advantage of players who are capable to shoot from distance.

I used MEZ(S) on the left side of central midfield trio in combination with WB(S) and IF(A). These three players were able to create some very good situations on the left side and enjoyable to watch as well.

For example like this…
Another perfect example of the simplicity of this formation is this goal and usage of a short throw-in. Player in DLP(D) role is set to come short and his main aim is to decide what team will do next. In this example, he switched the ball with the Winger (number 9) and stayed in the right position to receive the ball back from Full back.

He then found our Box to Box midfielder (number 15) who made a long pass to open space for the Inside Forward and Complete Forward was at the end of the whole action with a precise volley.
As I mentioned Box to Box midfielder role, that was the biggest "?" during the first weeks with this version of a formation. I wanted to have DLP(D) in the middle of central trio so I didn't want to use a second playmaker and I also didn't want to use CM(A) this time because of a lack movement in the final third due to several reasons and the CM(A) would almost every time be in the penalty area in the wrong position.

I decided to try BBM and save the BWM role for the future, mainly because this version was less aggressive. The BBM is a demanding role and my main player almost every time had to be taken off the pitch before the end of the match as he was not physically best suited for it.

But…

The midfielder I chose to use in this role was one of these players who were able to score in BBM or Mezzala roles. That meant Tomás Aránguiz scored 20 goals this season as a midfielder and added also 13 assists

This is the complete first version of my 4-3-3 with the flat central midfield. The Winger on the right side was a player with the most assist this season with 16 assists. He also scored 19 goals from this position.
Probably the most typical assist from winger to inside forward…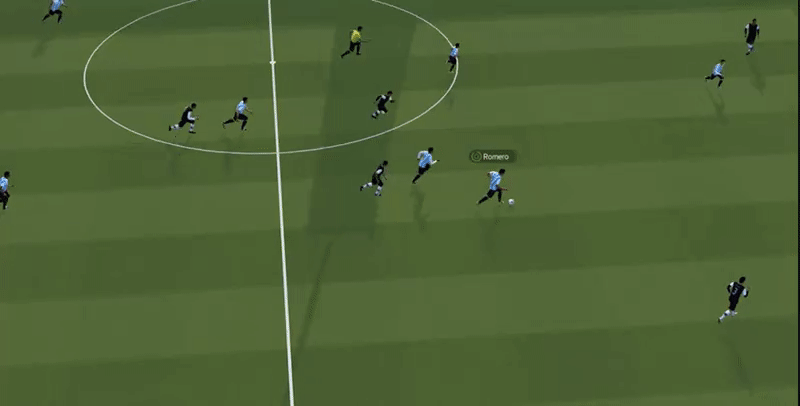 As I already mentioned, Aránguiz was our best goalscorer this season from his central midfield position. Our main striker who played as CF(S) scored 17 goals in 43 matches. It's not too many as you would maybe expect or you would want from striker but I liked it.

Same as I liked the number of short assists in the last 40 matches in combination with the rest of these stats.

If something went as I planned it was to create a patient play with the build-up play from the back and midfielders effectivity.
Some other goals variations…
---
4-3-3 v2023

The year 2023 was the first time when we won the Copa Libertadores with this team. The formation was tweaked a little bit during the previous two years and it resulted in slightly different variation without winger as I switched AMR to IF(A) so we used inside forwards on both sides.

Complete Forward with the support duty remained but there were other changes. We used WB(A) on both sides, one central defender was changed to Ball Playing Defender. Most importantly, the central midfielders roles were changed.

I decided to try Advanced Playmaker with the support duty instead of BBM and that meant I wanted to get rid of Deep Lying Playmaker. Another position in the midfield was now BWM(S) and to have at least one player deeper I placed there Central Midfielder with the defend duty and Dribble Less instruction.
You can see the differences in overall average positions. The version with CM(D) from the 2023 season is on the left pitch, the older version is on the right.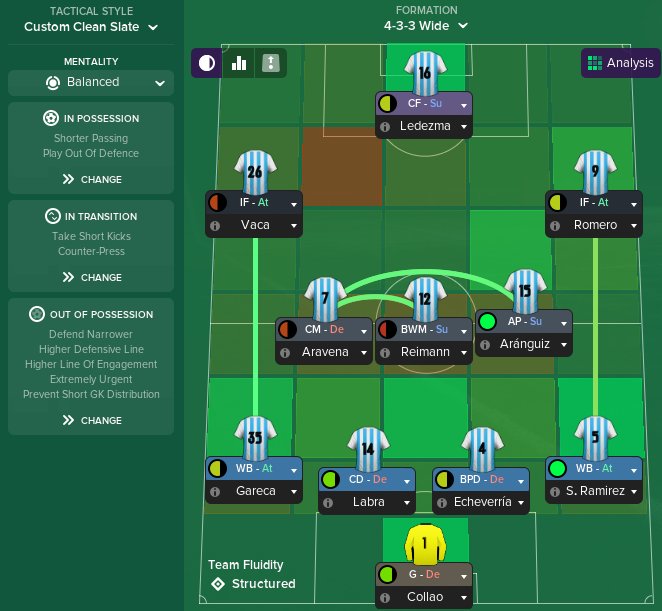 I also tried to defend narrower and in a combination with BSM(S), I moved to Extremely Urgent pressing intensity.

I wanted good "wing style" but with IF(A) on both sides and players in WB(A) and IF(A) roles worked very well together.

And it resulted in this for example…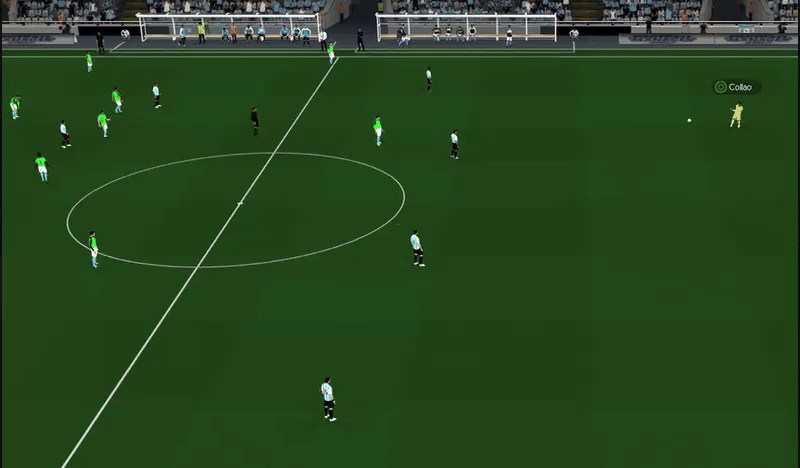 or this…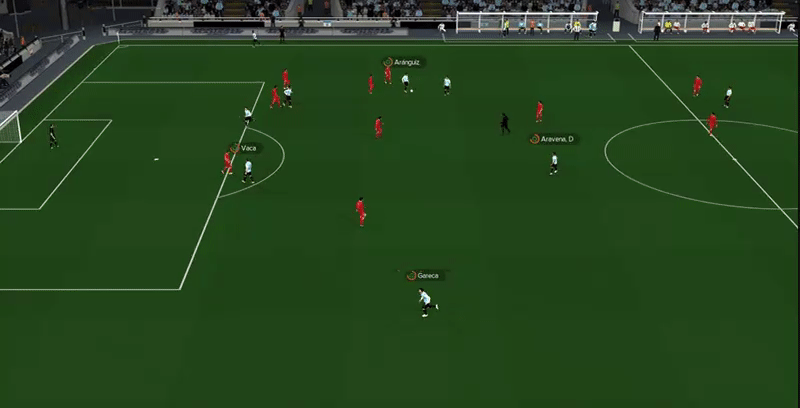 This change also resulted in some stats differences. Aránguiz was no more the best goalscorer but he still managed to score 9 goals from AP(S). Sebastian Romero was the best goalscorer with 15 goals from IF(A), Christián Ledezma scored 14 as CF(S) and Joaquín Verdugo 10 goals as another IF(A).

And meanwhile, there were 12 different players who scored at least one goal during the 2021 season, in this version it was by 17 players.

We won not only a domestic league and Libertadores but also the FIFA Club World Cup.
---
4-3-3 v2025

This was the last season of the save so far and the formation made some other changes again during the previous period. I decided to get rid of Complete Forward role as the only one suitable striker for this role (based on his attributes, not due to coaches rating) was no more our number one striker after I bought a new one.

Another reason to change something was Nicolás Lobos, the young midfielder who appeared in our Youth Intake last year and he was that good that I decided to place him straight to the starting XI.

I still remember the advice from FMGrasshopper during FM18 when he mentioned he likes to use DLP(D) in the left central midfield position alongside Wing back as the DLP(D) is able to cover the space when the wing back moves up.
I used it and Tony is right but I'm an idiot about the positions almost the whole my life.

The role like Deep Lying Playmaker with the defend duty is my favourite role not only in the game but I like to play in this role myself in a real life. I like to sit deeper, dictate tempo of the game, wait for the second balls etc.

That my idiocy about the flat midfield positions is like 🤨😐😊 in terms of the picture bellow. I don't like when the positions are like stairs. I like when they form something like a small "v" and that's the reason why I decided to go back DLP(D) in a combination with BWM(S) and CM(S).
The central midfield with the support duty player (mainly Lobos) has also Take More Risks, Dribble More and Stay Wider instructions so he can act little bit like a playmaker.

Inside Forward on the left side newly has Roam From Position, Sit Narrower and Tackle Harder instructions except the default instructions so mostly the same instructions as when I used WM/A within the 4-1-4-1 formation.

Winger with the support duty on the right side has also Tackle Harder instruction and I also try Cross Aim Near Post. And as I mentioned a new striker the role was changed to Advanced Forward.
The previous versions of this formation were not too much complicated in terms of Team Instructions but I made even more simple for this third version and mainly I get rid of shorter passing.

The new striker José Cortés scored 27 goals in this role and Ronaldo Vaca scored 20 goals from IF(A) role as I wrote in the seasonal summary.
This goal I shared to Twitter a couple of days ago as I really enjoyed it.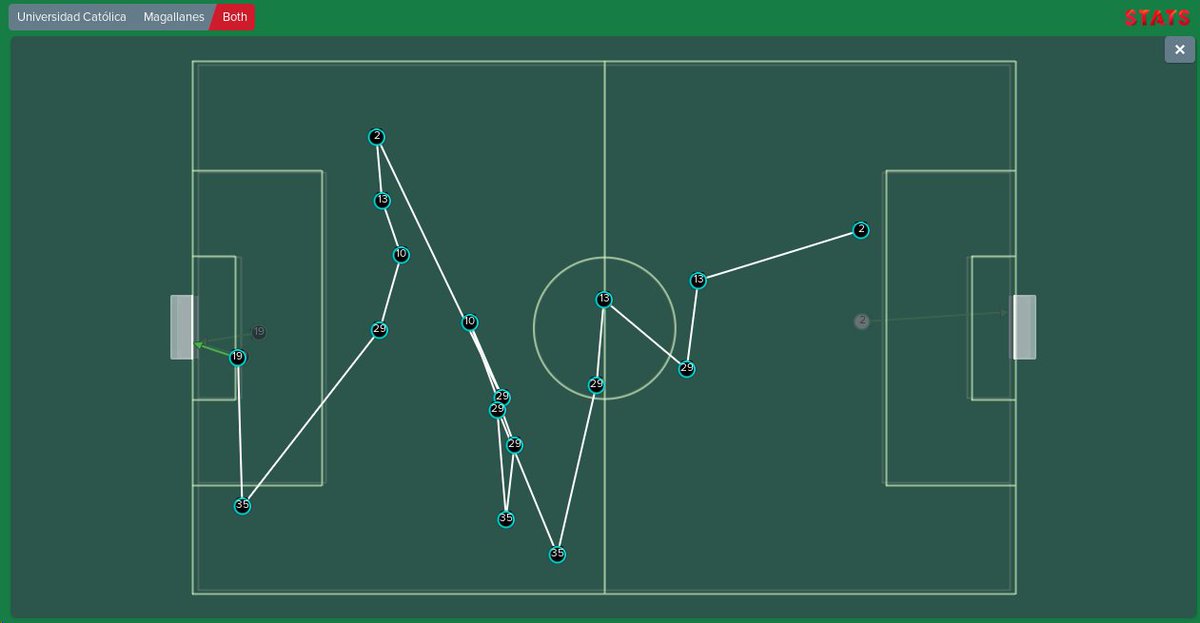 And there are some other very beautiful goals…
There is also comparison of the overall average positions from 2025 and 2023. If you spotted the difference within the right central midfield role, your eyes are perfect.

I started to use Stay wider instructions for this CM(S) role to try if it will have impact of his position in the midlle 'triangle' as this player was very often close to the centre of the pitch same as DLP(D) or BWM(S). I know he is still in the middle of the pitch in this picture but when I watched matches he was wider and he had better option to receive ball and he had more space around.
---
I'm not a tactical master and I will not make some professional tactical analysis with arrows, circles and lines. I'm only glad that something I wanted to try to create worked and works with the principles I like and I was able to create something around my favourite role(s) like Deep Lying Playmaker.
If you want to read how the 2025 season ended with this formation, you can find it here.
If you want to read all the posts about the FM19 save with Magallanes, you can find it here.
---
Don't forget you can join the Football Manager Slack to get in touch with many other FM players. You can talk about everything, mostly not even about FM but you have to see it…
You can join FMSlack via THIS link. My channel is #fmrensie but there many other interesting channels to talk about FM.
If you would like to find and check all the Football Manager related content I would recommend you to join Tea&Busquets where you can follow almost all FM players/creators.
Until next time…take care!