It's been three years already since I started the FM19 save in Chile with Magallanes. And it's clear the beginning of this save was unexpecting. We overachieved massively during the first three years, we won the promotion and we already won the domestic cup trophy and Chilean top tier too.
It was too fast…
The season 2018
Predicted league finish: 11th
Final league position: 1st
The save in Chile with Magallanes began with very limited options. I had no money for transfers and my first task was to reduce the wage budget. I sent a couple of players for a loan spell and I decided I don't need four other players who moved elsewhere for a permanent transfer.
It resulted in the best possible thing as we moved down about €15K per month within the wage budget. We were able to sign several youngsters on-loan from top tier clubs and we also signed two more experienced defenders for a free.
And if you ask me I think these two players were key to our success in the first season because both of them were fantastic players and more than good enough for the second tier football.
I decided to use a similar tactic as during the beta version of the game with Reading FC with which I was able to win promotion to Premier League, I won the FA Cup in the second season and ended 6th in the table after the promotion. I think I wrote about it already in the post about matches with an early red card.
We played mainly with this formation during the first season and despite the defensive mentality, we scored a decent amount of goals – 56 goals scored and 17 goals conceded in the league. Only Cobresal – 2nd – scored more goals (62) but on the other hand, they conceded 37 goals.
When I talked about two key defenders I signed before the season – Ulises Ruarte had the best average rating in the league from all players, Diego Giménez was selected the player of the match most times from all players.
Goalkeeper Gonzalo Mall kept clean sheets 17 times in 30 league matches and once in the Copa Chile. He made 32 competitive appearances this season and kept 18 clean sheets. Absolutely perfect stat not only because it was our first season.
It was not everything so cool as it sounds. The squad was quite big when I took a charge of the club but it was not easy to offload all players, especially the older ones and they were, of course, unhappy because of lack of playing time.
But same as some of them wanted to leave for first-team football I wanted to kick them to ass and get rid of their wage but it's hard when they can't play football and no team is interested. The deliverance for all was the end of December when their contracts expired.
I don't the exact number but when I began this save we were in red numbers in terms of overall bank balance. At the end of the first season and after the promotion we had €117,315 in the bank. And €1,1M in transfer budget.
The massive step forward was also wage budget increase. I'm very strict in terms of wages and it's very usual I'm very much under the wage budget. We spent around €32K per month at the end of the first season and the budget was boosted to €96K per month.
---
The season 2019
Predicted league finish: 15th
Final league position: 8th
Copa Chile winners
I wrote earlier this save and FM19 in overall should be something like a restart for me. Mainly in terms of discovering new players. And it's great so far. I really enjoyed searching for new players during the later stage of the season and during the mid-season period before I signed new players.
I signed most of them during the winter, only one player came during the summer 2019 – during the break between both halves of the season.
The most expensive player was Sebastián Romero who moved from Cobreola for €350K. I don't want to share screens of all players, I don't want this post will end with you scrolling down and down between pictures. It's clear after some time that the best business so far was a transfer of central defender Rodrigo Echeverría from Universidad de Chile.
I don't know why but he reminds me of a soldier. Maybe it's because of his picture I added to the game, not sure. But I really like him despite there could be much better players for sure. He was wanted during the third season but I was able to renew his contract…
After several changes within the squad, we started the season with two 2-0 wins over Unión La Calera and Curicó Unido. And I thought it will not be so hard probably to avoid relegation.
As the season progressed we lost some matches, of course, and we lost points in other matches but we were not worse than 8th in the table.
As you can see we were around fourth or fifth place before the last third of the season but we finished 7th after defeats in September and October when we lost four and tied two matches from six league matches.
But we won the Copa Chile after we beat teams like Audax, Universidad Católica or our rival Santiago Morning. And we beat Santiago Wanderers 2-1 and 3-0 in the final.
It was historically the second domestic cup final for Magallanes (the first one was in 2011) and it was for the first time in the club history when Magallanes won this competition. And it opened the way to Copa Libertadores to us…
By the way, central defender Rodrigo Echeverría had the highest average rating at the end of the season from all our players.
Financially, we moved to totaly different world since the save began. We finished the second season with €1.5M in the overall bank balance, transfer budget before the next season increased to €2.3M and wage budget to €123K per month.
And it was also decided the club will try to search a place for a new stadium because of higher attendances and interest about tickets. We also play selected matches at bigger stadiums because of opponent's fans. For example, we will play Copa Libertadores matches at Santa Laura stadium with a capacity of 22K instead of our stadium with 3.5K capacity.
---
The season 2020
Predicted league finish: 7th
Final league position: 1st
Copa Sudamericana Runners-up

Copa Chile Runners-up

As several players didn't play too much during the second half of the previous season it was clear I will have to release them or sell them because they were too unhappy and I didn't want to see their faces every morning.
I also decided to refresh the squad again with new faces and I bought, for example, young Bolivian right defender Juan Hermoza, a wonderkid from Jorge Wilstermann. I bought him for €450K and he moved to Santos Laguna eight months later this Mexican team met his release clause. He played only 10 league matches for us…
Nevermind. My favourite transfer within the third season is another right defender as I bought José Bizama from Huachipato and he became a key member of our squad.
I signed also two young Brazilians for a free and they are developing nicely, both already made their 1st team debut. Everton Mendes scored 18 goals in 29 matches of the youth league and he scored two goals in his four 1st team squad matches.
The major transfer was surely in June 2020 because we bought Yeferson Soteldo from Huachipato for just only €550K. I had him shortlisted for a long time and his club wanted a much bigger fee. But I tried to sign him several days after the transfer window closed in the winter and I just waited to June when he joined us.
Something similar was a story about central defender Nicolás Ramírez who joined us for €275K from Universidad de Chile. They didn't want to sell him but when the transfer window closed they were willing to discuss the fee and I signed him in a couple of days. (maybe it's some kind of hackz)
The season started with Supercopa defeat with Unversidad Católica but we made it to the Copa Libertadorers group stage and that was our main goal for the first weeks of the new season.
We played against Boca, The Srongest and Colo Colo in the group and we finished third mainly thanks to a big 7-1 win over The Srongest in the fifth round of the group stage matches.
We switched to the 4-1-4-1 formation for probably around the half of this season and this is how it looks.
We moved to the Copa Sudamericana 2nd Round and our journey to the final started here. We beat Defensor Sporting, Real Garcilaso, Deportivo Cali, Atlético Mineiro on the way to the Final.
The Final was played in Chile at the Estadio Nacional Julio Martínez Prádanost in Nunoa and we faced Vélez. They were much better, stronger and they deserved to win the Final.
They took the lead in the 82nd minute, we equalised five minutes later and I thought it will be the end of the ninety minutes but they scored a winning goal in 90+3.
Maybe it would be better to lose 10-0 than this…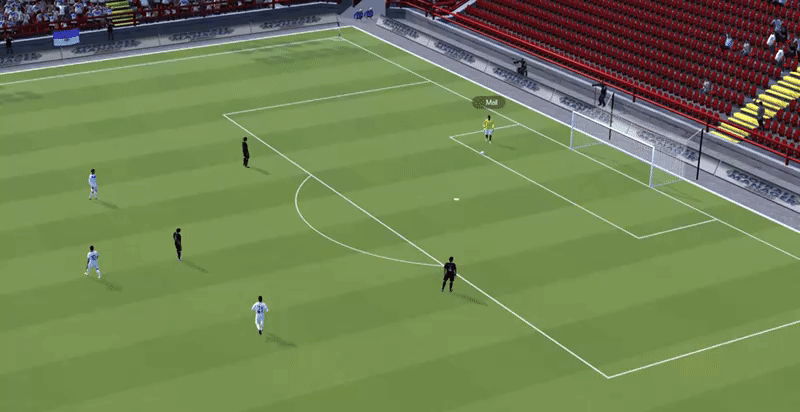 As I wrote to Twitter, you have to love Football Manager when something like this happens…
Same as we overachieved in the Copa Sudamericana we did an unbelievable job in the domestic league competition. We lost only two matches, tied five times and we won the league with 74 points with 18 points ahead of Deportes Antofagasta.
Only 16 goals conceded in 30 matches, 18 clean sheets by two keepers are absolutely fantastic.
And Tomás Arránguiz was the best league goalscorer with 15 goals from Mezzala role.
If I wrote I want to discover new players there is still the thing I'm sometimes very attached to some players and I don't want to sell them. It's also the case of Tomás Arránguiz within this save.
He was on-loan during the first season before the save started but he became a regular during the second season and the key player in the third season.
He played mainly as Mezzala with attacking or support duty, depends on formation we used, and he scored 20 goals and made 9 assists in 48 appearances. About half of his goals were from direct free kicks but that's not important. He was important for the whole team as a creator and main player in the attacking phase.
The season ended with two-legged Copa Chile Final but we didn't win this time as we were defeated by Cobresal 2-1 on aggregate.
As you can see we are better financially again after another season and everything is higher.
Transfer budget was around €5.3M, wage budget is almost €150K per month and the board decided to build a new stadium with a capacity of 5,950. It will be completed in January 2023.
There were no facilities upgrades so far, everything is the same as at the beginning of the save – average training and youth facilities, basic youth recruitment and average junior coaching. The board refused to improve something every time I asked so far.
It will take more time and more money needed to upgrade everything. There will be a lot of FM admin time before the fourth season with the club as I released about 10 staff members and I need hire new coaches, scouts or U19s manager.
I already know Carles Puyol will spend some time with us a scout. Christian Poulsen joined our coaching staff during the third season. If you will want to see something, just let me know in the comments or in Football Manager Slack channel.
I'm really happy I decided to play somewhere else and I'm glad I went to South America. I'm only surprised how fast it was to win some trophies and that's concerning…
---
Don't forget you can join the Football Manager Slack to get in touch with many other FM players. You can talk about everything, mostly not even about FM but you have to see it…
You can join FMSlack via THIS link. My channel is #fmrensie.
If you would like to find and check all the Football Manager related content I would recommend you to join Tea&Busquets where you can follow almost all FM players/creators.
Until next time…take care