When I shared the picture of the random friendly match from the save in the FMSlack some time ago I didn't expect it could lead to the blog post.
It was a typical friendly match during the summer pre-season within my save in Chille with SD Magallanes and we played against 14th placed team from the top tier.
We were 3-0 up after the 34 minutes and played very well when my Ball Winning Midfielder with Defend duty received a red card.
I have to say I was impressed with the match and with the way how we won the game after some tactical changes so I shared the picture to my channel.
---
Lovely! Not often you'd go 3-0 up, down a man and then not draw 3-3.

Did you change tactic? It's interesting how people change in that situation.

Mike, @accordingtofm

We talked about it with Mike briefly and I just responded that I made some small changes. I, for example, reduced pressing intensity and turned Counter and Counter-Press off.
When the same thing happened twice in next four matches and we were able to win all those matches I decided it would be good to put some words about it together because I made different changes in each of those matches.
Base Tactic
Let's the kick-off with the formation I have been using during my first season with Magallanes.
The core of the formation and instructions is based on the formation I used during the Beta version in the save with Reading FC and I managed to finish 6th in the first season after the promotion to the Premier League and FA Cup win in the same season.
There is usually one change even if we don't receive a red card as I like to change DLP/S to Box To Box midfielder quite often.
But this is the main tactic we used. Another time from time change is to try to play with Balanced mentality and if we change the mentality I also change Slightly More Urgent pressing intensity to Standard.

Friendly match vs. Everton de Vina
The match against Everton de Vina was one of two matches we played during the summer break against two teams from the top tier. And it was the sample of matches when I decided to use the Balanced mentality with Urgent pressing intensity. It was friendly so I wanted to try it…

As I said already, we were 3-0 up after 34 minutes but Benjamin Berrios received a red card before the halftime.
In this case, I kept the mentality for the 2nd half but I reduced pressing intensity to Standard (as I said already) to keep players more in their positions and turned Counter-Press and Counter off. And changed CM/A to CM/S and GK instruction from Distribute Quickly to Slow Down.
The idea was simple as I didn't want to see my players running around the whole pitch like crazy idiots.
We had 9 tackles won during the first half but we added only five won tackles in the second half and lost.
I followed that match with comprehensive highlights as usual during FM19 and it was clear at the first sight we were more cautious after tactical changes and overall intensity reduces during the halftime.
We also had 8 shots during the first half – 3 goals, 1 saved and 4 blocked. But we had only 1 saved shot during the 2nd half. But we were very solid in the back and also patient and kept the clean sheet.
In the case of this friendly, I decided to not change mentality but I made only some changes within team instructions and changed role duties. I just wanted to try if we will be competitive against the side from higher division despite we were one man down.

---
League match vs. San Marcos de Arica
To be fair, I didn't expect we will receive a red card again so quick. The friendly against Everton was played just two weeks before another match.
It was our best goalscorer of the season in that time who received the red card as he was sent off after the second yellow card for the handball in the penalty area of our opponents. And it was even earlier than in the previous match is it was in the 39th minute.
We were 1-0 up before the red card as Benjamin Berríos scored in the 17th minute. Yes, that's the midfielder who was dismissed in the friendly above.
We started this match with the base formation I shared above but with Balanced mentality again. As this was competitive, match and I was 1-0 up I didn't want to lose. I wanted to earn one point at least.
I decided on those changes in the halftime.
Mentality -> Defensive.
I added Play For Set Pieces instruction because I find it as an instruction for wasting time.
Defensive Line changed to Standard from Higher and the rest Out Of Possession instructions defaulted.
Same as in the previous match, I asked my keeper to Slow Pace Down
Instead of Counter-Press when we lost the possession & Counter when we won the possession we just hold our shape and waited what will happen.

WB/A changed to FB/S
DM/D changed to DLP/D
CM/A player moved to DLF/S position
BBM changed to CM/S with hold position instruction
IF/A changed to IF/S
With the combination of the above changes, the match continued with a very boring chess game. We were keeping the ball (61% vs.39% possession) and we had a decent amount of set pieces as we had 8 corners, 16 free kicks but also 39 throw-ins.
The key point of the second half was I moved our CM/A player to DLF/S role despite I could sub him for the striker. But I decided to let there our midfielder and added Hold Position and Less Urgent pressing mentality instructions to his role.
He just distributed the ball well to the wide players every time our defenders cleared it out from the penalty area. He lost the ball once during the second half and it was he who won the penalty kick in the 68th minute.
Despite we lowered the aggressivity in our playing style, we changed BWM to DLP and wanted to be more cautious and patient we received three from our five yellow cards in the second half and we had more fouls in the 2nd half than in the 1st half.
But as you could see in the picture above, we won the game again…
---
League match vs. Nublense
It took us only the next two weeks and we had to play with one man down again. It was against the Deportivo Nublense, the team I seriously considered to play with instead of Magallanes.
We had an absolutely perfect start to the match as our experienced left defender put us ahead after a well taken free kick.
But yeah, it was the same player who received a red card in the 40th minute for this challenge…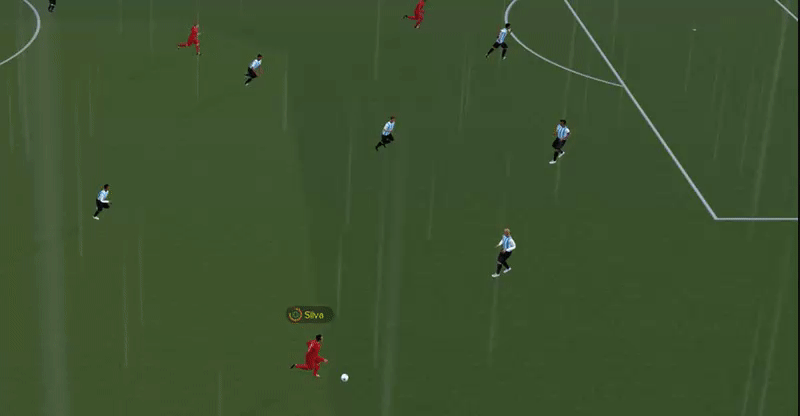 I didn't have a cover for the left defender on the bench so I decided to make a different change this time.
I decided to take off our right defender Ulises Ruarte and he made a way for central defender Pablo Feres so we switched to 3 men defensive line.
I moved both wide midfielders down from AML/AMR positions and set both of them to Winger/Support.
Ball Winning Midfielder with Defend duty remained on the pitch this time same as I kept CM/A role. But I changed DLP/S in CM position to Box To Box midfielder and DLF/A to DLF/S to have him closer to the midfielders.
The most 'drastic' change was I changed Standard Line of Engagement to Much Lower. I thought it will be good with a DLF/S combination.
Some 'In Transition' instructions were changed again as Slow Down Tempo and mainly the ball distribution by goalkeeper had to be changed from full backs to centre backs.
This match was surely the most dramatic one from those three. Mainly because Nublense levelled the score in the 58th minute.
There you can see our positions in the 1st half…
…and in the 2nd half.
As it still was 1-1 before the final whistle, I decided around the 81st or 82nd minute to move Line of Engagement to Lower and Pressing Intensity to More Much More Urgent. I just wanted to win. And it resulted in the winning goal in the 88th minute…
---
As I wrote in the FMSlack, I don't want to say it's always good to be more cautious or switch to a defensive mentality and try to get all players behind the ball and just wait what will happen. Sometimes you're down but it's better to be same active as before the red card.
Maybe I was lucky with the changes I made, maybe the opponents are/were not good enough to beat us despite they were in the advantage. I don't know but I'm happy that I was able to share my thoughts with you.
---
As always, thanks for reading, @FMRensie.
Don't forget, you can join FMSlack via THIS link. My channel is #fmrensie but there are many other interesting channels to talk about FM.