Hello from 'Around the Lake'. As I have a decent amount of time to play Football Manager and continue my BFC Siófok save, we finished the 2041/2042 season. The club growth continues the same as the development of football in Hungary at all.
After the many years of thought matches in Champions League, and some other clubs in the Europa League, we finally made a really big step forward in terms of European cups places (as I posted in the last blog).
The season 2040/2041 was a super-successful because not only we won the Champions League but MTK Budapest won the Europa League as well.
As we didn't win the domestic cup in 2040/2041 season we faced MTK (they became our competitive rival during the save, same as Puskás Akadémia) in domestic Super Cup and also in UEFA Super Cup.
I don't like this word but I think it's pretty cool to have two Hungarian clubs in UEFA Super Cup, isn't it? 🇭🇺
We beat them 5-0 in the domestic Super Cup and 3-2 after extra-time in UEFA Super Cup. Between these matches, we also beat them 1-0 in the domestic league. Three rival defeats within one month. That's a bad summer…
Perfect, do you think a third is possible?

Mike Pearson/@accordingtofm after the Champions League 2040/2041 win.
Thanks to the Europa League win by MTK there were three Hungarian clubs in the Champions League Group Stage during 2041/2042 season as Puskás Akadémia took the third available place.
And it was a perfect season by all Hungarian clubs in European competitions including Videoton as they made it to the Europa League Knockout Stage.
All three Hungarian clubs made it through the group stage in Champions League. MTK were eliminated by Real Madrid 5-3 on aggregate in the First Knockout Round but Puskás Akadémia beat Feyenoord on away goals and made it to the Quarter Final.
They played Manchester City and tied 0-0 in the first leg at home but they were defeated 2-0 reply. But it was great to have two Hungarian clubs in the last eight.
---
I didn't mention our results. The reason is very simple. We made it to the Final again. Third consecutive year.
We had an average group stage in my eyes – Malmö FF, Leverkusen and Barcelona. We only lost to Barcelona in the away match in the third round but we won the rest of the matches and comfortably progressed to the knockout stage.
Despite the squad changes and the fact that our average age dropped to twenty, we were quite comfortable against strong Chelsea and Real Madrid squads. We beat Chelsea 3-2 twice and Real Madrid 5-3 on aggregate. Manos Pasas and Dejan Savic scored all our goals against Real.
We faced Benfica in the Semi Final and two goals were enough to make it to the Final. It was not too much surprising our opponent was Manchester City. We faced them several times, we beat them last year but we also lost many times to this English side.
This time, we decided to use 4-1-4-1 formation and we scored the only goal of the match in the 25th minute thanks to Dejan Savic and the tight score remained until the final whistle.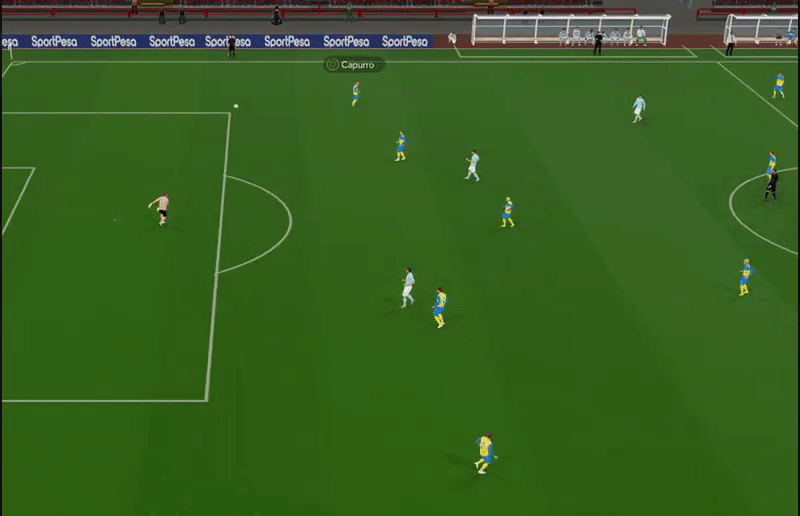 ---
Manos Pasas effect
It's been already three years since Manos Pasas arrival to Siófok from Paris where he played for PSG. This Greek international star (97 caps/46 goals up to June 2042) moved to Hungary for record transfer fee of €115M.
As I said in the past, it was an unusual thing for me to spend too much money on one player. I made it with a view to fulfilling the plan to build a squad mainly from domestic players + two or three foreign stars.
The side or smaller dream behind this transfer was to win the Champions League again. We won it in 2035 when we beat Tottenham 2-1. If you read the last post 'Where it all began' you know we won our second Champions League trophy in 2040 after the same result against the same opponent.
Manos Pasas played 13 matches, scored 6 goals, made 4 assists and he had an average rating of 7.65. As our only player was included in Dream Team.
As we won the Champions League in his first season with Siófok and I decided to continue with my plan to reduce the number of foreign players in the club, he was the main man. If someone is considered to be called 'key player', this guy is even more.
We won the Champions League in the 2040/2041 season too as we beat Manchester City 2-0 in the Final. Manos Pasas scored the opening goal in the Final and he played 12 matches, scored 5 and made 2 assists in overall during this season in the Champions League.
[If you wanted to ask, he plays as WM/A in a 4-1-4-1 formation or as IF/S or IF/A in a 4-3-3 wide formation]
As we completed the hat-trick 🏆🏆🏆 at the end of 2041/2042 season was a key again. This time he played 11(1) matches, scored 5 goals and made 7 assists.
I already mentioned he was in the Dream Team after his first Champions League trophy. He was among the best XI after the 2040/2041 and 2041/2042 seasons too. After the first and third trophy, he was also named the Midfielder of the Season.
Worth every euro €.
---
You can see the latest season was very good as we won all trophies possible including Club World Cup what is not in the picture.
As I mentioned it already several times the squad rebuild continues and we get rid off of some foreign players including Argentinian defender and midfielder Javier Navarro and Silvio Moretti. But we also lost one of the best newgens of this save, Hungarian midfielder László Karacs who moved to Barcelona with a transfer fee up to €25.5M.
We sold players for a fee of €98M during this season and only bought two young Hungarian players from Puskás Akadémia. Mainly for our U19s with a view for a potential sell.
Do you remember I mentioned the national grow at the start of the post? Hungary moved to the third place of Club National Coefficients and that means we now have 4 Champions League Group Stage places, 2 Europa League Group stage places + 1 place in the Europa League last qualifying round.
Thanks to our domestic league title but also domestic cup win it resulted in SEVEN places in European cups for the 2042/2043 season as the seventh team in the league will enter the Europa League too.
BFC Siófok moved to up 1 place to 1st position in the new European club rankings for next season. Hungarian top tier is currently 5th in the European Competitions Rankings and Hungarian domestic cup is the 1st in the European Cup Rankings.
Just the last thing to check for you if you are interested. There are two screens of our first team squad, the second one with the seasonal stats as well.
---
Many of you are already in FM19 time in your minds but I will continue this save for some more time.
Until next time…
You can also join my FMSlack channel to see some updates from the save. You can join FMSlack via THIS link. Take care.
👋🏻👋🏻👋🏻