European Championship 2028. The major tournament hosted by Scotland & Wales. But why I wrote about it as I'm the manager of BFC Siófok? Because after some months with Hungary U19s squad I received a job offer to become manager of Hungary senior national team. And I accepted it.
The job offer came to my mailbox in November 2027, just a few days after EURO Qualifying phase ended.
Hungarian players finished second in the Group B six points behind Belgium and four points ahead of Poland. That meant Hungary were able to compete in EURO Championship Qualifying Playoff to win an additional place in the final tournament.
And I was already in charge of the national team for the Playoff. We were drawn to play against Israel (away) in the Playoff Semi Final and we made it to the Final after a win on penalties.
We were quite lucky to get Moldova for the Final match and I was not afraid of to not make it to the final tournament. I had 11 players from my club in the squad and five former players of Siófok but Ádám Nagy and Mario Timko, both players from different clubs, scored two goals and we won 2-0.
Hungary were drawn in Group C with Belgium, Germany and Italy…
My reaction was like
I had around two months for final squad selection. I decided to not make stupidly hard or complicated and I added Player Stats overview of OTP Bank Liga to the Screen Flow so I had a perfect overview of my players in domestic top division same as about players from youth league and second and third tier.
But, to be fair, second and third tier are there just for fun and to take a look time from time if there are some promising hidden talents or undiscovered stars.
Three days before the squad announcement the domestic league ended but I had the domestic cup Semi Final first leg against Honvéd in the same day as the squad announcement.
I stopped the game, saved it and spent around four hours without a click to continue to select right players.
My initial thoughts were very simple. I deleted the previous squad and went to the national pool.
Thanks to filters it's very easy to make your selection by specific positions. I started with keepers, then defenders and so on…
I set three groups of players to divide players. Not mainly by their abilities but mainly by their roles in the final squad.
Key players
Regular 1st team players/rotation option for national team
Youngsters with abilities to play and earn experiences for next qualifying phase and possible tournaments
The selection of three goalkeepers was a very easy decision because I was sure which keepers are currently the best in Hungary.
I selected Daniel Gyollai from Nottingham Forest (31 years old), Ádám Zima from Újpest and former Siófok keeper (31 years old) and Gergely Hutvágner from BFC Siófok (27 years old). The last one will be number one keeper.
The comparison of goalkeepers was not needed this time because other options were only young players who are in the U21s and U19s squad and I wanted to have more experienced keepers in the squad.
---
My defensive players pick was simple. I decided to have two left and two right defenders able to play in the full back role. And three central defenders. But in the end, I decided to select only one left defender because I have a central defender who is also able to play on the side.
Csaba Varga-Jancsó for RB, Andrea Florio for left defender and Róbert Csaba and László Mihálszki as central defenders are key players.
Gergely Kiss is my backup right defender and Áron Filó backup central defender and also left defender.
There are also experienced players Tamás Szánto, Ádám Lang and Attila Talabér. I had to decide between these three who will travel for the major tournament because I wanted to include also one young defender.
After I compared these three players I ruled out of the squad Attila Talabér who is from my own club. The reason was not based mainly on decreasing attributes but also because he was not heavily involved during the season and he was only backup player.
In the end, I decided to select Tamás Szánto because he played 34 matches during this season for Rapid Wien and he is able to play as a defensive or central midfielder as well.
To have one under 20 years old defender in the squad I had to select one from these two players. Zoltán Orbán from MTK Budapest and Márton Kretz from Siófok.
I decided to call up my own player in the end. Mainly because he played more matches during the season, he had better form before the squad announcement and he is able to play on both sides as well.
If nothing more I will consider buying Orbán from MTK Budapest to Siófok
---
What about midfielders and forwards? It was really simple because I have the best possible midfielders in my own club squad so it was obvious my main midfielder is Dominik Szoboszlai (CM/A) in a cooperation with György Benedek (WM/A), János Major (CM/S) and Tibor Hambuch (W/A).
The last one is newgen from the 2024 Youth Intake and he moved to Tottenham from Siófok for possible €6.5M in winter 2028.
Backup midfielders are Olivér Horváth, Imre Kiss and Szabolcs Schön. And my main two defensive midfielders are László Cseke and Ádám Nagy.
As I wrote earlier I selected a couple of players who are able to play in various positions. That was the reason why I didn't include second right midfielder and removed Mario Timko from the final squad.
I decided to call up more strikers including Viktor Kovács because he plays as winger or wide midfielder in the club and he does very well in this role.
As you will be able to see in the picture below I selected only three proper strikers – Dávid Barna, Viktor Kovács and Sándor Vass. But I can play Szoboszlai and Schön in striker role as well.
The main reason why there are no other strikers is very simple. The best Hungarian top division goalscorer of this season Kevin Csoboth was out for 4 months.
An experienced Dániel Sallói didn't play enough matches during the last season for my own club as he was not a better option than the young Sándor Vass and other experienced strikers are simply not good in my eyes.
I like Sándor Vass because he is a real talent and I see him as my main striker in the club but Barna is also a very good striker and he scored 21 goals during the season in 36 appearances and made 7 assists.
Vass scored 15 goals in 18(13) appearances and made 4 assists. As you can see in the pictures it will be tight to select my first choice for the first match in the group but if you look on the picture with Stats comparison the younger Vass is my favorite choice.
---
↓↓↓ EURO 2028 Squad Selection ↓↓↓
There are rumours they are not happy with my selection
It's an understandable reaction, I suppose, but I back my judgement. I chose these players for a reason. Each and everyone of them is here on merit.
---
FINAL TOURNAMENT
I already mentioned the opponents for the group – Italy, Germany and Belgium. I decided to play with my beloved 4-1-4-1 formation, the same style what I play with my club.
You can see the ideal starting line-up before the first match with Italy. As I mentioned already, key players are Szoboszlai, Major, Benedek, Florio and Varga-Jancsó. I decided to give a chance to 18 years old striker Sándor Vass from the opening minute.
It's very simple tactics with some addition in terms of individual instructions.
Our keeper is set to Distribute To Full Backs and Pass it Shorter, the wide midfielder is instructed to Roam From Position, Sit Narrower and Cut Inside with Ball. Meanwhile, player in CM(A) role has only default instruction to Get Further Forward, our CM(S) is instructed to Hold Position and Tackle Harder.
It's very similar tactics as I played in FM17 but the biggest difference is I changed striker role from CF(S) to Advanced Forward because it works better for me during FM18 as you probably know that it could be very useful to make long pass to running striker and if he isn't idiot he can score many goals.
vs. Italy
No, we were not favourites for this match but we are used to it and we won't be favourites against Germany or Belgium.
I have to say I was really surprised by our performance against this stronger Italy side. We had the first chance of the match in the 17th minute but Vass didn't score after the break. But this youngster opened the score just before the half time after a typical move by Benedek on the right side.
Sándor Vass became the youngest ever EURO goalscorer at the age of 18 years and 85 days.
The second half was calmer and we defended very well. Italy had some shots from distance but nothing too serious and we hit them in the 83rd minute after the corner. It was played outside of the penalty area but Szoboszlai decided to not shot and passed the ball back to the side.
Nagy made a second cross to the far post and Benedek crossed the ball back before the goal and Major scored with the header.
Italy scored after the free kick in the 87th minute we secured a tight win.
Germany beat Belgium 4-3 in their opening match of the group…
---
vs. Germany
There is not much to say about this game as it ended with a goalless draw. The key moment was in the 53rd minute when Hutvágner saved a penalty to Felix Passlack.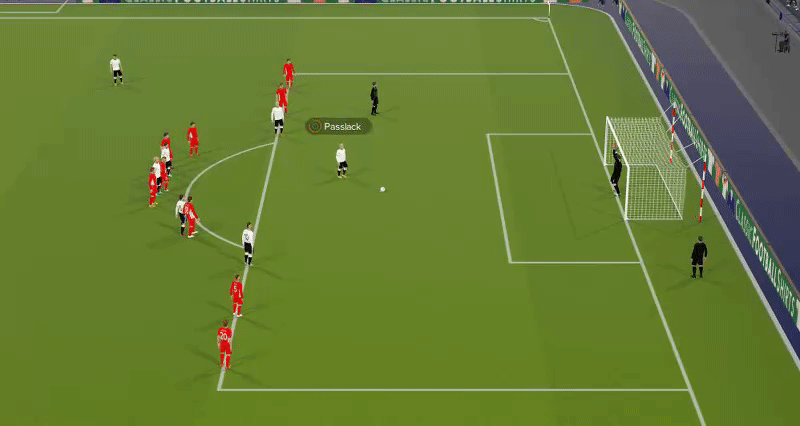 Italy beat Belgium in the second game 2-1 so Belgium was out after two matches already and we had to beat them or to trust Germany they will beat Italy.
---
vs. Belgium
Incredible. That's how I felt after the game. I decided to make two changes in the starting because Vass and Tambuch were tired so I gave chance to Horváth and Schön.
The first half was boring, Belgium had one opportunity but Hutvágner was perfectly prepared and saved it.
The key moment of the match was when Schön picked injury in the 57th minute and he was unable to continue. Sándor Vass came to the pitch as a replacement and…
59th minute – the first goal
68th minute – the second goal
78th minute – hattrick completed
The first goal…
And between his goals, Dominik Szoboszlai scored absolute beauty after the throw-in. Belgium were useless in the second half and thanks to this massive win we won the Group C before Italy as they beat Germany 3-2.
After all matches were played Slovakia, Greece, Germany and Bosnia made it to the next round from third place in the group.
---
The Second Round vs. Slovakia
If you're Czech you want to beat Slovakia in all sports what exists. And it's the same for Hungary against Slovakia. I knew I have to beat them.
They finished third in the Group A after the win over Serbia, defeat with Scotland and draw with Denmark. They played 4-4-2 in all three matches and they have Milan Skriniar or Lászlo Bénes still in the squad.
Wass and Hambuch were back in the line-up and we were 2-0 up after the first half as Florio converted the penalty and Szoboszlai scored after a perfect team move.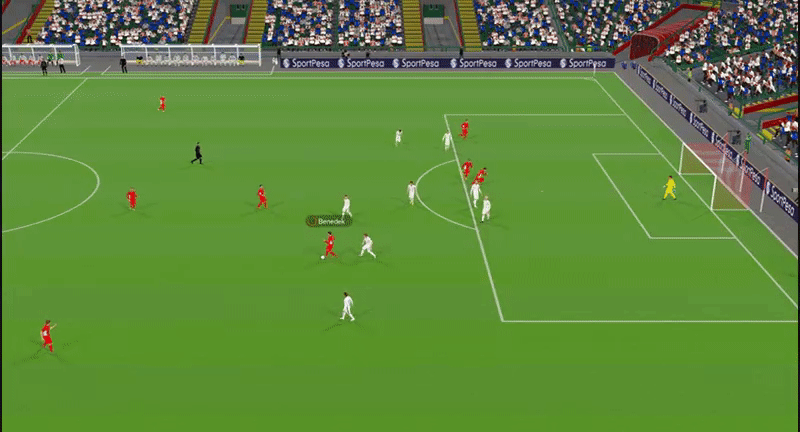 When Tibor Hambuch scored our third in the 47th minute I knew it's over. Unfortunately, Hambuch had to go out due to injury in the 51st minute and tournament has ended for him.
---
Quarter Final vs. Holland
Holland conceded only one goal during the previous match in the tournament and they had Nando Gerrits upfront who is great newgen valued at €48M.
They played with a narrow 4-3-1-2 formation and we kept our 4-1-4-1 with Horváth on the left side instead of injured Hambuch. And we were absolutely perfect for the full match.
They had nothing. Absolutely nothing. Six shots during the 90 minutes and 4 of them were stupid long shots and ended somewhere upfront in the stand.
And we scored the winning goal in the 33rd minute after throw-in routine. György Benedek with a perfect finish after Szoboszlai's assist.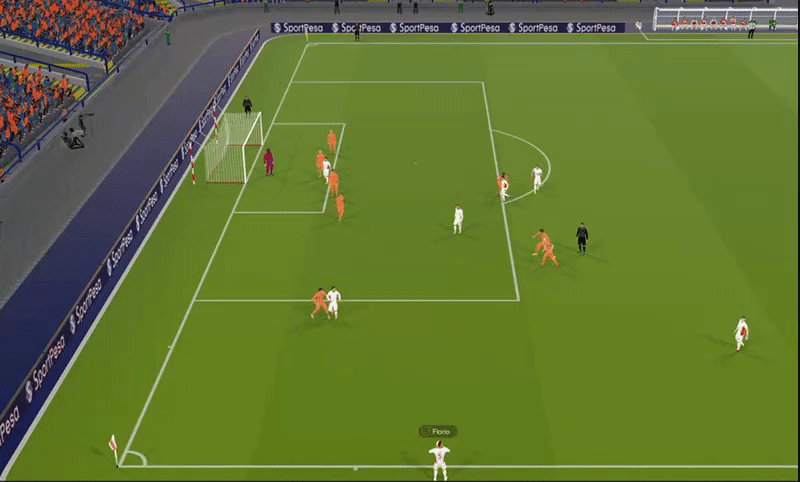 I had to take Szoboszlai of the pitch in the 68th minute due to a slight injury but he was well prepared for the Semi Final against Romania.
---
Semi Final vs. Romania
I shared previous results on Twitter during the Sunday afternoon when I played the whole tournament before the Semi Final and almost all of you were confident I will beat Romania without a doubt.
They made it through from group with Poland, Croatia and England and beat Austria and Scotland in knock-out stages.
I had to make changes because Major and Filó were not ready for the match from the opening minute. Csaba and Szántó took their places in defensive line and central midfield.
We opened the score in the 17th minute thanks to Sándor Vass as made a great finish after Benedek assist. Romania equalised five minutes later thanks to Cringureanu and that was also the result after the first half.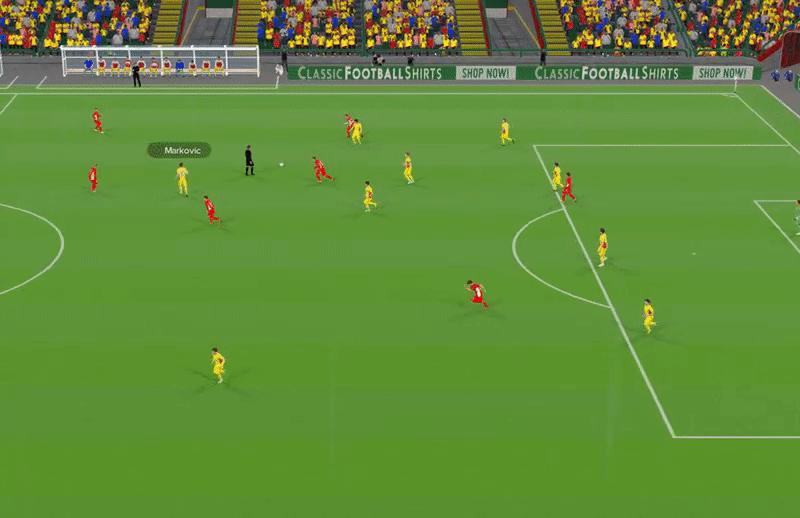 They had 9 shots and we had only one and I felt they were better, more confident and more emphatic.
It was boring second half from both sides, Romania managed to have 21 shots in the end and 12 of them were long shots.
We had only 8 shots but we won it. In the 71st minute, our keeper made his typical short kick-off and after a couple of passes Csaba kicked the ball to the heaven, Vass was behind the defensive line after a perfect first touch and scored the winning goal.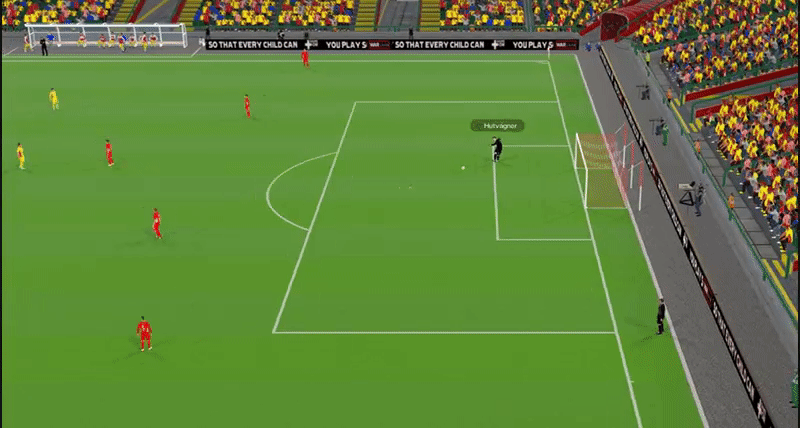 ---
Final vs. Germany
The match in the group ended with a goalless draw. The Final match started with an early goal by Horváth who finished cross by Varga-Jancsó.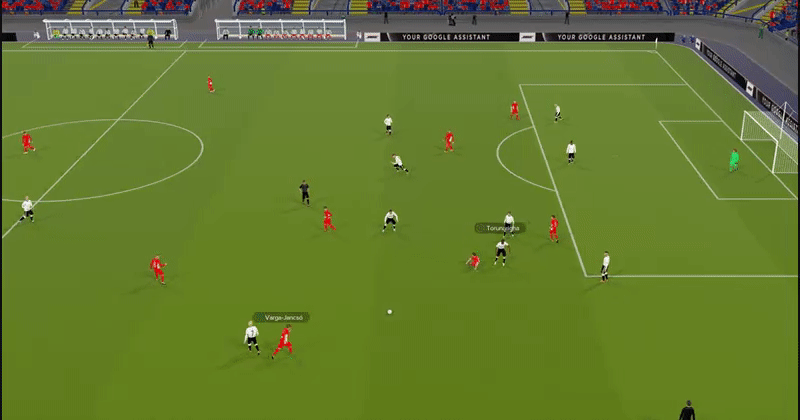 We were the better team in the opening twenty minutes and we had other two opportunities but we couldn't convert them.
The best player of Germany team, Hans Timme who scored 70 goals in 76 caps before the Final, equalised in the 25th minute.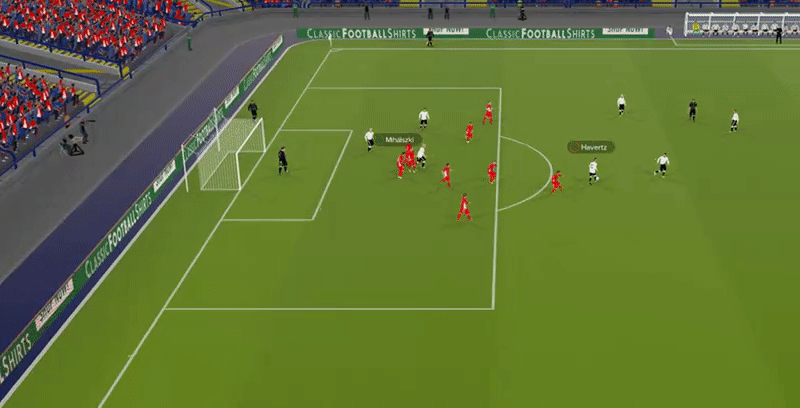 "Football is a simple game. Twenty-two men chase a ball for 90 minutes and at the end, the Germans always win." – Gary Lineker
The Final match ended with a 1-1 draw after the 90 minutes and after the extra-time as well. It was 1-1 after the first series of a penalty shootout but next three Hungarian players missed – Varga-Jancsó, Nagy and Kovács were denied by opponents keeper.
---
Post tournament
As always there was traditional stuff at the end of the tournament as the best player, golden boot etc.
Three Hungarian players were included in the EURO Dream Team – Szoboszlai, Benedek and Hutvágner. Andrea Florio was among substitutes. I would probably include also Sándor Vass with six goals in seven appearances but it was not up to me…
Sándor Vass was voted the best young player of the tournament with six goals in seven appearances and an average rating of 7.64.
My favorite player, if I don't count Dominik Szoboszlai, was and will be György Benedek. This lovely right midfielder who is playing as the wide midfielder is an absolutely fantastic player and I will be really sad if I will lose him in the future of this save…
---
Conclusion
I would like to end this post with a simple thought. I have to say this tournament and decision to take over Hungary national team probably saved this save. Not because I was bored but because of some stereotype in it.
Playing domestic league & cup & Champions League is a routine and common thing if you are far into the save and you're successful. I enjoy developing young players and I like creating new things in terms of set pieces as I decided to delete all of the old ones except Short Throw-In routine and I'm trying new routines for corners and free kicks.
But this tournament was like a great gift under the Christmas tree for me. When I scored the second goal in the first match against Italy and we were 2-0 up I was shouting at home to the laptop screen and I was in the really competitive mood after a long time. And this repeated in other matches during the tournament, especially against Belgium and four goals in the second half.
That feeling when you have to take injured player off the pitch and the fresh player scores hattrick. That's priceless.
Maybe you ask yourself if there is some negative thing about a tournament like this. And yes, there is one. If you are also club manager and you will make it to the later stages of the tournament you will miss all pre-season of your club.
I got back to club duties just six days before the first domestic league match of the new season. Thank God we don't have to play the Champions League Qualification because I would have to think also about this and most importantly I would not have 12 players available. Mainly 12 players who would be in the starting XI…